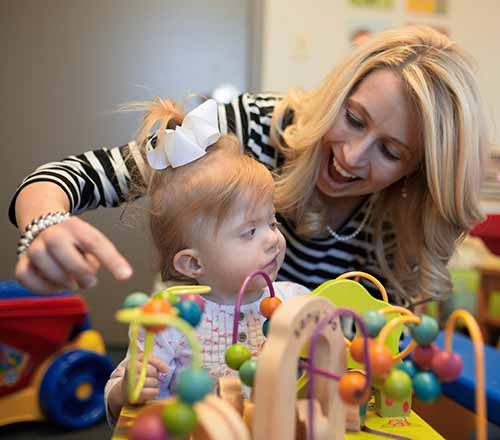 Contact: Sasha Steinberg
STARKVILLE, Miss.—In the midst of the COVID-19 situation, the dedicated staff members of Mississippi State's T.K. Martin Center for Technology and Disability and the Autism and Developmental Disabilities Clinic (ADDC) are continuing to provide outreach services to individuals with disabilities and their families.
"Our commitment to providing resources to families who need the specialized services available at the T.K. Martin Center and the ADDC are strong examples of the university's impact during the COVID-19 crisis," said MSU President Mark E. Keenum. "It's a testament to the quality of our staff that they continue to find ways to serve these children and families despite the unprecedented challenges of this pandemic."
Director Kasee K. Stratton-Gadke, a licensed psychologist and MSU associate professor of school psychology, said beginning today [March 23], the ADDC will serve approximately 70 individuals with autism and other developmental disabilities and their families through telehealth services. Stratton-Gadke co-directs the ADDC with Dan Gadke, MSU associate professor and head of the Department of Counseling, Educational Psychology and Foundations.
"With so many of our kids not going to school or having access to other service providers, we are really fortunate to have a system in place at the university allowing us to continue meeting each week in some capacity," Gadke said. "This is going to be essential to the continuity of care for our families, but also vital to the continued training of our school psychology graduate students who serve the clinic."
Stratton-Gadke said the T.K. Martin Center's physical location is closed, but staff members are all working remotely to ease communication with patients and families by answering the center's main phone line and each staff line, which have been forwarded to cell phones.
Stratton-Gadke said staff are sharing classroom schedules for the Project IMPACT Preschool with families to help keep the program's children actively involved and on a consistent schedule.
"Each day, we also have been providing very brief online videos or short lessons to support learning during the extended spring break," she said.
Stratton-Gadke said her team has been preparing for extended closures. The center is executing an online and alternative teaching plan to assist families as needed using Webex, MSU's campus-wide solution for video conferencing, online meetings, screen sharing and webinars. MSU has a campus-wide Webex license that includes unlimited use by MSU students, faculty and staff.
"We are providing specific directions on how to deliver the materials for parents/caregivers, and all necessary supports," Stratton-Gadke said. "Beginning this week, our teachers will be able to meet individually with the child and family via Webex to discuss individual instruction and needs. Our teacher assistants are supporting this role in developing the curriculum and also are available to assist families as needed." 
Stratton-Gadke said the Mississippi Department of Health has begun providing guidance for early intervention services and is looking into options for tele-supports for intervention. She explained that the T.K. Martin Center is one of two teams that provides assessment-only services to meet the area's need for early intervention.
"We can provide some assessments via telehealth, and our team is looking into how to do this. If given permission from MDH, we will be ready to go," she said.
Speaking about mobility, adaptive driving, and augmentative and alternative communication services, Stratton-Gadke said the Mississippi Department of Rehabilitation Services has given the center permission to move forward with telehealth services. She said Webex will be used to meet with clients on a case-by-case basis.
"If it is inappropriate to provide service via telehealth, a waitlist will be started for when in-person assessments and appointments can begin," she said. "We also have an option to deliver our dyslexia services via telehealth as well, and our graduate assistants are learning this system now."
Stratton-Gadke emphasized, "Everyone has worked very well together in this time, and we look forward to continuing service to the general community as best as we can. We want folks to know we are here for them." 
The ADDC and the T.K. Martin Center are providing resources for families on social media, particularly Facebook (@autismclinicmsstate and @tkmartincenter).
Learn more about MSU's College of Education at www.educ.msstate.edu; Autism and Developmental Disabilities Clinic, www.addc.msstate.edu; T.K. Martin Center for Technology and Disability, www.tkmartin.msstate.edu.
For updated information and coronavirus resources, including lists of FAQs for students, faculty and staff, visit https://www.msstate.edu/coronavirus. Follow MSU on social media @msstate.
MSU is Mississippi's leading university, available online at www.msstate.edu.