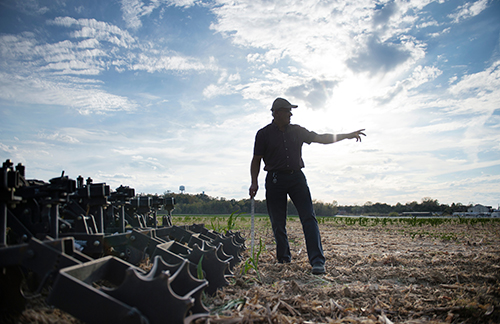 Contact: Karen Brasher
STARKVILLE, Miss.—As many Americans transition to work from home, farmers don't have the option to log on remotely. At Mississippi State University, life on the farm marches on amid the COVID-19 pandemic as a team of scientists and agricultural technicians prepare for planting season.
On campus, the university's Mississippi Agricultural and Forestry Experiment Station, or MAFES, has three farms: R. R. Foil Plant Science Research Center (North Farm), the H. H. Leveck Animal Research Center (South Farm) and the Bearden Dairy Research Center. Off campus, the experiment station has 16 branch stations, all dedicated to providing solutions for farmers, ranchers and home gardeners. Across the Magnolia State, while life has been temporarily shifted due to the shelter in place order issued by Gov. Tate Reeves, MAFES personnel continue critical research that is essential for feeding and clothing the world today and in the future while following university directives.
"Our mission is to discover new technologies and management practices that allow Mississippi's 45,465 farmers to increase yields and profits while decreasing inputs," said George Hopper, dean of the College of Agriculture and Life Sciences and MAFES director. "Agriculture is one of the industries deemed an essential critical infrastructure by the Department of Homeland Security. Our farmers have the incredible responsibility of feeding and clothing the world, and we will do our part to make their job productive, as we are all in this together."
Recently, the weather has posed a significant challenge to farmers as Mississippi has experienced a wet first quarter. More than half of the state's annual rainfall has already fallen in the first three months of the year. Mike Brown, state climatologist and professor in MSU's College of Arts and Sciences' Department of Meteorology, explained.   
"As of March 26, Starkville has received 30.48 inches, over double the average annual rainfall of 55.22 inches. The story is similar when you travel due west to the Mississippi Delta, one of the region's most important sites of agricultural production. In Greenwood, the annual average is 51.77 inches and nearly 25 inches have already diluted the landscape this year," he said.
A ray of hope for farmers is favorable planting weather in April. John Blanton, MAFES interim associate director, said he expects work in the fields, including planting of the MAFES Official Variety Trials, to begin soon.
The MAFES Official Variety Trials evaluate performance of commercially available varieties of corn, soybeans, wheat, sorghum, cotton, rice, oats and forages throughout the state.
"The annual variety trials will be planted this year so that we can provide the unbiased, comprehensive information that assists farmers in making decisions about the best variety to plant on their land," Blanton said.
Agronomists, entomologists and plant pathologists have been preparing seeds and growing plants in greenhouses for the numerous research projects limited by season and weather, Blanton added.
Mississippi State Extension specialists also are gearing up for the planting season and using technology to reach clientele. Gary Jackson, director of the MSU Extension Service, explained that many of the technologies already in use by the agency are being accelerated.
"Similar to the way academic faculty moved courses online for students, our Extension faculty are moving workshops and trainings online to better assist our clientele, which includes the state's agricultural producers," Jackson said. "The Extension Service is also tasked in the Mississippi Emergency Management Agency plan to support production, processing and distribution of the food supply. In this role, our row-crop specialists assist farmers through phone, email and when necessary in one-on-one meetings, while maintaining the recommendations of safe distancing."
The Extension Service's Mississippi Crop Situation blog also is a place for farmers to get information at www.mississippi-crops.com. In addition to information on the site, farmers may sign up to receive weekly emails on topics critical to Mississippi agriculture.
On the animal production side of the farm, work never stops as MSU staff feed and care for the herds and flocks.
Cows are milked twice a day, currently with a skeleton crew, at the Mississippi Agricultural and Forestry Experiment Station's Bearden Dairy Research Center. Blanton, who also serves as department head of animal and dairy sciences, explained that milking cows is an animal welfare issue.
"The cows have to be milked twice a day and we have operational procedures and animal health protocols to ensure that if personnel are not able to work at the dairy, others can step in," Blanton said.
The milk from the dairy is used to manufacture the ever-popular MSU cheese, sold in the MAFES Sales Store. During the shelter in place designation, the MAFES Sales Store is closed.
In the heart of the Delta, scientists are supporting the state's production of catfish, with ponds full of fish at the Delta Research and Extension Center in Stoneville. Agricultural technicians continue to maintain ponds while caring for the fish, which includes feeding and ensuring adequate oxygen levels.
Likewise, across the Experiment Station's 16 branch stations, agricultural research is ongoing to support the state's producers. Blanton noted that this is farm life—where work never stops—though most of the work is solitary and proves a natural fit for the new social distancing paradigm.
"Our faculty and staff are doing an incredible job of taking care of themselves and their families while also providing critical services for the university and the people of Mississippi," Blanton said. "Just as the farmers are essential in growing the food and fiber that we need, our scientists and technicians are committed to conducting agricultural research to meet the needs of our producers."
To learn more about the Mississippi Agricultural and Forestry Experiment Station, visit mafes.msstate.edu.
MSU is Mississippi's leading university, available online at www.msstate.edu.