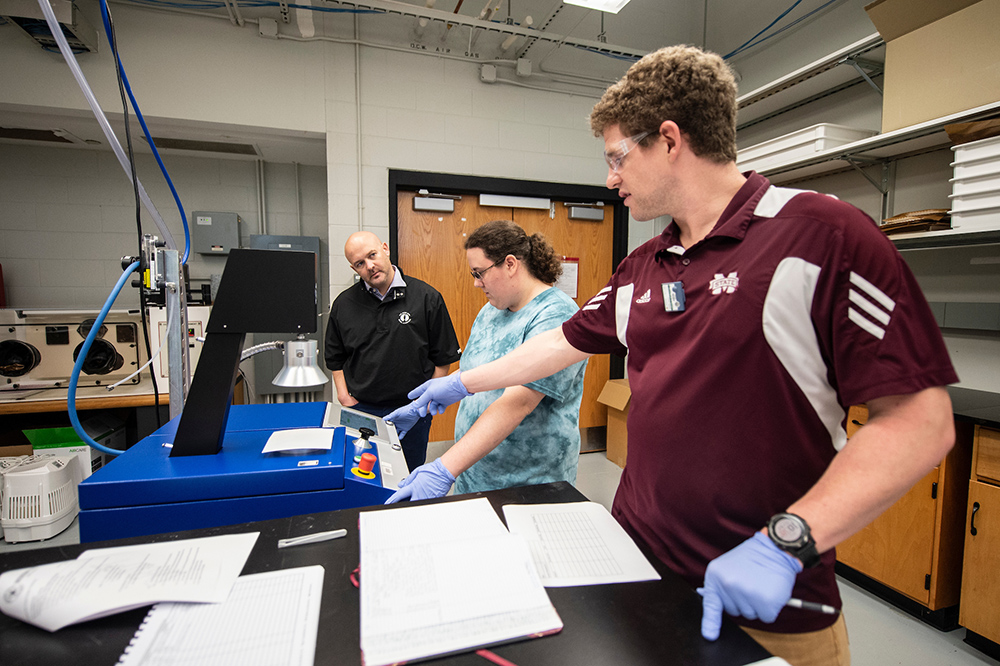 Contact: James Carskadon
STARKVILLE, Miss.—As Mississippi's manufacturers begin producing supplies to aid in the state's COVID-19 response, Mississippi State researchers are helping them assess the filtering capabilities of their materials. 
MSU's Institute for Clean Energy Technology, or ICET, is using its testing infrastructure to help manufacturers know the air filtration rates of materials they are using to produce masks. In recent weeks, ICET has tested materials for Oxford-based Blue Delta Jeans Co. and Lake Shore Studios, a hardback lampshade manufacturer located in Meridian. The companies brought different media to test their filtration rates, providing decision quality data for their mask manufacturing. 
ICET, a unit of MSU's James Worth Bagley College of Engineering, is an international leader in evaluating the performance of high-efficiency particulate air (HEPA) filtration systems used in nuclear power plants. The center has been working with the U.S. Department of Energy for approximately 20 years to develop the capability of testing filters under worst-case scenario conditions.  
ICET Director Charles Waggoner said the ongoing response to the COVID-19 pandemic overwhelms traditional supplies of respiratory protection masks of all protection levels.   
"The test data we supply allow manufacturers to optimize their ability to provide customers with protection information," Waggoner said. "This is important because units may not be manufactured to meet specific codes such as that for the N95 masks often mentioned in the news. Our data allow mask manufacturers to communicate to hospitals and other users what the filtration efficiency is for the material used to make masks. It allows them to evaluate how different types of material function." 
Waggoner explained that when studying air filtration capabilities, researchers at ICET are typically studying air particles that are 50 times smaller in diameter than a piece of human hair. The center tests how materials filter particles of varying sizes. 
"Our infrastructure is capable of not only determining overall filtering efficiency, but to do it as a function of particle size," Waggoner said. "Most codes dealing with air filtration specify filtering efficiency at a given particle size.  The traditional definition of a HEPA filter calls for 99.97 percent removal efficiency for 300 nanometer particles" 
For more on MSU's Institute for Clean Energy Technology, visit www.icet.msstate.edu.  
MSU is Mississippi's leading university, available online at www.msstate.edu.