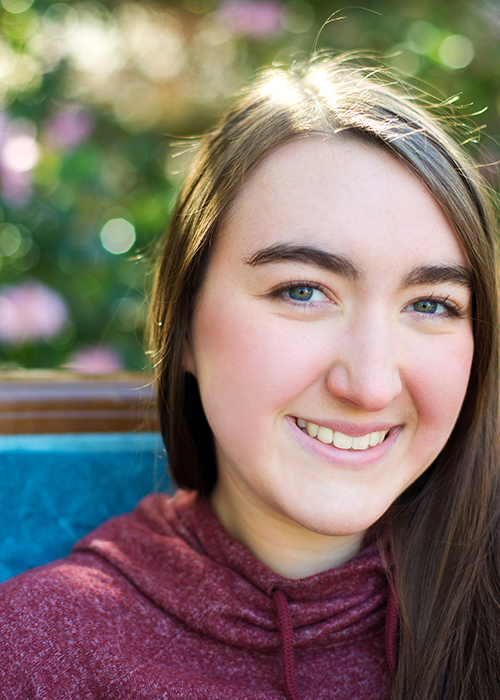 Contact: Sasha Steinberg
STARKVILLE, Miss.—A Mississippi State student with a growing interest in cancer research has been selected to receive the prestigious Barry Goldwater Scholarship.
Junior biochemistry major Hannah L. Scheaffer of Ruston, Louisiana, is among nearly 400 students from across the country receiving the highly coveted undergraduate award that encourages pursuit of research careers in the natural sciences, engineering and mathematics. Scheaffer is pursuing a concentration in science and a minor in French.
Since its inception, the Goldwater Foundation has recognized 18 Mississippi State students with the Goldwater Scholarship. From an estimated pool of more than 5,000 college sophomores and juniors, 1,343 natural science, engineering and mathematics students were nominated by 461 academic institutions to compete for the 2020 scholarships. Of those, Scheaffer and 395 others were selected as Goldwater Scholars.
Scheaffer said she plans to graduate in May 2021, pursue a Ph.D. and become a research professor at an academic institution, where she can share her passion for research and discovery through teaching and mentorship.
"Cancer is an unsolved puzzle and is so prevalent in society today. It would be such a huge blessing to take (it) away by doing research and finding treatments," she said. "I'm drawn to health and medical professions because I have had family members with health issues. I want to help other families avoid what my family has gone through."
Scheaffer said opportunities to conduct undergraduate research at an institution with a very high level of research activity is part of what originally drew her to MSU.
"I had a great visit when I came to campus. I got to meet wonderful people, and I knew that I would be taken care of here," she said. "After receiving scholarships and getting to join the Famous Maroon Band, I realized the Lord was pointing me to State."
Scheaffer said faculty and staff in the university's Judy and Bobby Shackouls Honors College have provided her with "a constant stream of encouragement" about getting involved in research. She expressed particular appreciation for Seth Oppenheimer, the honors college's associate dean for academic affairs and a professor in the Department of Mathematics and Statistics; Anastasia Elder, the honors college's interim associate dean for research, Provost Scholars mentor and professor in the Department of Counseling, Educational Psychology and Foundations; and Tommy Anderson, the honors college's director of fellowships, the College of Arts and Sciences' associate dean for academic affairs and an English professor.
Selection as an MSU Provost Scholar, Scheaffer said, helped her forge friendships with fellow students and faculty researchers, including her current mentors Professor Matthew Ross and Research Scientist Abdolsamad "Sam" Borazjani. Both in the College of Veterinary Medicine's Department of Basic Sciences, these researchers are teaching her helpful skills, including how to ask the right research questions, set up experiments, and analyze data. Currently, she is focusing her research on inflammation in cells.
"I love research, and research is like a story. You have a question, and you're trying to find the pieces that work together to answer that question," she said. "Dr. Ross and Sam have taught me a ton about writing for a scientific audience and how to do hands-on work in the research lab. We have a Ph.D. student who works on her research in the lab too. My favorite days are when all four of us are in the lab together. It's a great learning environment."
Scheaffer said her participation last summer in the honors college's six-week summer study abroad program at England's University of Oxford also has enabled her to grow as a researcher. During the program, she took a class on Shakespeare taught by Anderson and had the chance to watch performances at the Globe Theatre in London. She also took part in a tutorial where she was paired with an Oxford researcher.
"The 'Introduction to Oncology' class I took was so intriguing because I got to talk one-on-one with a senior research scientist whose research was focused on breast cancer," she said. "I enjoyed learning more about her and the work she does. That's what I love about science. It exposes you to so many different types of people, and they all have stories."
Scheaffer said she enjoyed her study abroad experience so much that she has stayed in contact with her Oxford mentor, who wrote a recommendation letter for her Goldwater application. The COVID-19 pandemic has delayed her plans until at least next summer, but Scheaffer is optimistic about returning to Oxford to gain additional research lab experience.
For more on MSU's Judy and Bobby Shackouls Honors College, visit www.honors.msstate.edu; the Department of Biochemistry, Molecular Biology, Entomology and Plant Pathology, www.biochemistry.msstate.edu.
MSU is Mississippi's leading university, available online at www.msstate.edu.