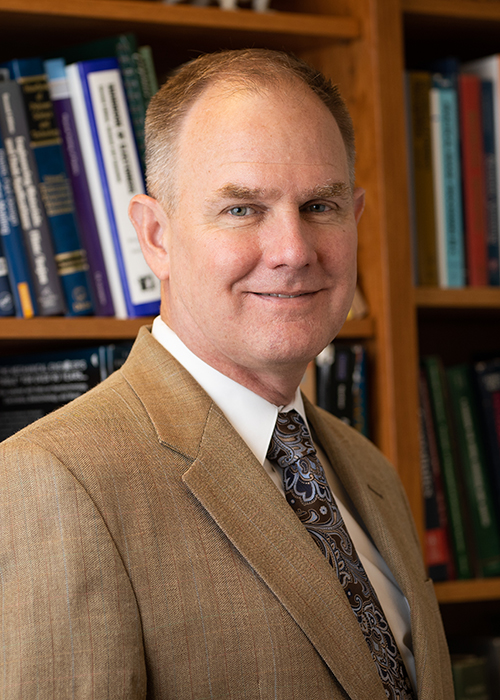 Contact: Karen Brasher
STARKVILLE, Miss.—A precision agriculture and cotton ginning expert is the new head of Mississippi State's Department of Agricultural and Biological Engineering.
J. Alex Thomasson will take the reins of the MSU department effective July 1, pending approval of the State Board of Trustees, Mississippi Institutions of Higher Learning.
A 15-year veteran and current endowed chairholder in Cotton Engineering, Ginning and Mechanization in Texas A&M's Department of Biological and Agricultural Engineering, Thomasson is returning to Mississippi State, where he worked early in his career.
Thomasson served as an agricultural engineer and research scientist in the U.S. Cotton Ginning Laboratory for the USDA Agricultural Research Service in Stoneville, working closely with faculty in the university's Delta Research and Extension Center. Upon completion of his Ph.D. from the University of Kentucky, he then moved to Starkville where he served on the faculty in MSU's Department of Agricultural and Biological Engineering from 1997-2004.
During his tenure at MSU, he also served as agricultural research coordinator for the then Remote Sensing Technologies Center, now the Geosystems Research Institute, a unit of the High Performance Computing Collaboratory.
George Hopper, dean of the College of Agriculture and Life Sciences, remarked on Thomasson's exceptional experience.
"Dr. Thomasson is uniquely qualified to lead this department as we advance precision agriculture in teaching, research and extension," Hopper said. "Throughout his career, he has studied a suite of geospatial technologies to advance production for cotton farmers."
MSU's Department of Agricultural and Biological Engineering is a dual department in the James Worth Bagley College of Engineering and College of Agriculture and Life Sciences. The department offers undergraduate and graduate degrees in biological engineering, biomedical engineering and agricultural engineering technology and business.
"Dr. Thomasson presents an exciting vision for this diverse and growing department. I look forward to working with him as he leads the department to new heights," said Bagley College of Engineering Dean Jason Keith.
In addition to teaching responsibilities in the two colleges, department faculty also have appointments in the Mississippi Agricultural and Forestry Experiment Station, where Hopper serves as director, and the MSU Extension Service. Gary Jackson, director of MSU's Extension Service, said Thomasson's understanding of precision agriculture will provide outreach in this burgeoning area.
"As an expert in precision agriculture, I am confident in Dr. Thomasson's leadership to increase our outreach to producers using geospatial technologies for crop management decisions," Jackson said.
In addition to a Ph.D. from UK, Thomasson earned his master's from Louisiana State University and bachelor's from Texas Tech University, all in agricultural engineering. In addition to roles in academia, Thomasson retired as Lieutenant Commander in the U.S. Navy Reserve with 22 years of service.
A fellow in the American Society of Agricultural and Biological Engineers, Thomasson has been honored numerous times for teaching and research.
For more information on the Department of Agricultural and Biological Engineering, visit abe.msstate.edu. For more information on the College of Agriculture and Life Sciences and the Bagley College of Engineering, visit cals.msstate.edu or bagley.msstate.edu.
MSU is Mississippi's leading university, available online at www.msstate.edu.