Contact: Harriet Laird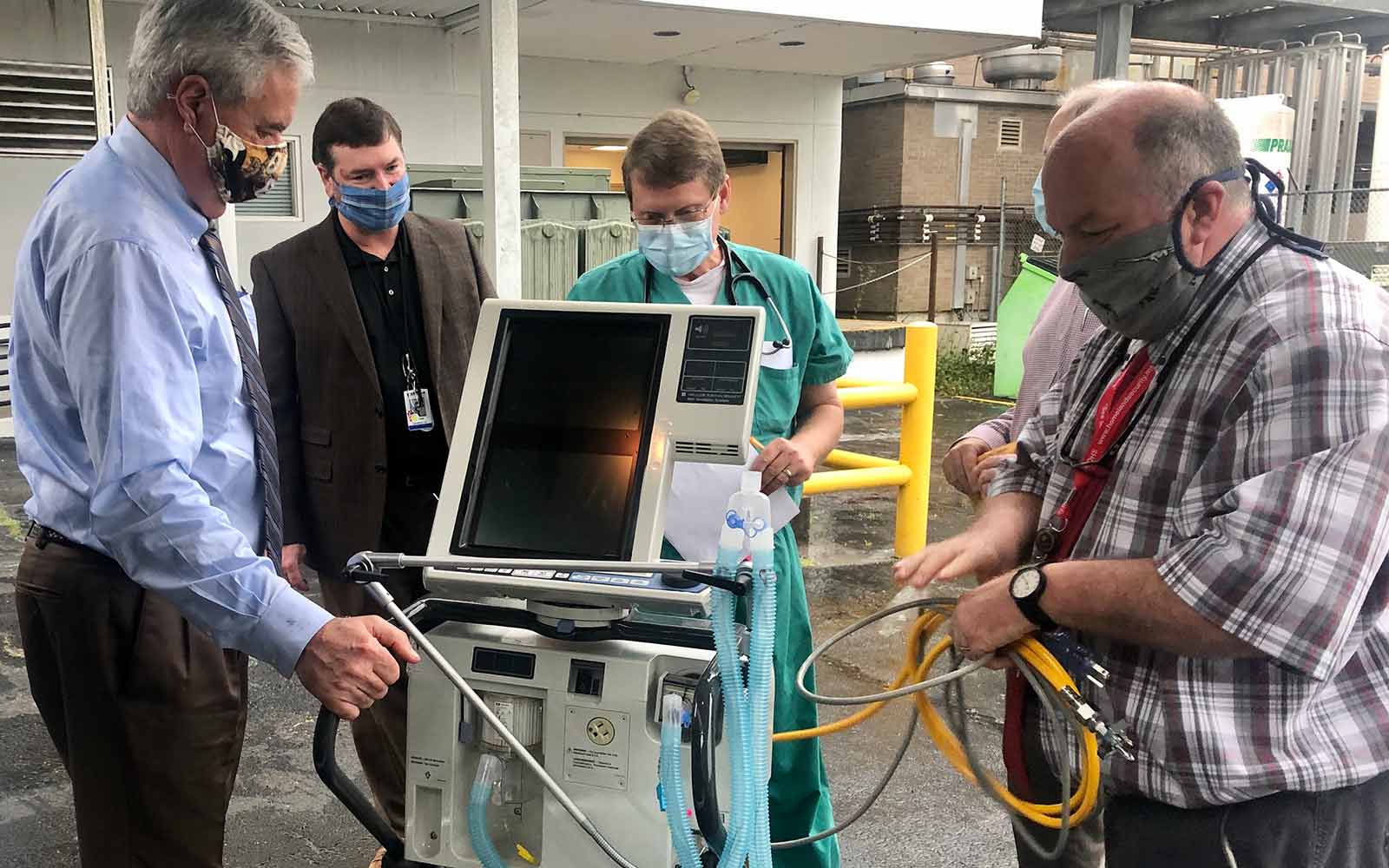 STARKVILLE, Miss.—Hospitals across the U.S. are facing shortages of critically needed ventilators as the COVID-19 outbreak continues, and Mississippi State University is aiding a local healthcare facility in combating the problem.
This week, two lifesaving ventilators have been loaned by MSU's College of Veterinary Medicine to OCH Regional Medical Center in Starkville to assist in treating any critically ill patients who may need the mechanical breathing machines.
Dr. Kent Hoblet, dean of MSU's College of Veterinary Medicine, said that in this uncertain time, CVM is honored to aid local healthcare centers and their caregivers, while also maintaining its mission of educating students, advancing research and providing diagnostic and specialty veterinary services to the region.
"When it comes to COVID-19, we're all in this together and happy to share resources and clinician assistance in fighting this terrible virus," he said. "We're acutely aware of the need and are working with local, state and national leaders to help ensure the best possible outcomes for this unprecedented event."
The CVM machines, identical to those used by hospital patients unable to breathe on their own, are some of the most essential devices to doctors overseeing severe cases of COVID-19, a virus which has no current vaccine. A safety check, plus a thorough cleaning and inspection, were performed on the human-grade ventilators according to infection control standards. The two additions from the university now give OCH a total of 13, with the hospital also having 25 Vortran Automatic Resuscitators to be used as ventilators in the event of a surge of medical patients. 
OCH Administrator and CEO Jim Jackson said of the equipment loan, "We are immensely grateful for the support the university continues to provide OCH in our mission to serve and heal the community during this crisis. The OCH family sends a heartfelt thanks to the College of Veterinary Medicine for its generous lending of the two ventilators to be used in the event of a surge of patients. This act of kindness continues to display the close partnership between OCH and MSU."
Many of the nation's 28 veterinary colleges are loaning equipment and supplies, and the ventilators may prove especially helpful in the rural communities that surround most of these schools. All but four vet colleges are part of the nation's land-grant university system. Today only two of them, at the University of Pennsylvania and Ohio State University, are found among the 40 most populous cities in the U.S.
CVM leaders also have been communicating with physicians and emergency preparedness representatives at the University of Mississippi Medical Center in Jackson and MSU's Longest Student Health Center offering their assistance in caring for the public should these facilities need additional resources and personnel. LSHC already has benefitted from personal protective equipment and medical supplies shared by CVM.
Last week, MSU's Paul B. Jacob High Voltage Laboratory began converting 550 battery-powered ventilators, originally designed for temporary use after emergencies such as hurricanes or tornadoes, to AC power. Once reconstructed, the UMMC machines, sent to the university by the Mississippi Institutions of Higher Learning, will be returned to UMMC. 
MSU is Mississippi's leading university, available online at www.msstate.edu.