Contact: James Carskadon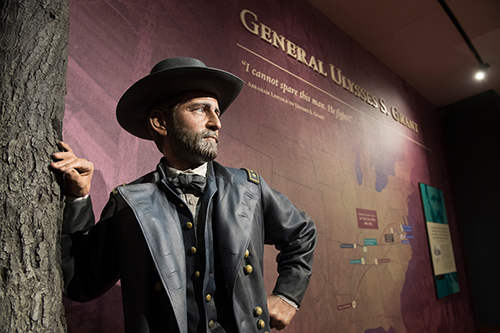 STARKVILLE, Miss.—When the credits roll after the Monday [May 25] premiere of the History Channel's "Grant" miniseries, two members of the Mississippi State University Libraries staff will see their names listed with those who made the much-anticipated TV drama possible.
Eddie Rangel and Ryan Semmes in MSU's Ulysses S. Grant Presidential Library provided support for the three-episode show, which airs at 8 p.m. and is based on the New York Times #1 Non-Fiction Best Seller that depicts the life of the nation's 18th president and Civil War general. Rangel works for the Ulysses S. Grant Association, housed at MSU, as an archival assistant, and Semmes is a coordinator for the university's Congressional and Political Research Center.
The series is based on the comprehensive biography "Grant" by best-selling author Ron Chernow, who spent time researching for the book at the Grant Presidential Library. Chernow is an executive producer of the series, along with Leonardo DiCaprio.
Rangel and Semmes helped the production company, Radical Media, find material such as letters and photographs that were needed for the series, in addition to fielding research-related questions.
The series continues on May 26 and 27 at 8 p.m. on the History Channel, featuring dramatic scenes, expert commentary and archival imagery. Click here to view the trailer and read more about the series.
Chernow's "Grant" biography was released to critical acclaim in 2017. The Pulitzer Prize-winning author spent four weeks at MSU conducting research for the biography. In the acknowledgments section of "Grant," Chernow credits the Ulysses S. Grant Association's complete papers of Grant and the hundreds of thousands of additional documents for conjuring up Grant "with extraordinary vividness."
MSU is one of six U.S. universities to house a presidential library. A $10 million expansion to MSU's Mitchell Memorial Library, completed in 2017, includes a state-of-the-art interactive museum on Grant and the Frank and Virginia Williams Collection of Lincolniana. Due to the COVID-19 pandemic, the museum is currently closed to visitors, but more information on the Grant Presidential Library is available at www.usgrantlibrary.org.
MSU is Mississippi's leading university, available online at www.msstate.edu.