Contact: Sarah Nicholas        
STARKVILLE, Miss.—More than $1.3 million is being awarded to two Mississippi State chemistry assistant professors by a prestigious National Science Foundation program supporting early-career achievement.
Xin Cui and Colleen N. Scott are being honored with CAREER awards by the NSF's Faculty Early Career Development Program, which recognizes outstanding faculty exhibiting potential as academic role models in research and education. The award also is given for leadership in advancement of departmental or organizational missions.
"The NSF-CAREER Award is the pinnacle achievement for junior faculty and today remains the single most prestigious and central pre-tenure goal, measure and validation of our research and education competitiveness," said Dennis W. Smith Jr., MSU Department of Chemistry professor and head. The department is in MSU's College of Arts and Sciences.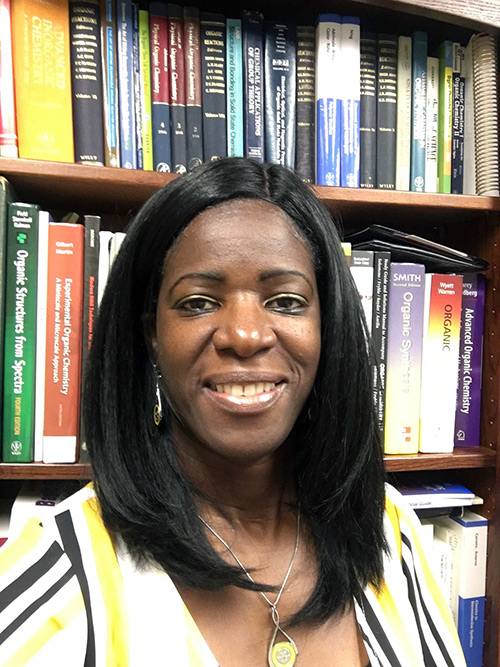 Cui's proposal, "Ruthenium-Catalyzed Stereoselective and Site-selective Functionalization of Carbon-Hydrogen Bond," is being funded with a five-year $650,000 NSF Division of Chemistry award. 
This award will help develop new ways to access organic molecules and effective approaches to fill the long-standing gap in the chemistry of stereoselective carbon–hydrogen bond functionalization. Cui said the goal of synthetic organic chemistry is to improve quality of life, and he hopes to impact diverse groups of young generations. 
"With pharmaceutically important and biologically active molecules as targets, our research investigates three-dimensional behavior of chemical transformations, which is key to stereoselective production of drug candidates and bioactive molecules," said Cui, whose work could open practical and step-economic pathways to new optically active bi- and polycyclic molecules he said are "pharmaceutically and biologically important."
An MSU faculty member since 2016, Cui's team wants to improve chemistry education to attract and encourage young students who need help with chemistry coursework and want to pursue STEM degrees and careers. A specific focus is reaching students from underserved regions in Mississippi.
Using a "student-to-student" format, Cui said the goal of this outreach effort is to popularize modern organic chemistry concepts and familiarize youth with real-life applications, while also encouraging MSU and other university undergraduate students "to grow into experienced future educators."
Cui currently partners with MSU chemistry, chemical engineering and geosciences students, the Office of Institutional Diversity and Inclusion, and the T.K. Martin Center for Technology and Disability, while also seeking alliances with organizations beyond the university.  
A China native, Cui received his Ph.D. in 2008 and bachelor's degree in 2003, both in chemistry, from the University of Science and Technology of China. In 2012, he completed a postdoctoral fellowship in chemistry at the University of South Florida in Tampa. He then became a USF research assistant professor before joining the faculty at Baruch College at City University of New York and serving until 2016.
Scott's $675,000 CAREER award for "Design and Synthesis of Heterocyclic Aryldiamine Polymers: Towards a New Class of Processable and Electrochemically Stable Conducting Materials," also is funded for five years by the NSF Division of Chemistry.
"This award is a validation of my ideas and professional work, as well as a reward for patience, hard work and perseverance. I hope it will allow me to pursue my research ideas to develop materials to be used in all different areas of organic electronics such as sensors, organic magnets, electromagnetic interference shielding and electrochromic materials."
Her research aims to extend the longevity of materials used in common, everyday devices such as TVs, cell phones and medical devices, among others. She said her success is fundamental to the advancement of technologies used to improve and promote human health, prosperity and welfare.
"I also hope to motivate and inspire young kids—at risk of failing their primary education—to persevere and not only finish, but also pursue a secondary education and become productive community citizens," Scott said, noting she intends to use this award to provide learning opportunities to MSU students through research experiences and coursework.
Her current implementation of "Science with Dr. Scott" at Ms. Smith's Educational Service in Starkville has integrated polymer chemistry activities for at-risk students into this K-12 learning environment, an after-school tutoring and alternative graduate services program.
"Such activities engage student curiosity, increase enthusiasm for science and motivation to continue their education, and ultimately create an informed citizenry excited about discovery and innovation," she said.
A native of Kingston, Jamaica, Scott earned her Ph.D. from the University of Pittsburgh in 2005 and bachelor's degree from Auburn University in 1998. She joined the MSU faculty in 2015.
Scott refers to work in her laboratory as "highly interdisciplinary," exposing students and post-doctoral fellows to a wide variety of equipment and characterization techniques. The lab focuses on the design, synthesis and characterization of advanced organic materials, utilizing organic chemistry tools to create macromolecules with interesting properties and functions. These include sustainable thermoplastics, conducting plastics and chemistry/biological sensors. Her polymer research has a range of application from adhesives, coatings and industrial fabrics to structural components in the construction, biomedical and aerospace industries.
MSU is Mississippi's leading university, available online at www.msstate.edu.