Contact: James Carskadon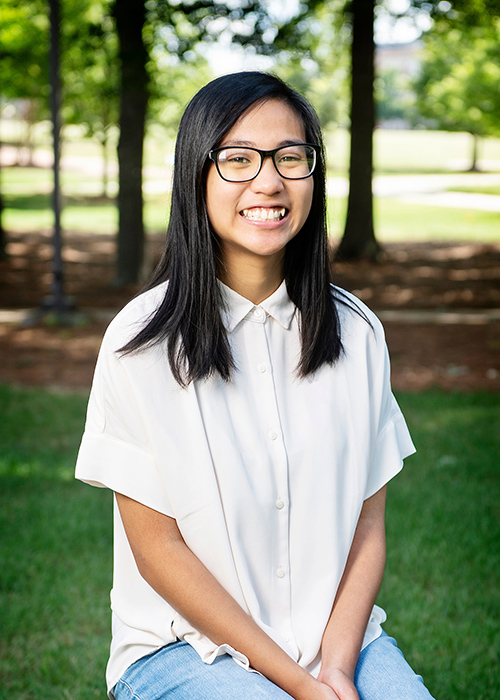 STARKVILLE, Miss.—Joy Cariño of Starkville, a spring 2020 English graduate at Mississippi State, is the university's newest Fulbright finalist.
A member of MSU's Judy and Bobby Shackouls Honors College, Cariño has been accepted to serve as an English teaching assistant for high school teachers in Indonesia. Due to the COVID-19 pandemic, the Indonesian program has been cancelled, but Cariño retains the honor of being a Fulbright finalist. Cariño's selection marks the fourth consecutive year at least one MSU student has received this prestigious honor.
The Fulbright program is the flagship international educational exchange program sponsored by the U.S. government and is designed to increase mutual understanding between the people of the U.S. and those in other countries. Last summer, Cariño traveled to Indonesia as part of the U.S. Department of State's Critical Language Scholarship Program, a cultural immersion program aimed at increasing the number of Americans mastering foreign languages important to international diplomacy.
Cariño said during the application process for both international programs that she received strong support from the Shackouls Honors College.
"The honors college helped me articulate why I was interested in these programs and how my goals and interests are worth the U.S. government investing in," Cariño said. "The honors college is very supportive of students pursuing these scholarships, but one side benefit of that happening is they help students learn more about themselves and their own personal goals. In hindsight, that's been one of the most valuable things of this process."
While at MSU, Cariño has worked as an undergraduate researcher in the university's Linguistics Lab, served as co-editor-in-chief of MSU's student-made creative arts journal The Streetcar, and was a founder of the university's Poetry Club and Filipino Student Association. She also has earned a Teaching English to Speakers of Other Languages (TESOL) certificate. She served as a conversation partner for MSU students enrolled in English as a Second Language (ESL) classes and tutored kindergartners learning English skills at Sudduth Elementary School in Starkville.
David Hoffman, an associate professor in MSU's Department of Anthropology and Middle Eastern Cultures who also serves as the MSU advisor for the Fulbright and Critical Language Scholarship Programs, said Cariño's experiences helped her become a strong Fulbright candidate.
"Joy is a student that is truly outstanding in her commitment to research, learning and service," Hoffman said. "Her application was successful because she seized opportunities and pushed herself to gain experiences that directly contributed to making her an excellent Fulbright candidate. Joy is the epitome of a scholar ambassador—a person living out the ideals of mutual understanding and learning that are the ultimate ideals of Fulbright Program."
Cariño plans to pursue graduate school and research sociolinguistics in Southeast Asia. She said one of the most rewarding parts of her time at MSU has been helping people, including herself, find community among common interests.
"The point of my undergraduate experience was to learn more about the world," Cariño said. "Through MSU, I was able to do that in lots of different ways."
In addition to Cariño's selection as a Fulbright finalist, three MSU students were selected as alternates and will participate in the program if additional funding becomes available. MSU's Fulbright alternates are Carson Kitaif, a fall 2019 wildlife, fisheries and aquaculture graduate from Tylertown; Semaj C. Martin-Redd, a spring 2020 political science graduate from Brandon; and David Sides, a spring 2020 international and business and German graduate from Birmingham, Alabama.
For more on the U.S. Department of State's Fulbright Program, visit www.us.fulbrightonline.org.
For more about MSU's Judy and Bobby Shackouls Honors College, visit www.honors.msstate.edu. The Department of English, part of MSU's College of Arts and Sciences, is online at www.english.msstate.edu.
MSU is Mississippi's leading university, available online at www.msstate.edu.