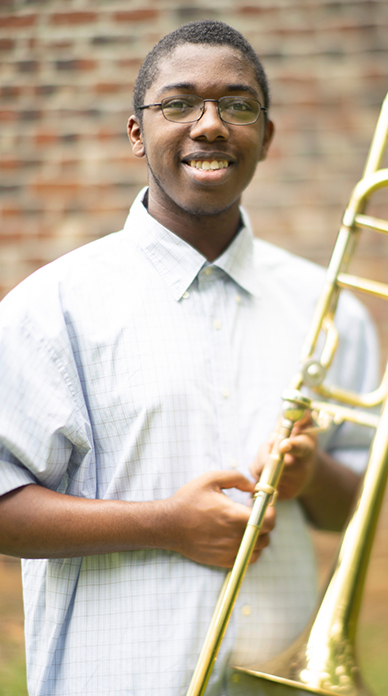 Contact: Camille Carskadon
STARKVILLE, Miss.—Few musicians can claim the honor of having their music commercially published, and fewer still gain the honor at 18 years old, but that's just what a Mississippi State freshman accomplished this year.
Deontrae J. Peyton of Picayune, an MSU music education major now entering his sophomore year, has published two compositions with Wingert-Jones Publications, a nationally known publisher of band music.
A trombone player for seven years, Peyton also is skilled on the vibraphone, marimba and piano. Like many musicians, Peyton got his musical start through his school's sixth-grade band program, and he began submitting compositions for publication in the eighth grade. He explained that the challenge of getting published helped motivate him to keep trying, and rejections only pushed him to continue improving his work.
"By the time I got published, I had already submitted numerous works to many publishers. I always revisit most of the music I write a few months after writing it, and looking back over the compositions, all were rejected for pretty good reasons. That said, I was elated at getting my music published. After four years of trying, I actually achieved a pretty big goal," Peyton said.
Peyton's first composition titled "Battleship" is intended for a beginning band. He explained that the piece is derived from the idea of a Viking ship arriving at port. Peyton wanted to make each part challenging, but most of all, fun to play and educational. He said "Battleship" also reflects his interest in film music. The piece premiered in 2018 led by his mentor and Picayune's South Side Elementary Band Director Earl Fox Jr.
"Dr. Fox was the first person to put me under his wing. He taught me many things about music, from theory to orchestration," Peyton explained. "He debuted my music in Louisiana with his elementary honor band and introduced me to Wingert-Jones as a potential publisher. I wouldn't be where I am without his help and guidance."
"Battleship" also has been played by Picayune School District's beginning band, comprised of students from several elementary schools, and Peyton had the opportunity to conduct his composition.
Another of Peyton's compositions, "Refuge," premiered during his senior year and was performed by his own band, the Picayune Memorial High School Band.
"My director let me conduct it as well, and it was a great experience for me. It also has been played by the Starkville High School Wind Ensemble. The idea of having five performances of my music before I was out of high school was incredibly encouraging, and I thank all the directors and musicians who put the music on their programs," Peyton said.
Peyton credits his MSU professors and mentors with helping him progress over the past year. He said his music professors are very supportive of all their students and want them to succeed.
"They work as a community to make sure all questions get answered," Peyton said. "My trombone professor, Dr. Richard Human, actually recorded the trombone ensemble playing something I had written before I even committed to Mississippi State. That is something that I'll always remember."
Human explained, "Deontrae contacted us after attending our November 2018 Department of Music Discovery Day, asking if the Trombone Troupe could record one of his compositions for a scholarship contest. In the months that followed, it was clear that Deontrae is dedicated to musical and artistic growth and sharing that in a meaningful way with young musicians. We are very excited that he chose Mississippi State to pursue his music education degree."
Peyton also credits Associate Professor of Music James Sobaskie for challenging him to think about every note in a composition and explain its presence. Sobaskie also helped him understand the mindset of a composer.
Samples of Peyton's compositions can be found on Wingert-Jones' YouTube page.
Established in 1903, MSU's College of Education is home to six academic departments, one research unit and numerous service units. For more about the college, visit www.educ.msstate.edu. The Department of Music is online at www.music.msstate.edu.
MSU is Mississippi's leading university, available online at www.msstate.edu.