Contact: Sasha Steinberg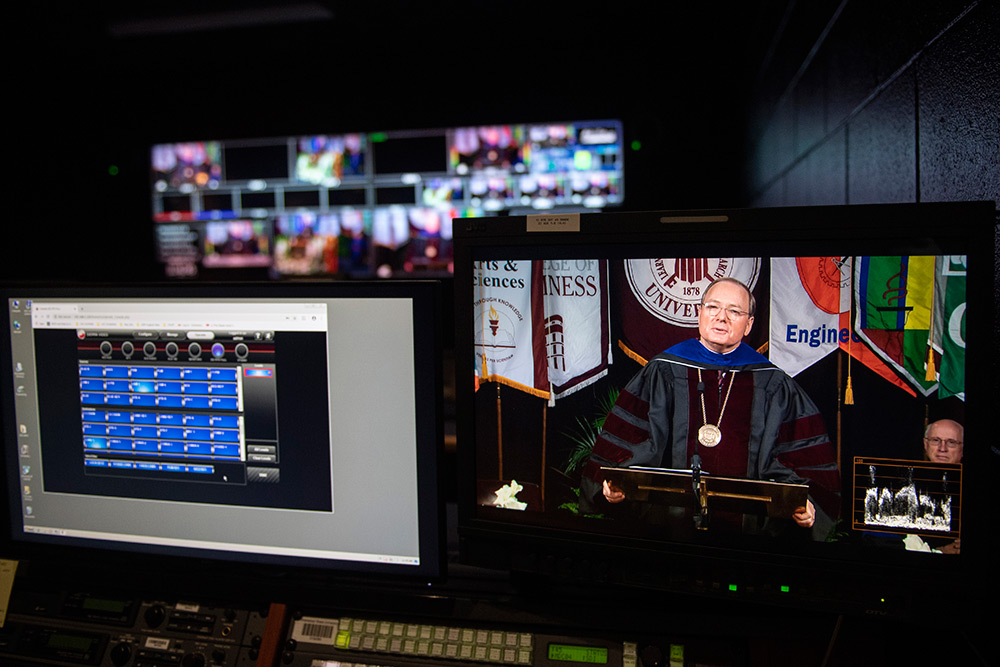 STARKVILLE, Miss.—In a first-of-its-kind online commencement ceremony for the 142-year-old university, Mississippi State leaders praised graduates for resilience throughout their college journey, concluding in the midst of the COVID-19 pandemic. About 3,300 are MSU graduates this spring.
During Friday's [May 1] virtual commencement ceremony, MSU President Mark E. Keenum said that while he shares the graduates' disappointment in not being able to experience a traditional commencement ceremony this spring, he is anticipating the opportunity to appropriately honor and personally congratulate his fellow Bulldog alumni after the public health crisis has ended.
"You have worked long and hard to earn your degree, and all of us at this great university, we're very proud of you," he said. "I also want to personally thank your families and other loved ones who have been by your side on your journey. I'm truly grateful to everyone who has had faith in you and helped you."
Keenum said now more than ever, a college degree and the values of integrity, hard work and respect for others that the graduates have learned at Mississippi State will help them succeed in a world undergoing unprecedented change. Especially in light of the current pandemic, Keenum encouraged graduates to exhibit another important value—courage.
"Many have compared our current fight against COVID-19 to a war. I am so thankful for the many thousands of frontline heroes who are fighting this war—the first responders, health care providers, researchers, scientists and so many others who are serving tirelessly on our behalf," he said. "They are truly courageous, and clearly, we all need courage. You must have courage to stay focused—to stay focused on your future."
Keenum encouraged the newest members of MSU's alumni family to support their own family and friends during these difficult times.
"My hope and prayer for each of you is that one day, you will be able to share with your grandchildren or great grandchildren how you and your family overcame the many challenges through your courage and faith and how you never lost sight of the importance of education in order to be ready for a bright future and your special purpose in this world," Keenum said. "I know all of you are ready to make a difference. Until we are able to safely gather again, please stay strong, keep your faith and stay safe."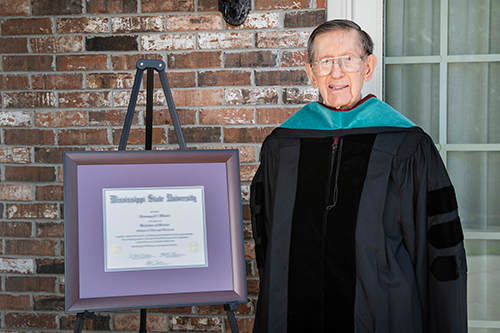 Along with conferring undergraduate and graduate degrees, Keenum also recognized the Honorable John J. Fraiser Jr. with the Doctor of Public Service honorary degree. A member of the Second World War's "Greatest Generation," Fraiser is a native of Minter City who attended Mississippi State before joining the military at age 18. As a member of a 15th Army Air Force squadron during World War II, he flew 35 missions over Europe as a turret gunner on a B-24 Liberator and was awarded the Air Medal.
Subsequently, Judge Fraiser has spent a lifetime serving the people of Mississippi as an accomplished attorney, county prosecutor, and member of the Mississippi Senate. During his time as a senator, he served as chairman of the Universities and Colleges Committee and the Appropriations Subcommittee for the Institutions of Higher Learning. He also has served as a Mississippi Supreme Court magistrate and was the first chief judge of the Mississippi Court of Appeals. His papers are housed in the Congressional and Political Research Center in MSU's Mitchell Memorial Library.
"Judge Fraiser's many professional achievements are exemplary and most distinguished. He is most deserving of the university's highest honor," Keenum said. "We thank him for all he has done for our state, nation and beloved university."
MSU Provost and Executive Vice President David Shaw recognized members of the commencement platform party, including Randy Follett, Holland Faculty Senate president and associate professor of electrical and computer engineering, and Alan Marcus, William L. Giles Distinguished Professor and history department head. Shaw thanked the graduates and their loved ones, along with the university's faculty and staff for their efforts.
"To all of those who have supported these graduates along the way, we genuinely thank you for your support," Shaw said. "Mississippi State University is proud of its outstanding faculty and the work they do in the classroom, in research and in service to our state. I'm sure I speak on behalf of all of you when I say thank you to the faculty for their major role in making this day possible."
Student Association President Jake Manning congratulated his fellow graduates on the efforts they made to "learn, invest in ourselves and to work on becoming a person that can make the world a better place."
"Mississippi State gave us a family of lifelong friends, teachers, advisers and mentors who cared and invested in us, and a family that taught us more about ourselves and the world than any classroom ever could," he said. "Rather than allowing this experience to foster anger and regrets, I challenge all of us to use this experience to shape our perspective into one of gratitude. Focus on the family and opportunities we got to enjoy while we were here, and focus on ensuring we appreciate all of those things in our life to come."
The commencement ceremony, broadcast online and on television statewide, was produced by the MSU Television Center. Other highlights included:
—MSU Assistant Professor of Landscape Architecture Peter Summerlin, a recipient of the MSU Alumni Association's Early Career Undergraduate Teaching Excellence Award, carried the graduation mace.
—Incoming MSU Student Association President Tyler Packer delivered the invocation.
—Miss MSU and spring 2020 graduate Leah Boyd and the MSU Woodwind Ensemble performed the National Anthem on the university's historic Drill Field. The group also performed the university's alma mater, "Maroon and White."
—Shaw also recognized this year's Stephen D. Lee Scholars—a select group of students who have earned all A's during the course of their college career.
—Sherri Bevis, MSU Alumni Association national president, conducted the alumni inception on behalf of over 147,000 alumni worldwide and the largest alumni association in the state of Mississippi. She encouraged the graduates to make full use of their MSU alumni network and become active participants in one of over 100 alumni chapters across the country.
In his final remarks, Shaw invited all spring 2020 graduates back to campus this fall to attend traditional commencement ceremonies on Dec. 11, with registration available on the university's commencement web page. The graduation ceremony also is archived and available for viewing at this website.
MSU is Mississippi's leading university, available online at www.msstate.edu.