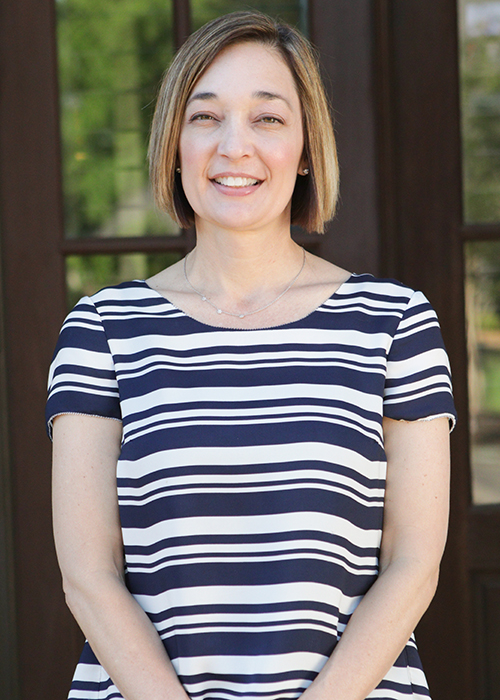 Contact: Sasha Steinberg
STARKVILLE, Miss.—The Southern Conference on Language Teaching is honoring Mississippi State Assistant Professor of Spanish and Pedagogy Kelly M. Moser with its 2020 Educator of Excellence Award.
Moser, who joined the university's Department of Classical and Modern Languages and Literatures in 2018, is a former high school Spanish teacher and coordinator of MSU's world language education program. She said she consistently strives to improve her practice, collaborate with world language educators across the globe, and advocate for quality programs for all learners.
"As co-coordinator of the basic language program at Mississippi State and trainer of our department's graduate teaching assistants, I work daily to affect the practice of those at the university and educators in the community," she said. "I am honored to be considered for such an esteemed award and to be recognized by wonderful Mississippi teachers who continue to make me proud to be from our state."
The SCOLT is a professional organization, serving 13 states and the U.S. Virgin Islands, with a mission to promote universal world language education supported by the community, valued by political and business leaders, encouraged by parents and peers, and taught by exemplary instructors. For more, visit www.scolt.org.
SCOLT's Educator of Excellence Award recognizes educators at the community college, college and university levels who have demonstrated excellence in language teaching, active organization participation, and leadership and advocacy at the local, state and/or regional or national level.
The SCOLT was unable to hold its annual conference in Mobile, Alabama, due to the COVID-19 pandemic, but the organization's Board of Directors nevertheless recognized Moser for her prestigious accomplishments.
Moser's selection as this year's recipient was based on her teaching portfolio and letters of recommendation.
One of her nominators said she observed the assistant professor's pedagogy through her Spanish courses.
"Her teaching absolutely epitomizes all of the teaching techniques that I encourage my pre-service Teaching English to Speakers of Other Languages teachers to use: modeling, scaffolding, authentic materials, authentic tasks, and the four modalities of language," a nominator said. "Furthermore, I estimate that she and her students use Spanish at least 90-95% of the class time. I genuinely wish that the foreign language classes that I took as a student had been even half as communicative as Dr. Moser's classes!"
Another nominator praised Moser's dedication "to making a difference for language teachers and future language teachers in our state."
Moser holds multiple language-focused academic degrees. She earned a 2001 bachelor's in Spanish, a 2003 master's in Spanish literature and 2007 master's in world language education, all from the University of Tennessee. She also is a 2011 Ph.D. graduate of MSU's Department of Curriculum, Instruction and Special Education, having concentrated in curriculum and instruction with a foreign language minor.
Among other honors, Moser has received a three-year, $850,000 U.S. Department of Education grant as co-principal investigator for an "Educating Migrant Children in Mississippi" proposal.
Learn more about MSU's College of Arts and Sciences and the Department of Classical and Modern Languages and Literatures at www.cas.msstate.edu and www.cmll.msstate.edu.
MSU is Mississippi's leading university, available online at www.msstate.edu.