Contact: Sid Salter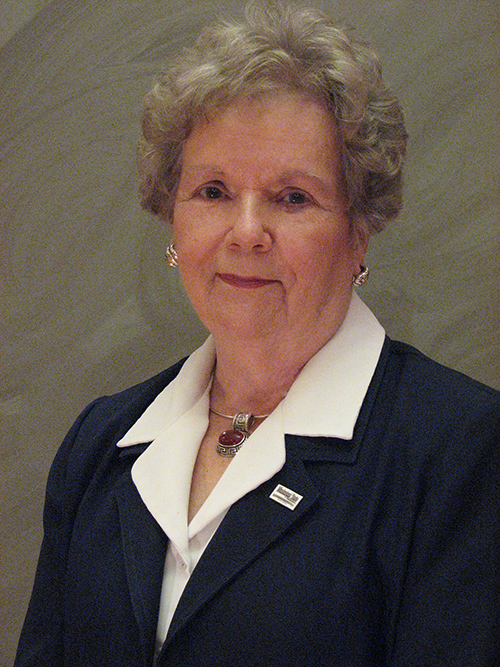 STARKVILLE, Miss.—After a career that spanned over a half-century and witnessed the services and offerings of Mississippi State University Libraries evolve from traditional to digital to virtual, MSU Dean of Libraries Frances N. Coleman is retiring from the university on June 30, MSU Executive Vice President and Provost David R. Shaw announced today [June 15].
Shaw said MSU College of Arts and Sciences Associate Dean for Academic Affairs Thomas P. Anderson will serve as interim MSU Dean of Libraries while a national search for a permanent dean is conducted.
Coleman, responsible for the university library system that includes Mitchell Memorial Library and branch libraries at MSU's College of Veterinary Medicine, School of Architecture (Starkville and Jackson campuses) and MSU-Meridian, led unprecedented expansions of facilities, technologies and programming throughout the system.
"Dean Coleman provided visionary leadership for our MSU Libraries that not only improved library services on our campuses, but in libraries across Mississippi. My mother was a small-town librarian, and she and all her colleagues knew and respected Frances Coleman," said MSU President Mark E. Keenum. "On her watch, our libraries became larger, stronger, more technologically accessible, and more sophisticated in terms of our museums and special collections. In short, Frances has left indelible fingerprints on our library system, and I am profoundly grateful for the outstanding work she has done for our university."
Shaw echoed Keenum's praise for Coleman's five decades of leadership.
"Over the course of her life and work here at Mississippi State, Dean Coleman has paved the way for women moving into positions of substantial leadership. The personal and professional esteem in which she is held by colleagues across the country, and particularly in our state, is indicative of her many accomplishments," Shaw said. "It is an honor to have served with her to advance Mississippi State."
Coleman joined the MSU faculty in 1969. She earned an MSU Bachelor of Science degree in education and a Master of Library Science from George Peabody College for Teachers at Vanderbilt University. She completed additional graduate studies at MSU and at the University of Mississippi.
Prior to her career in higher education, Coleman was a classroom teacher and school librarian in the Dyer County, Tennessee School System. She also worked in the banking field in Dyersburg and Memphis, Tennessee, and in Starkville.
She is a past president or chair of the Mississippi Business and Professional Women, the Southeastern Library Association, and the Mississippi Library Association. Coleman was active throughout her career in numerous research library organizations.
In the Starkville community, Coleman has served in key leadership roles in Aldersgate United Methodist Church, Starkville Chamber of Commerce, Starkville Arts Council, Starkville Rotary Club, and the United Way. In 2003, she was honored for lifetime achievement serving Mississippi libraries by the Mississippi Legislature, received the G.V. "Sonny" Montgomery Excellence in Leadership Award in 2009 from the Montgomery Foundation Board of Directors, and in 2010 received the John Y. Simon Award of Merit from the Ulysses S. Grant Association.
Coleman played a pivotal role in the successful 2008 transfer of the Ulysses S. Grant Collection from the Morris Library at Southern Illinois University, where it had been housed since 1964. With the relocation to MSU's Mitchell Memorial Library, she became a member of the USGA board of directors.
The relocation of the Grant Collection ultimately led to the establishment at MSU of one of only six presidential libraries on U.S. university campuses. On Nov. 30, 2017, state and national leaders heralded the opening of the Ulysses S. Grant Presidential Library and the prestigious Frank and Virginia Williams Collection of Lincolniana—a recent donation that is considered the largest privately owned Abraham Lincoln collection in America.
Leaders in education, history, libraries and government—including the Librarian of Congress and the Archivist of the United States—praised the 21,000-square-foot addition. The facility contains a state-of-the-art museum chronicling Grant's life and his significance in American history. With hundreds of thousands of historical documents and items housed on-site, the new addition positioned MSU as a leading destination for research on the Civil War and two presidents who shaped the course of American history.
"Dean Coleman's legacy will be that of a dedicated administrator who gave her all to advance Mississippi State University and to exhibit grace, charm, and sincere hospitality in using the library's formidable assets to bring new friends to the university," said Keenum.
For more on MSU Libraries, visit http://lib.msstate.edu.
MSU is Mississippi's leading university, available online at www.msstate.edu.