Contact: Allison Matthews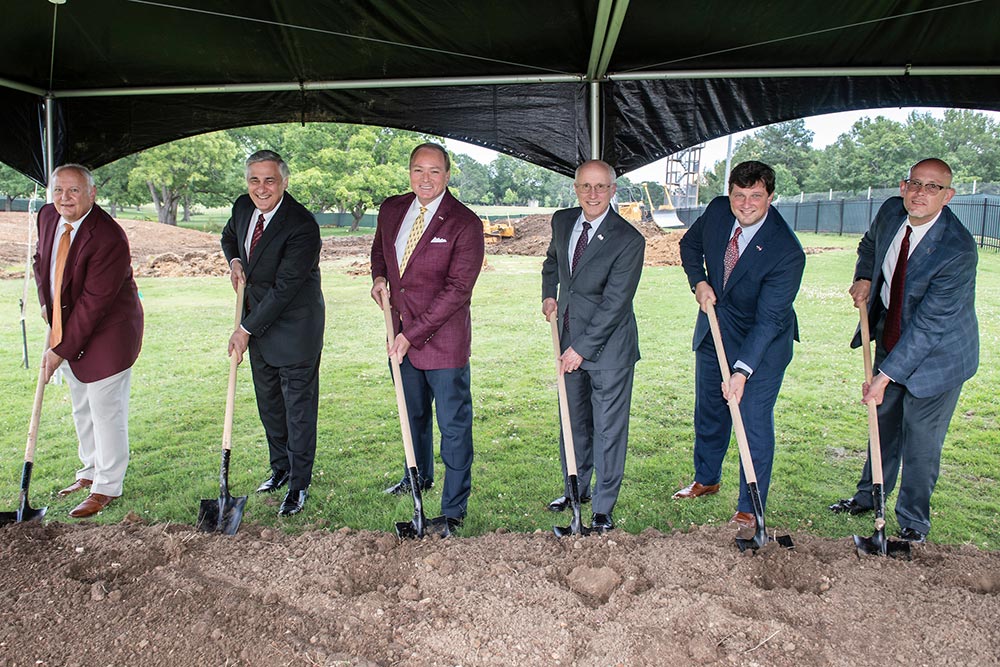 STARKVILLE, Miss.—Construction on the new Music Building at Mississippi State University officially is underway after a groundbreaking today [June 15] just north of the campus's current Band and Choral Rehearsal Hall on Hardy Road.
The $21 million project will provide a new space for the Department of Music, part of MSU's College of Education. The 37,000-square-foot facility, projected for completion in the fall of 2021, includes classrooms, a choral rehearsal hall, faculty offices, sound-proof practice rooms, recording studio, lecture/recital hall, student lounge and administrative suite.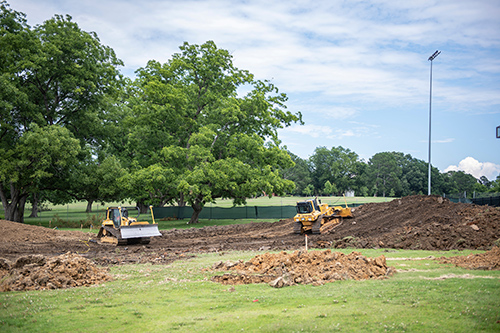 Hoppy Allred with Allred Stolarski Architects in Ocean Springs is the design professional for the facility, and Hattiesburg-based Mac's Construction Company, Inc. is the general contractor. Tim Muzzi, MSU director of planning design and construction, said the project has been a longtime administrative goal and will allow the music department, apart from the band program, to be housed in one location.
Barry Kopetz, music professor and department head, said the new facility demonstrates to students, parents, alumni and campus visitors that Mississippi State highly values the arts. He visualizes the Department of Music and it's programming as a "welcome mat" to showcase the university.
"There's no better way to welcome people to the campus than through the arts," Koptez said.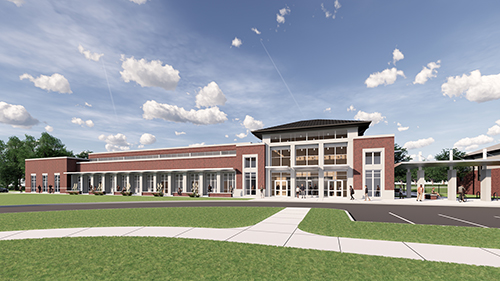 "Everyone is absolutely ecstatic because this state-of-the-art facility will allow us to do some things that we haven't been able to do before. We can host conferences and many other events. This new building will help further grow and improve our programs. And it's not just about the building itself, but this development is adding excitement among the music programs," Kopetz said.
A new choir wing will allow the university's choral programs to vacate the Band Hall so both choral and band programs, which have seen significant growth over recent years, will have additional space. The Famous Maroon Band includes well over 400 members.
Kopetz noted that more students than ever graduated last year from MSU's Department of Music.
"We really want to be the music department of choice for students in Mississippi and the southern region," Kopetz said.
Trish Cunetto, director of development for the College of Education, said the new building will help the college recruit top music students and faculty. 
"Music is such a big part of many events held at MSU and with this new facility our students and faculty will have a state-of-the-art environment in which to collaborate, teach and practice," Cunetto said.
She said select giving opportunities are available to MSU alumni and friends who want to add support for enhancement of the building. Cunetto may be reached at 662-325-6762 or tcunetto@foundation.msstate.edu.
MSU is Mississippi's leading university, available online at www.msstate.edu.