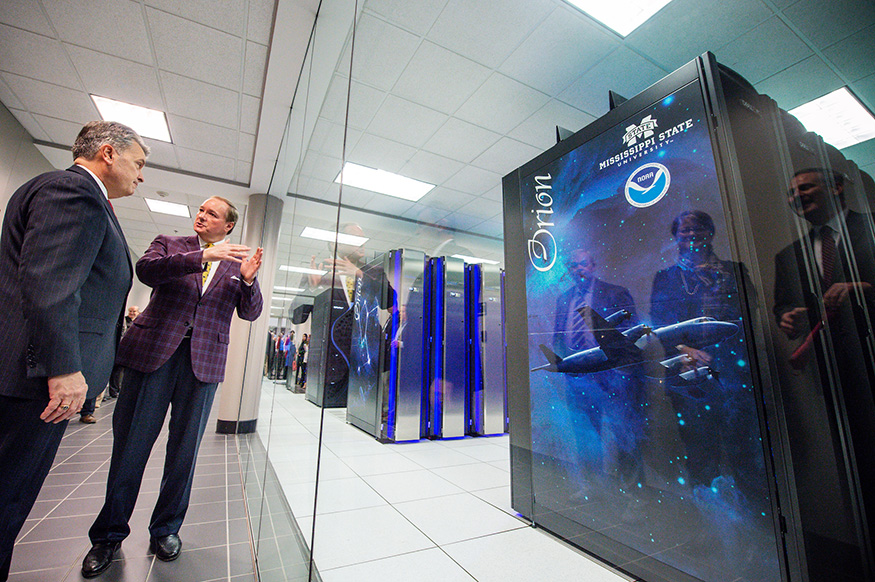 Contact: James Carskadon
STARKVILLE, Miss.—Mississippi State University is again among the nation's elite in supercomputing power. 
MSU's Orion supercomputer is the fourth most powerful academic data center in the U.S., according to rankings released this week by Top500.org. Orion is ranked at No. 68 on Top500's list of the world's most powerful computing systems. Managed by MSU's High Performance Computing Collaboratory, Orion was installed on campus last summer with the support of $22 million in grants from the National Oceanic and Atmospheric Administration (NOAA). 
Capable of processing five thousand trillion calculations (five petaFLOPS) per second, Orion is powering research and development advancements in weather and climate modeling, autonomous systems, materials, cybersecurity, computational modeling and more. 
"MSU has a longstanding history of being a leader in high performance computing, and I am proud that we continue to be ranked among the best in the country and the world in this area," MSU President Mark E. Keenum said. "More importantly, I'm proud that our world-class researchers, along with numerous distinguished scientists in the national government, are using Orion to drive innovation, solve critical problems and create new opportunities in our state as we collaborate with government and industry partners. I'm so very pleased that high performance computing is an area where Mississippi excels." 
In addition to NOAA, MSU's high performance computing capabilities have led to critical partnerships and research opportunities with the United States Department of Agriculture, NASA, the National Science Foundation, Department of Defense, Department of Homeland Security and the Department of Energy, among other state and federal agencies. 
Keenum noted that MSU's High Performance Computing Collaboratory works with existing industry in the state to help companies gain valuable insights and stay at the forefront of their fields. The computing power at MSU is also an invaluable economic development asset and is playing a leadership role in helping recruit new companies and advanced technology jobs to Mississippi, strengthening key economic sectors such as automotive, agriculture, healthcare and defense.   
With eight systems listed in the Top500 rankings combining for over 29 million megaFLOPS of processing capability, the state of Mississippi is ranked No. 5 nationally for its supercomputing power. Mississippi trails only California, Tennessee, Texas and New Mexico in this area. 
Only the University of Texas at Austin, Rensselaer Polytechnic Institute in New York and Massachusetts Institute of Technology house systems on academic campuses that rank ahead of MSU's Orion. The supercomputer is a Dell-EMC system consisting of 28 computer cabinets, each approximately the size of an industrial refrigerator, 72,000 processing cores and 350 terabytes of Random Access Memory. 
MSU has been a leader in computing research for decades, having a supercomputer appear on 28 of the last 49 Top500 lists, dating back to 1996. 
Orion supports research operations for several MSU centers and institutes, such as the Center for Computational Sciences, Center for Cyber Innovation, Geosystems Research Institute, Center for Advanced Vehicular Systems, Institute for Genomics, Biocomputing and Biotechnology, the Northern Gulf Institute and the FAA Alliance for System Safety of UAS through Research Excellence (ASSURE). These centers use high-performance computing to model and simulate real-world phenomena, generating insights that would be impossible or prohibitively expensive to obtain otherwise. 
For more on MSU's High Performance Computing Collaboratory, visit www.hpc.msstate.edu.  
MSU is Mississippi's leading university, available online at www.msstate.edu.