Contact: Sid Salter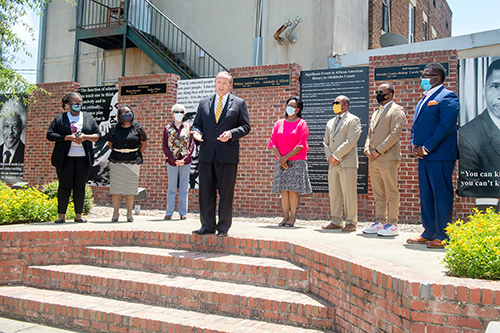 STARKVILLE, Miss—Community groups representing Starkville, Oktibbeha County, and Mississippi State University participated in an announcement today [Thursday, July 16] in downtown Starkville's Unity Park formally unveiling a forward-looking partnership committed to seeking solutions to racism and paths to racial reconciliation.
Groups, organizations, and institutions participating include Starkville Stand Up, the City of Starkville, Oktibbeha County, the Oktibbeha County Chapter of the NAACP, the Starkville Oktibbeha County School District, members of the area legislative delegation, and MSU.
"Starkville is in a position to create a model for equitable reform," said Starkville Second Baptist Church Senior Pastor Joseph L. Stone, co-founder of the Starkville Stand Up organization. "We are hopeful that a broad-based partnership of this nature can further our mission of recognizing as a community that racism exists and that steps must be taken to address the negative effects it creates."
MSU President Mark E. Keenum said the university has a strong stake in being a partner in the efforts to seek answers to these historically difficult challenges.
"MSU strives daily to be a nurturing, welcoming, and equitable environment for learning, research, and service to our community, state, and nation," said Keenum. "There is valuable, important work to be done on the vital issue of racial reconciliation, and I'm committed to putting my shoulder to the wheel of crafting and implementing meaningful solutions. The town-and-gown relationship between MSU, the city and county is vital to accomplishing those goals."
Starkville Mayor Lynn Spruill said the June 6 Starkville Stand Up unity march and rally from downtown Starkville to the MSU campus was a moment of pride and hope for the future. The peaceful march and rally included a significant number of MSU faculty, students, staff, coaches, and student-athletes. MSU hosted the rally in the MSU Amphitheater.
"Clearly, there is momentum in our community for substantive, sustainable change on a number of fronts, but the core is confronting racism and genuinely seeking reconciliation," said Spruill. "Our city, our police force, and the rest of our local government organizations are ready to begin that work."
Stone said the Starkville Stand Up organization has a vision of "being a united voice for Starkville that stands up against systemic racism and the unjust killing of Black people by law enforcement officers."
"Policies, procedures, and practices must change before people change," Stone said. "I'm hopeful that this evolving organization will be ready to do the hard work of affecting real change."
MSU is Mississippi's leading university, available online at www.msstate.edu.