Contact: Sasha Steinberg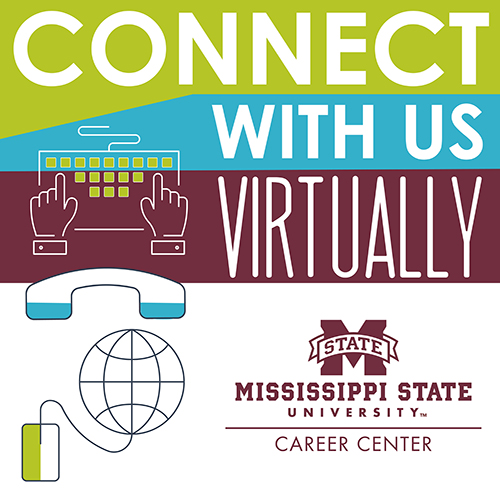 STARKVILLE, Miss.—Mississippi State's Career Center is aiding students and alumni on a large scale with easily accessible, virtual resources during the employment uncertainties caused by the current pandemic.
"COVID-19 has inspired us to explore virtual options so we can continue our consistent, reliable support," said Lisa Gooden-Hunley, associate director of the Career Center's Cooperative Education and Internship Program. "We want students and alumni to know we are here to help, and making sure they are aware of all the ways they can connect with us is a big part of that."
Gooden-Hunley said Career Center coordinators have been answering student and alumni questions about job search strategies, interview preparation, co-ops and internships, and more via phone, email and video chat. Students and recent graduates can make an appointment by using their MSU NetID and NetPassword to log in to their Connections account at https://msstate-csm.symplicity.com. They also may call the center's main line at 662-325-3344 or email career@career.msstate.edu. 
From 11 a.m.-2 p.m. Monday-Friday, students can log in to their Connections account to speak with Career Center staff via the live chat feature. Gooden-Hunley said this chat option also is available to employers who have access to the online platform.
"Every student, regardless of major and classification, has access to a career coordinator on our staff who is specifically trained to help them with their job search," Gooden-Hunley said. "We've been encouraging our graduates and students, including current students whose internship or co-op plans have changed due to the pandemic, to reach out so we can connect them with a coordinator who can point them to other resources or opportunities."
Gooden-Hunley also encourages students, alumni, parents and employers to visit the center's newly designed website at www.career.msstate.edu, which now features a career resource library, among other helpful links.
"We have pre-recorded videos that students can access 24/7 for insight on different trending topics, including cover letter and résumé development, how to navigate a virtual interview, and what to expect at a virtual career fair," she said.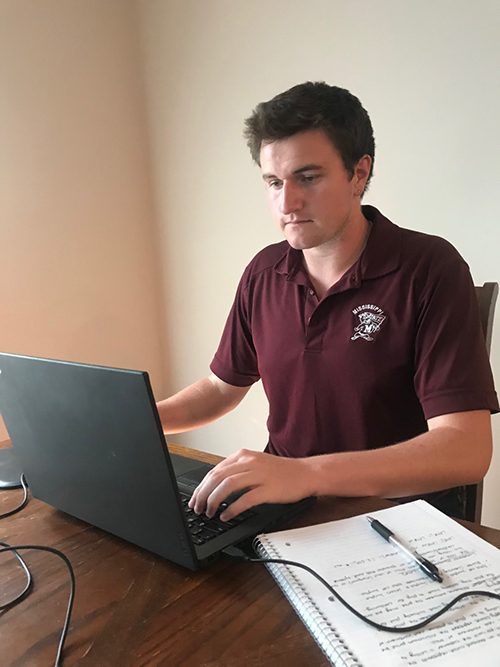 The Career Center also engages students through mock interviews and is seeking to increase students' awareness of INTERVIEWSTREAM video interviewing software that enables them to virtually practice their interviewing skills. Gooden-Hunley said the platform uses the students' phone or computer webcam to facilitate a pre-recorded set of interview questions. The students can review their video responses and share them with a career coordinator who can critique and offer advice for improvement.
"This is a great option for students because they can log in 24/7 to practice," she said. "We've always had virtual resources, but we're really looking to encourage students to consider using them this fall because many of their actual interviews with companies may be playing out virtually. With the INTERVIEWSTREAM software, the student can simulate what the actual interview experience may be like and feel more comfortable."
Gooden-Hunley said plans for MSU's Career Expo, formerly known as Career Days, are moving forward, but the September event will be held online to ensure participant safety. An exact date will be forthcoming. Through the center's Simplicity career services platform, students will be able to engage with employer representatives via live and video chat, providing a "great alternative to the typical face-to-face fair," Gooden-Hunley said.
"We have had students leave our expo with job offers for the following semester or year, and we are optimistic that this year will be no different. We're grateful to the employers who recruit our students and want to help them grow and develop," she said.
Brent Fountain, Career Center interim director, agreed that employer relationships have been especially important this summer when many companies nationwide have rescinded student internship and co-op offers for the summer and fall due to COVID-19 and the downturn in the economy.
"Entergy Corporation in Louisiana extended offers to over 20 MSU students and while the company is honoring the majority of those, there were six offers it had to rescind for safety reasons," he said. "However, due to the company's relationship with Mississippi State and how much it values our students, Entergy offered those six students stipends for the summer and priority consideration for opportunities in summer 2021."
Gooden-Hunley said employers have been sharing encouraging stories about MSU students wearing masks and working remotely to safely pursue co-ops and internships. She is particularly appreciative of an email from Jamie O'Flynn, intern and extern coordinator for the Hagyard Equine Medical Institute in Lexington, Kentucky.
"In her email, Jamie said 'I wanted you to know that our Mississippi State students are doing great. We're practicing good biosecurity protocols and helping save horses' lives through this pandemic.' It made me happy to know they were taking good care of our students, and many other companies have shown that same commitment to our students and their partnership with MSU," Gooden-Hunley said.
Conducting business as usual during the pandemic has been challenging, but Gooden-Hunley said the Career Center team has proven its ability to persevere and deliver on its promise to serve the university community.
"The staff has done a great job regrouping and figuring out how to offer our normal resources in a virtual way, and I'm really proud of that," she said. "Now that we know the capabilities of these technologies and as we start to hear the students' preferences for them, I think we'll be better able to serve larger audiences, including employers from across the country and even internationally."
"We're really looking to this fall as a pilot semester for some of these digital opportunities to see how we can advance the work we do," she said.
MSU is Mississippi's leading university, available online at www.msstate.edu.