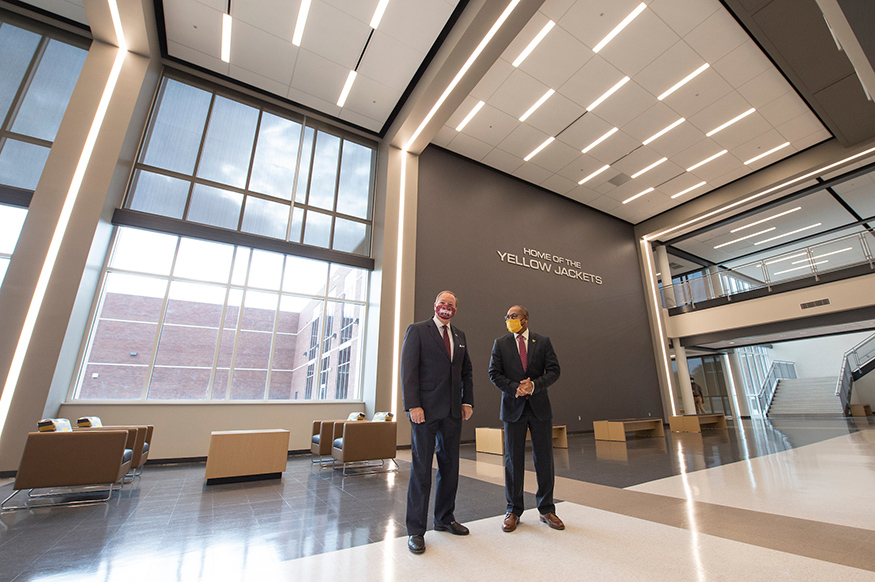 Contact: James Carskadon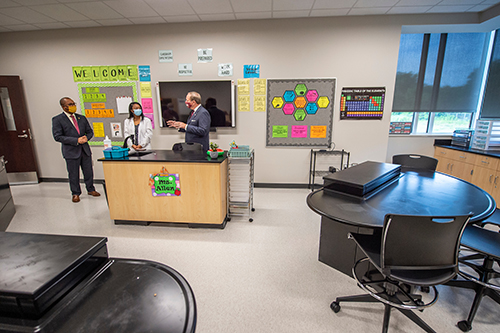 STARKVILLE, Miss.—With a new school year set to begin next month, a new state-of-the-art school on the campus of Mississippi State University will welcome sixth and seventh grade students in the Starkville Oktibbeha School District.
MSU President Mark E. Keenum and SOSD Superintendent Eddie Peasant toured the Partnership Middle School on Friday [July 31]. University and school district officials will hold a ribbon cutting ceremony for the 128,000-square-foot facility next week. The Partnership Middle School includes space for MSU classrooms that will be utilized to prepare future teachers in a hands-on learning environment.
"I go to schools all across Mississippi to visit with students, and I have never seen a school nicer than this," Keenum said. "This is the most modern school, I think, in the entire state of Mississippi, and it's right here in Starkville serving the needs of students in this community. I'm proud that our students from MSU will be able to study at this facility. We want this to be a showcase for teachers all across the state."
The school is built on a 43-acre site that was donated by the university. Construction was funded by state and local bonds, as well as private support. Peasant said the facility is a "game-changer" for students of the school district and MSU.
"Just being here on the campus at Mississippi State gives our students access to many opportunities that wouldn't otherwise exist," Peasant said. "They have access to professors and field trips within walking distance. At this age, they get to explore career opportunities that they normally wouldn't have as much access to."
For more on the Starkville Oktibbeha School District, visit www.starkvillesd.com.
MSU is Mississippi's leading university, available online at www.msstate.edu.