Contact: Sarah Nicholas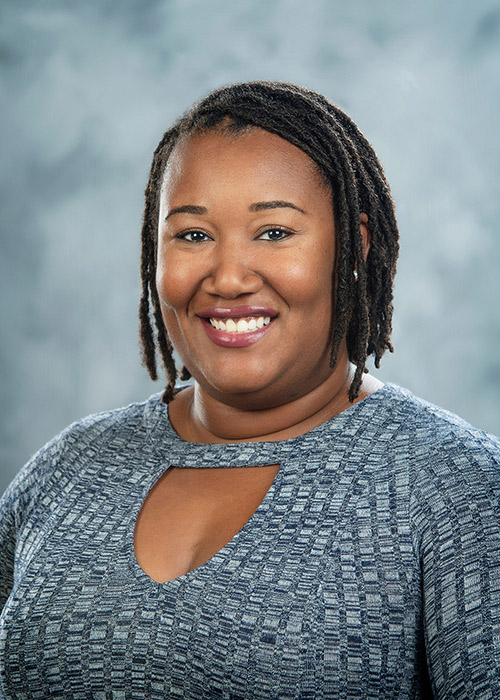 STARKVILLE, Miss.—A Mississippi State English department faculty member is the new vice president of a national language association devoted to serving the academic, scholarly and professional interests of African Americans in the collegiate community.
Associate Professor Jervette R. Ward was elected to the leadership role for the College Language Association for a two-year term and is slated to become CLA president in 2022.
A lifetime member of the association, Ward was elected during the organization's annual meeting, held virtually this spring. Founded in 1937 in Memphis, Tennessee, CLA is comprised of English and world language educators and "publishes scholarly books of critical essays and bibliographical references."
"The CLA was founded by a group of English professors at Historically Black Colleges and Universities (HBCUs) who wanted to improve student writing and opportunities," said Ward, who attended her first CLA convention in 2012 at Spelman College in Atlanta, Georgia.
"It was exciting to see so many other Black professors of languages and literatures because I had only attended predominately white institutions," Ward said. "I've often been the only Black faculty member in the various departments where I've worked, and CLA has been a wonderful space to see others who look like me and work in the same field of language."
Ward said CLA has evolved to become the largest organization of Black scholars of languages and literature, also bi-annually publishing The CLA Journal.  
"It's essential that Mississippi State University builds deep relationships with institutions that support scholarship on African American literature and culture, so I am thrilled that Professor Ward is taking on this prestigious position with the College Language Association," said Dan Punday, professor and head of MSU's Department of English. "In just two years at Mississippi State, Professor Ward has proven herself to be an innovative researcher and teacher who builds relationships with local, state and national communities. She will be an outstanding leader of the CLA."
As vice president, Ward will chair the program committee for the 2021 and 2022 national conventions, which will be held at the University of Memphis and Emory University, respectively. She also will serve as liaison with all standing committee chairs and assist the president in managing the CLA finances, membership, awards and journal.
"The CLA archives are housed at the Woodruff Library in Atlanta, so one of my major goals for our 2022 Atlanta convention is to work with our archives chair to highlight the history of our organization," Ward said.
The 2020 national convention was slated to include special events on the founding campus, Lemoyne-Owen College in Memphis, but instead was conducted online due to the coronavirus pandemic. 
"We have only previously canceled the convention for WWII," Ward said. "The 2020 convention also was important because it was an election year. For the first time ever, we had a virtual election for our new officers."
Comprised of two divisions, the English Area and the World Languages Division, each CLA division elects an area representative for a two-year term. In alternating years, the division representatives then become CLA president. Ward will serve as vice president for two years before becoming president for a two-year term, followed by two years as immediate past president.
"Many are surprised at the eight-year commitment that is involved, but it helps maintain the strength of CLA," she said.
Ward also is a member of the Modern Language Association, the largest and most prominent organization for English, where she serves as secretary for the MLA Languages, Literatures, and Cultures' African American Literature Forum.
"Like many organizations, MLA was segregated in its early years and when I joined CLA I was told that one of the other reasons we exist is because MLA would not allow Black professors to join in its early days. The glaring whiteness of MLA is easily visible at each MLA Convention that I attend. I value and appreciate MLA for its work, yet CLA is where I feel at home as a Black scholar. CLA and MLA are now affiliated organizations, and we work together on various initiatives. I am honored that I am able to serve my field of study in both of these organizations," she said.
Ward received her Ph.D. from the University of Memphis in literary and cultural studies in 2011. She is the editor of a 2015 Rutgers University Press publication, "Real Sister: Stereotypes, Respectability, and Black Women in Reality TV." 
Ward has served as president of the Anchorage Chapter of Jack and Jill of America Inc., one of the country's oldest Black service organizations. Her research and teaching areas focus on American literature with an emphasis in African American women's literature.
MSU's College of Arts and Sciences includes more than 5,200 students, 325 full-time faculty members, nine doctoral programs, 14 master's programs and 27 undergraduate academic majors offered in 14 departments. It also is home to the most diverse units for research and scholarly activities, including natural and physical sciences, social and behavioral sciences, and the humanities. For more details about the College of Arts and Sciences or the Department of English, visit www.cas.msstate.edu or www.english.msstate.edu.
MSU is Mississippi's leading university, available online at www.msstate.edu.