Contact: Sarah Nicholas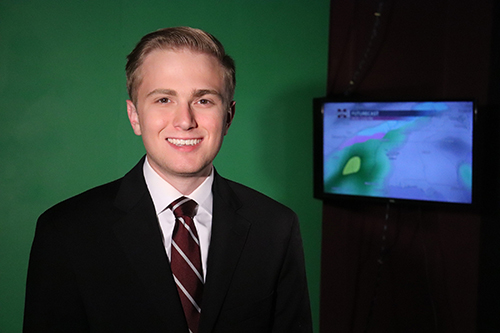 STARKVILLE, Miss.—Research conducted by a Mississippi State senior geosciences major continues to garner national attention, earning him time on a recent podcast by the Carolina Weather Group to discuss how language used to describe severe weather is not clear to a majority of television viewers.
Alex F. Forbes, a professional meteorology student in MSU's Department of Geosciences, is researching the effectiveness of terminology used by the National Weather Service Storm Prediction Center to categorize severe weather. For his capstone project, Forbes conducted a survey with nearly 4,000 respondents throughout the Southeast, asking them to rank the five categories of severe weather as used by the SPC—marginal, slight, enhanced, moderate and high.
His survey "found a disparity in the current word hierarchy used by the Storm Prediction Center, in their severe weather outlooks, and the public perception of them."
For instance, viewers are unclear if "marginal" is better or worse than "slight."
The Carolina Weather Group podcast invited Forbes to share the results of his survey and his thoughts on severe weather communication. The weekly podcast covers weather, science and technology for the Piedmont regions of North Carolina and South Carolina.
Forbes's research also was highlighted in an article appearing in The Washington Post in June.
"My findings have been widely believed among broadcast meteorologists across the United States for many years, so much so that many television stations took it upon themselves to create new ways of conveying the information," Forbes said.
"The results of the research lay the groundwork for a shift to a number-based scale, a lot like the Enhanced Fujita scale for tornadoes and the Saffir-Simpson scale for hurricanes," Forbes said. "Higher numbers are universally perceived as a higher threat."
A native of Alpharetta, Georgia, Forbes plans to graduate in spring 2021 and intends to pursue a career as a broadcast meteorologist in the Southeast.
He has served as president of the East Mississippi Chapter of the National Weather Association and the American Meteorological Society, as well as a student ambassador for the College of Arts and Sciences.
MSU's College of Arts and Sciences includes more than 5,200 students, 325 full-time faculty members, nine doctoral programs, 14 master's programs, and 27 undergraduate academic majors offered in 14 departments. For more details about the college or its Department of Geosciences visit www.cas.msstate.edu or www.geosciences.msstate.edu 
Mississippi's leading university, also available online at www.msstate.edu.