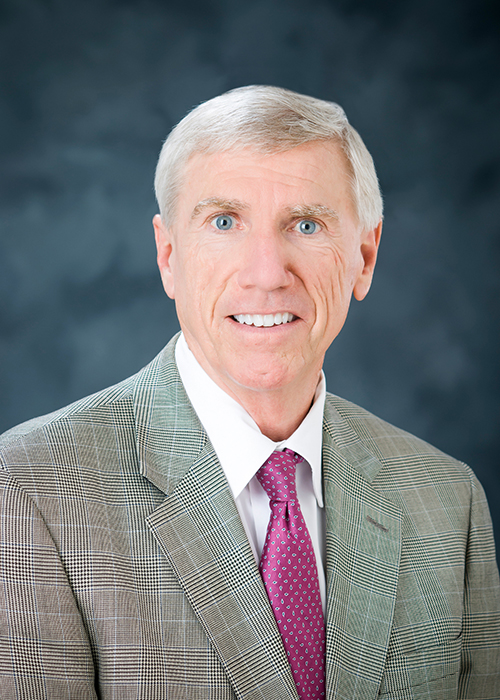 Contact: Sasha Steinberg
STARKVILLE, Miss.—Charles "Chip" Templeton, director of Mississippi State University's Small Business Development Center, has earned the Economic Development Finance Professional certification from the National Development Council.
The EDFP certification is a professional credential gained by those who successfully complete NDC's intensive economic development finance training series, consisting of four five-day courses that conclude with exams. The training provides a diverse group of economic and housing development professionals with instruction in business credit analysis, real estate financing, loan packaging, deal structuring and negotiating, and the creation and implementation of development programs.
Templeton said he is excited to have completed the rigorous certification process, an achievement made possible with support from MSU College of Business Dean Sharon Oswald and Mississippi SBDC State Director Sharon Nichols. Nichols had earned the certification prior to coming to Mississippi from Oklahoma and encouraged Templeton and another colleague affiliated with the Mississippi SBDC to participate.
"I'm thankful that Sharon reached out and gave me this opportunity, and I also appreciate Dean Oswald investing in me," Templeton said. "I'm glad I did this because the real-life case studies presented in the courses were really helpful. The information I gained is something I can use to help our clients at the MSU Small Business Development Center and other people within our statewide organization."
Oswald said Templeton's "outstanding" accomplishment enhances the value that the MSU alumnus brings through his service to the university and state.
"To have someone of Chip's caliber leading the Small Business Development Center is a valuable asset to Mississippi State and the College of Business," she said.
A Starkville native and 1977 MSU marketing graduate, Templeton grew up assisting with his family's hotel operation before spending nearly three decades as president of the Templeton Cadillac-Chrysler-Dodge-Jeep dealership, among other local commercial endeavors. His family has three generations of MSU College of Business graduates. In addition to his service to MSU's SBDC, Templeton is co-chair of MSU Libraries' annual Charles H. Templeton Ragtime and Jazz Festival, named for his father Charles H. Templeton Sr.
For nearly four decades, MSU's SBDC has guided small business owners and entrepreneurs seeking to start or expand businesses. Funded in part through a cooperative agreement with the U.S. Small Business Administration and with offices at both MSU's Starkville and Meridian campuses, the SBDC provides free, one-on-one business counseling to clients across Choctaw, Clay, Kemper, Lauderdale, Lowndes, Monroe, Montgomery, Noxubee, Oktibbeha and Webster counties. Learn more at https://www.business.msstate.edu/faculty-research/research-centers/small-business-development-center.
Headquartered in New York City, NDC has worked since 1969 to support the preservation and creation of affordable housing, creation of jobs through training and small business lending, and promotion of livable communities through investment in social infrastructure. The national nonprofit deploys its products and services for the benefit of municipal and nonprofit partners in both urban and rural low-income communities. For more, visit www.ndconline.org.
MSU is Mississippi's leading university, available online at www.msstate.edu.