Contact: Sasha Steinberg
STARKVILLE, Miss.—Mississippi State's Judy and Bobby Shackouls Honors College, James Worth Bagley College of Engineering and university Athletics will be well represented next summer in the United Kingdom where a Bulldog student-athlete will participate in the prestigious Fulbright U.K. Summer Institute program.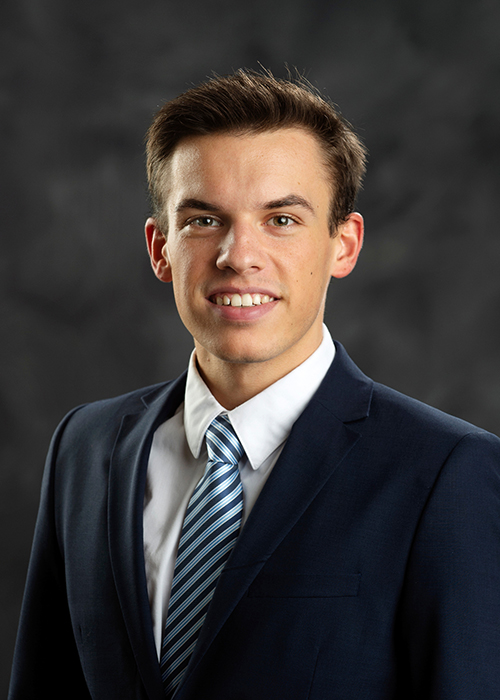 Reese A. Dunne of Starkville, a junior mechanical engineering major and member of MSU's cross country and track and field teams, is looking forward to immersing himself in a new culture during his studies at Scotland's University of Strathclyde and the Glasgow School of Art.
"I'm super excited because I feel like Glasgow will be the perfect backdrop for me as a first-time international traveler," he said. "I've lived in the South my whole life, so it will be fun to explore somewhere different."
Dunne is one of this year's five nationwide Fulbright U.K. Summer Institute recipients who will travel to Scotland next summer, along with five others who will be selected from next year's applicant pool. He chose the Fulbright U.K. Summer Institute program in Scotland—one of four options for 2021—because it specifically focuses on technology, innovation and creativity.
"I thought this institute sounded perfect for me with my engineering background and passion for undergraduate research and solving global challenges," he said. "I'm excited to visit with and learn from faculty members because I think it will help me with leadership opportunities, including a service organization called Nonnie's Notes that I launched during my junior year at Starkville High School."
Dunne founded Nonnie's Notes to honor his grandmother Nonnie, who was diagnosed with Alzheimer's disease in 2005.
"I am very into musicianship, and I wanted to bring together other musically inclined students to perform at retirement homes for patients with dementia and Alzheimer's disease," said Dunne, an avid pianist. "It's one of the coolest things I've ever done, and I'm really excited for COVID to be over, so we can continue with it."
One of Dunne's fondest "Nonnie's Notes" memories is seeing his grandmother sing and clap along while his brother Connor performed Scott Joplin's classic ragtime piece "The Entertainer."
"It made me happy to see Nonnie happy, along with a lot of other residents who came in while we played piano," said Dunne, who also is a member of the MSU State Singers. "I feel like music has therapeutic effects that have not been explored yet, and that's one thing I really want to do through Nonnie's Notes."
Dunne said he has benefitted from the support of the Shackouls Honors College since his freshman year when he enrolled as a recipient of the G.V. "Sonny" Montgomery Presidential Endowed Scholarship. He also is receiving the James Carl and Hazel Forbes Endowed Scholarship through the Bagley College of Engineering.
"Growing up in Starkville and with both parents working at Mississippi State, I knew that if I came to State, that was definitely something I wanted to be a part of," he said of the Shackouls Honors College, where his sister Marika will be a senior in the fall.
His father Jim Dunne is associate vice president for academic affairs in MSU's Office of the Provost and Executive Vice President and a professor in the College of Arts and Sciences' Department of Physics and Astronomy. Dunne's mother Demi is an office associate for MSU's University Academic Advising Center.
"I've had a passion for math and science all my life and knew I wanted to do something in the engineering field, but another big reason I came to Mississippi State was because of the MBA Venture Pathway Program," Dunne said. "It allows me to take business courses throughout the four years I pursue my mechanical engineering degree, and then get an MBA in the fifth year. Being able to do both is awesome."
"Awesome" also is how Dunne describes his experience as a Bulldog student-athlete.
"One great thing about being at Mississippi State is the diverse group of people," he said. "Cross country and track are mentally and physically challenging sports, but doing them here has been so rewarding."
Dunne is equally confident that next summer's Fulbright U.K. Summer Institute experience will be just as beneficial, and said he has much gratitude for MSU Professor of English Tommy Anderson who helped him throughout the application process. Anderson serves as the Shackouls Honors College's director of fellowships, the College of Arts and Sciences' associate dean for academic affairs and MSU Libraries' interim dean.
"Dr. Anderson is so knowledgeable of prestigious scholarships like Fulbright, Rhodes and Goldwater, and it has been great to ask him questions. I thought it was interesting that freshmen and sophomores could apply for these types of scholarships, and that was one reason I wanted to pursue this opportunity."
Dunne said he "100 percent" encourages other students to consider MSU prestigious scholarship opportunities, just as fellow Starkville native Jacob N. Easley inspired him to apply for the Fulbright U.K. Summer Institute. Easley, who graduated summa cum laude in May with an MSU bachelor's in mechanical engineering, also studied at the University of Strathclyde and Glasgow School of Art as the first MSU student to participate in the Fulbright Summer Institute.
"Hearing about Jacob's time abroad made me want to have my own experiences in Scotland," Dunne said. "I want to be an ambassador for the Fulbright Summer Institute program and an inspiration for other students at Mississippi State."
For more on MSU's Judy and Bobby Shackouls Honors College, visit www.honors.msstate.edu; the Bagley College of Engineering and Department of Mechanical Engineering at www.bagley.msstate.edu and www.me.msstate.edu; MSU Athletics at www.hailstate.com.
MSU is Mississippi's leading university, available online at www.msstate.edu.