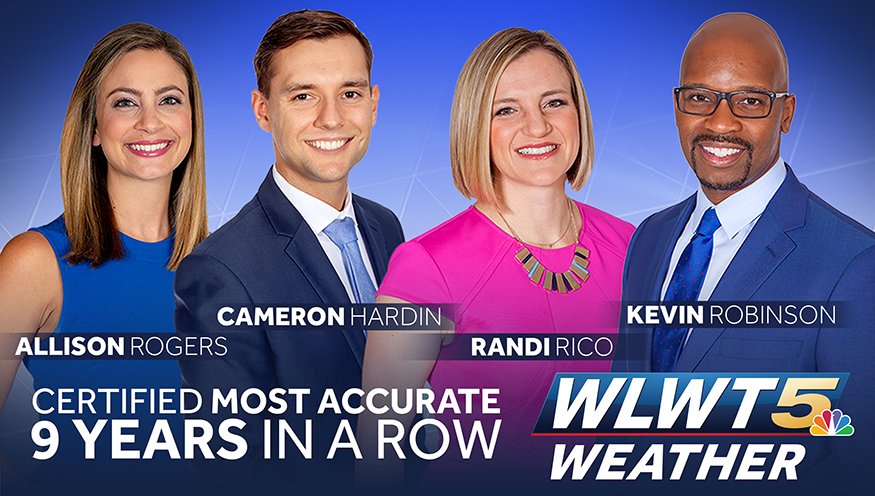 Contact: Sasha Steinberg
STARKVILLE, Miss.—Three former Mississippi State geosciences students, now professional meteorologists, are part of the weather team at WLWT Cincinnati earning the city's only "Most Accurate" rating. Randi Rico, Kevin Robinson and Allison Rogers are MSU alumni working for the Hearst Television station that recently received the certification from WeatheRate, an independent research company that tracks and verifies forecasts across the country.
"WLWT Cincinnati has the highest accuracy rating of any station not only in Cincinnati, but of any station in all of Ohio, Kentucky and Indiana," said Bruce Fixman, president of WeatheRate, who explained the ranking also is superior to the surrounding cities of Dayton, Louisville, Columbus, Indianapolis and Cleveland for the second consecutive year.
"Every forecast in Cincinnati is tracked every day from each station, so to earn this rating, you have to be consistently accurate," said WLWT President and General Manager Branden Frantz. "We know people depend on our forecast. Our team of Chief Meteorologist Kevin Robinson and meteorologists Randi Rico, Allison Rogers and Cameron Hardin work hard every day to get it right."
Rico, who completed graduate coursework at MSU, holds both the American Meteorological Society and the National Weather Association's Seal of Approval.
Robinson graduated in 2001 with an MSU bachelor's degree in broadcast meteorology, and he carries the American Meteorological Society Seal of Approval.
Rogers obtained her professional broadcast meteorology degree from Mississippi State in 2015.
One in three of today's on-air broadcast meteorologists in the U.S. is a graduate of MSU's nationally recognized program in the Department of Geosciences. The department is part of the university's College of Arts and Sciences, which includes more than 5,200 students, 325 full-time faculty members, nine doctoral programs, 14 master's programs and 27 undergraduate academic majors offered in 14 departments. For more, visit www.cas.msstate.edu or www.geosciences.msstate.edu.
MSU is Mississippi's leading university, available online at www.msstate.edu.