Contact: Sasha Steinberg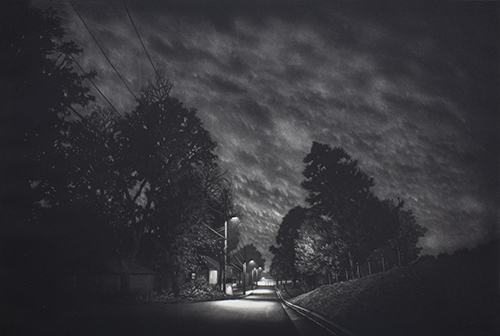 STARKVILLE, Miss.—Mississippi State's Department of Art is committed to providing students and local artists with opportunities to develop and showcase their creative talents. As part of this mission, the department is kicking off its fall event series with two shows this month, including the Starkville Area Arts Council's Juried Art Exhibition.
From Aug. 28-Sept. 18, the free exhibition titled "The Light that Persists: Mississippi Artists in 2020—SAAC Juried Exhibition" will be available for public viewing at the university's Visual Arts Center Gallery, 808 University Drive in Starkville.
Gallery hours are Monday-Friday from 1-6 p.m. and Saturday from 1-4 p.m.
Visitors and staff must wear masks at all times in the gallery, and masks can be provided upon request.
Lori Neuenfeldt, MSU art instructor and gallery director, said the VAC and other campus art galleries are being professionally cleaned and sanitized on a regular basis, with enhanced measures according to recommended health protocols.
In accordance with physical distancing guidelines, admittance to the VAC Gallery will be limited to 10 people. Visitors are asked to be mindful of traffic flow when entering and exiting the building.
"We also encourage frequent use of hand sanitizing stations that are placed throughout the gallery," Neuenfeldt said.
Guest juror Turry M. Flucker, art collections director and curator at Tougaloo College, selected more than 30 works by local and regional artists for this SAAC exhibition, which, along with other fall shows, also can be viewed online at www.caad.msstate.edu/exhibitions.
In addition to the VAC Gallery, in-person exhibitions will be held at the Cullis Wade Depot Art Gallery, 75 B.S. Hood Drive near Davis Wade Stadium. Admittance to the Cullis Wade gallery will be limited to 24 people to ensure physical distancing. Gallery hours are Monday-Friday from 9 a.m.-5 p.m.
Other upcoming exhibitions include:
—"Art Under Quarantine: Selections from ESCAPADE: Spring 2020 Fine Art Senior Thesis" Aug. 31-Sept. 11 at Cullis Wade Depot Art Gallery. Eight MSU Bachelor of Fine Arts graduates from the spring 2020 "ESCAPADE" online exhibition will present new works produced during quarantine.
—MSU Department of Art Faculty Exhibition Sept. 24-Oct. 23 at Cullis Wade Depot Art Gallery. This is a biannual showcase of recent faculty work.
—"of one to all," presented by MSU Bachelor of Fine Arts graduate Hannah McBroom of Columbus Oct. 9-31 at Visual Arts Center Gallery. Through her collection of paintings, McBroom seeks to convey her perspectives on gender, relationships, and the self.
—2020 CAAD + CALS Exhibition: Agriculture Nov. 23-25 at the CAAD website  www.caad.msstate.edu/exhibitions. Celebrating the university's dedication to agriculture, this show features drawing, painting, graphic design, photography and printmaking works jointly juried by faculty members from the colleges of Architecture, Art and Design, and Agriculture and Life Sciences.
For more on the state's largest undergraduate studio art program housed in MSU's Department of Art, visit www.caad.msstate.edu; the College of Agriculture and Life Sciences at www.cals.msstate.edu.
MSU is Mississippi's leading university, available online at www.msstate.edu.