Contact: Harriet Laird
STARKVILLE, Miss.—As students begin arriving at Mississippi State this week, they'll be greeted with a modified campus lifestyle that includes maroon facemasks, physical distancing, sanitizing stations and an introduction to Cowbell Well, the university's health and safety initiative.
Through Cowbell Well, which familiarizes all Bulldogs with seven wellness behaviors that can help reduce the spread of COVID-19, students can do their part to protect and maintain MSU's special campus experience.
"We're doing our part as a university to communicate these messages so that all of us at Mississippi State continue to take care of each other every minute of every day—that's just what we do. While we can take these seven steps to certainly help us personally be safe, as Bulldogs it's our nature to do the right thing in thinking of others and being mindful of those around us," said Regina Hyatt, vice president of Student Affairs.
Tyler Packer, MSU Student Association president, expressed his advocacy for Cowbell Well. "I hope every student will respect and protect each other just like they do their own family members and friends. Sticking to this campaign's seven steps empowers us to combat the pandemic—together—as the Bulldog family."
Cowbell Well is a result of several months of research and planning by MSU's Healthy Behaviors Work Group of students, faculty and staff. This group surveyed and interviewed students and parents to gain insights into implementing prevention behaviors on campus. Recommendations from this research included the creation of multiple messaging that serves as reminders on these important behaviors and working to build student confidence in the ability to do the behaviors each day. The research results also showed that making necessary supplies to perform the behaviors should be made readily available. The seven health and safety behaviors identified by the study include: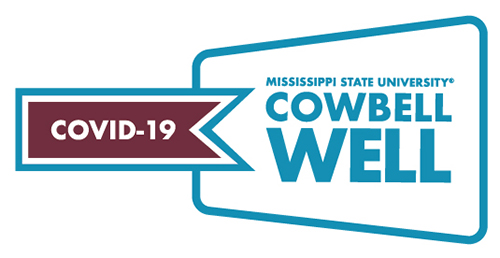 —Wearing a face covering
—Completing the daily screening
—Cleaning your hands often
—Observing physical distancing
—Staying home if you feel sick
—Sanitizing surfaces, and
—Practicing self care
Along with posters, stickers and other specialty items to remind those on campus about following the guidelines, the Healthy Behaviors Work Group will be creating videos on each of the seven actions, sending out social media messages through August, giving away wellness baskets on Instagram, participating in media interviews and setting up Wellness Wednesday displays with other items that can continuously prompt students and employees to practice these wellness directives.
"Following these behaviors identified in Cowbell Well can help us thrive despite this most challenging time," said Leah Pylate, MSU health promotion and wellness director and work group chair. "With everyone looking out for each other and practicing the health behaviors correctly and consistently, we can mitigate the spread of COVID-19." 
For more on Cowbell Well, visit www.msstate.edu/cowbell-well.
MSU is Mississippi's leading university, available online at www.msstate.edu.