Contact: Sasha Steinberg
STARKVILLE, Miss.—The author of Mississippi State's 12th Maroon Edition book selection is hosting free, online events this month to officially welcome new freshmen and transfer students to the state's leading university.
Conor Grennan, who wrote the international best-selling and award-winning memoir "Little Princes: One Man's Promise to Bring Home the Lost Children of Nepal," will engage MSU students, faculty, staff and community members in Webex discussions on a variety of topics, including the value of volunteerism and making a difference.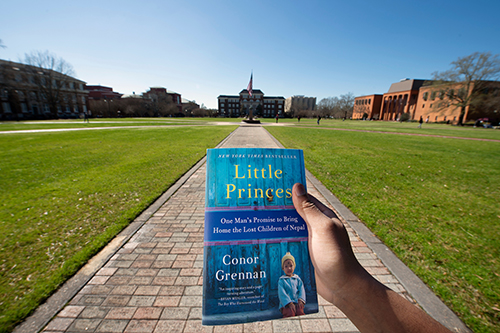 Grennan was originally scheduled to speak this month at the university's Fall Convocation, but that event was canceled due to the coronavirus pandemic. Staff in MSU's Center for Teaching and Learning and the Office of the Provost and Executive Vice President are collaborating with Grennan to host several online events in place of Convocation, which celebrates the start of a new academic year at MSU.
MSU President Mark E. Keenum said he encourages new Bulldogs to embrace opportunities like Maroon Edition to become involved in learning activities that will supplement and reinforce concepts and skills from their classes. He said MSU will provide both a valuable academic education, as well as life experience.
"We want to provide our students with a great education, but we also want to prepare them to be positive role models in their communities and to help those in need," Keenum said. "That's what Mississippi State is about—we're here to help people. We have world-class faculty, administrators and fellow students to help our freshmen and transfer students thrive and excel," Keenum said. "I want to thank Conor Grennan for helping us ring in a new semester."
MSU's Center for Teaching and Learning oversees annual selection of the Maroon Edition book, and all incoming freshmen and transfer students attending MSU Orientation receive a free copy. "Little Princes," which has been translated into 15 languages, is the winner of GoodReads 2011 Best Travel and Outdoors Award and has been shortlisted for the Dayton Literary Peace Prize.
Grennan is a graduate of the University of Virginia and the New York University Stern School of Business, where he serves as Dean of Students for the MBA program. He also is founder of Next Generation Nepal (NGN), a nonprofit organization that has helped reconnect more than 500 trafficked children with their families in Nepal. In 2014, he was named a recipient of the Unsung Heroes of Compassion award, given by the Dalai Lama.
"I so wish I could be with you in Starkville," Grennan said in a recent video message to the incoming freshman class. "I had been looking forward to this trip forever because I was psyched to see your campus, the football stadium and to meet you all in person. But I am going to be with you virtually, which is sort of how we're all doing life these days."
Grennan said he is excited to share insight about volunteering, nonprofits and writing, which he is "super passionate about."
"I cannot wait," he said. "We're going to talk, have a lot of Q&A, interact and get to know each other. Thank you for inviting me. I'm praying that you guys have started off school really, really well, and I will see you all soon."
All of Grennan's interactive events are free, and registration is required at www.ctl.msstate.edu/events. Links to each event will be emailed after registration is complete. Events include:
Aug. 26
—Volunteering Discussion, 9:10-10 a.m.
—Writing Workshop, 11:30 a.m.-12:20 p.m.
—Difficulties and Rewards of Nonprofit, 1:50-2:40 p.m.
Aug. 27
—"Little Princes" Book Discussion for Freshmen, 9:30-10:30 a.m. 
—"Little Princes" Book Discussion – Open Forum, 5:30-6:30 p.m. 
Aug. 28
—Follow-up Discussion with Conor Grennan, 10:20-11:10 a.m.
To request disability accommodation for any of these online events, please contact Michael Seymour, interim director of MSU's Center for Teaching and Learning, at 662-325-2083 or michael.seymour@msstate.edu.
Learn more about MSU's Maroon Edition program at www.maroonedition.msstate.edu.
MSU is Mississippi's leading university, available online at www.msstate.edu.