Contact: Allison Matthews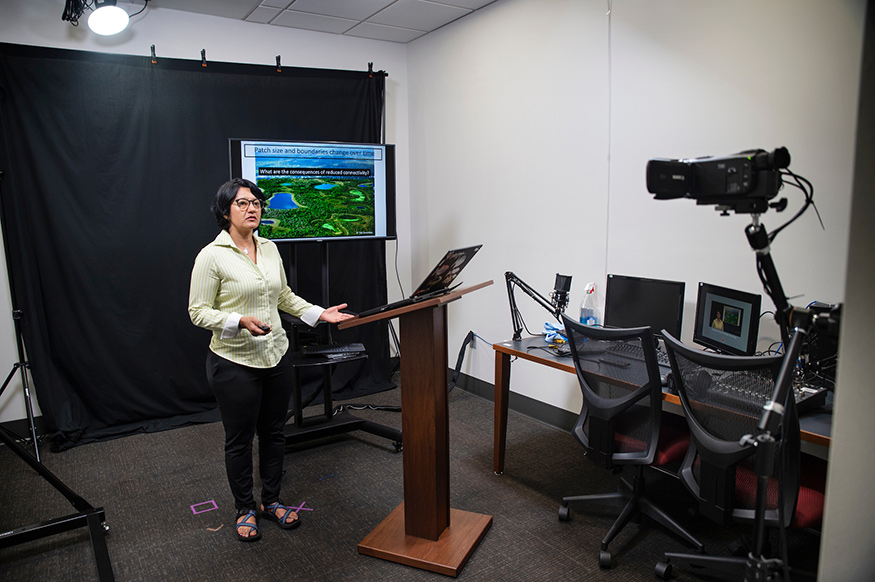 STARKVILLE, Miss.—Educators across the country have adjusted to new teaching formats during the coronavirus pandemic, and as they look ahead to soon returning to in-person classrooms, the need for flexible teaching methods continues to be at the forefront of discussion among universities nationwide.
Mississippi State's Online Education Task Force is helping faculty implement a variety of teaching approaches. MSU Provost and Executive Vice President David Shaw instituted the group prior to the coronavirus pandemic but task force members embraced the opportunity to assist the university during unprecedented circumstances, even as they also look at long-term online education growth.
Brent Fountain, task force chair and associate vice president for academic affairs, said the group—comprised of deans, department heads, faculty and student representatives—has worked with key campus partners to simplify access to helpful resources and state-of-the-art technologies so that faculty have a "one-stop shop" that supports teaching techniques of all kinds, including online, hybrid, synchronous and asynchronous strategies, among others.
A new website, www.instructionalguide.msstate.edu, brings together an abundance of information to help prepare for in-person and remote instruction this fall. Resources have been compiled from the university's Center for Distance Education, Center for Teaching and Learning, Information Technology Services and University Libraries. The site includes preparation recommendations to guide faculty considering appropriate options to implement for various courses this fall. Ultimately, faculty could find they have more choices than previously considered for conducting their classes and delivering course content.
"We encourage all faculty to think about how to help students in new ways and streamline their own workloads. It is better to have a resource and decide it is not needed rather than not have it at all," Fountain said.
While MSU has announced a return to more traditional operations in the fall semester, administrators also have acknowledged that the pandemic may continue to necessitate outside-of-the-box teaching and learning tactics. Fountain said the pandemic, which forced spring classes to completely transition online in March, also has accelerated opportunities to evaluate instructional design and implement changes that may prove advantageous even after the pandemic ends. He said bringing together instructional design specialists and faculty who are experts in their respective subject areas can yield better outcomes for students.
Observing that no two classes are the same, Fountain said they cannot be adapted to a "one-size-fits-all" model. Rather, he suggests that faculty consider factors like what activities, information or strategies lend themselves to a particular pedagogy, and what content or assignments might be adjusted to see better results.
Fountain said while some class topics lend themselves to lectures, others are very applied and technical. When transferred to an online format, a lengthy lecture may be made more effective by being broken down into smaller segments.
A former faculty member in the Department of Food Science, Nutrition and Health Promotion, Fountain said his work on the task force has helped him understand that on-campus students also want options for online offerings.
"We want to ensure a seamless experience for students whether they are on or off campus," Fountain said.
Stephen Cunetto, associate dean of University Libraries, said some faculty are taking advantage of library assets this summer to prepare for their upcoming fall classes. Although the library is closed for regular usage, faculty can reserve time in the AV Studio to prerecord lectures, for example.
"The library faculty and staff are positioned to greatly assist the teaching faculty and students by providing a variety of critical services that enhance teaching and learning," he said.
Library subject specialists can assist with identifying supplementary resources for classroom instruction, developing course specific guides and offering information literacy workshops through Webex. Instructional technologists in the MaxxSouth Digital Media Center provide one-on-one assistance to faculty learning new technologies, such as creating class videos.
"During the summer we are offering numerous workshops to assist faculty in preparing for the fall semester. We encourage the faculty to reach out to our subject and technology specialists to allow us to assist them in the development of their courses," Cunetto said. "We are happy to brainstorm to find the right information, tools and technologies that will best meet their needs."
Susan Seal, executive director for MSU's Center for Distance Education, said while some faculty had their first experience teaching online during the spring semester, the university has been a leader in distance education for more than 30 years, with about 60 programs already fully online. She said many faculty members experienced with online teaching have been able to assist and mentor others.
"We want faculty to understand that at Mississippi State, they have resources available to them. They don't have to figure it out on their own, whether it's a new technology or a different pedagogy. They have a lot of resources at their disposal," Seal said.
Seal said when considering how to teach a course as an online or hybrid course, replicating methods in their past face-to-face teaching may not be the best approach.
"I encourage faculty to think about not just how they typically teach a class, but think about the outcomes they want to see, what they want to accomplish and how they want to engage with their students," Seal said. "We can help faculty think about what elements are important and find the tools to help them meet their goals."
MSU is Mississippi's leading university, available online at www.msstate.edu.