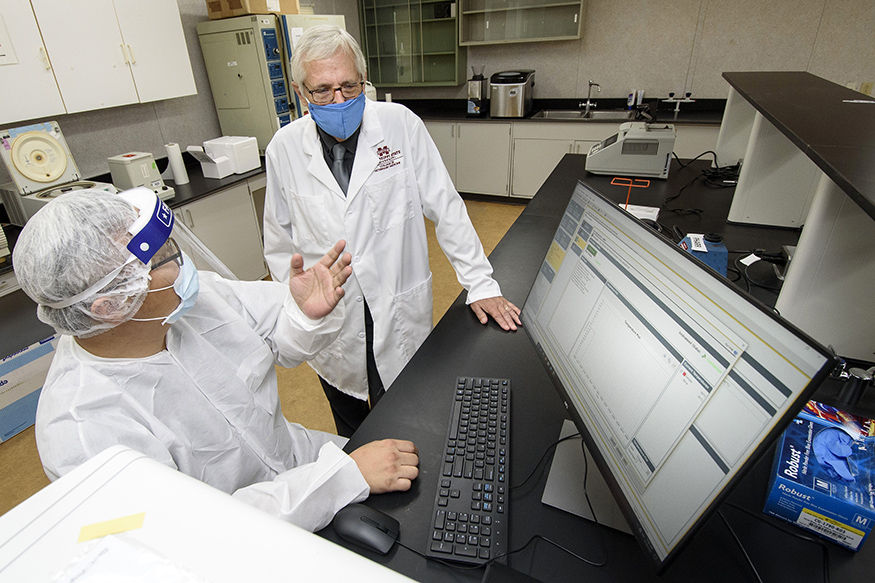 Contact: James Carskadon
STARKVILLE, Miss.—Mississippi State University's College of Veterinary Medicine is working with the John C. Longest Student Health Center to ensure COVID-19 diagnostic tests are processed effectively and efficiently.
Personnel from the College of Veterinary Medicine are processing nasal swabs collected from patients at the Student Health Center. This lab work is helping ensure a fast turnaround for polymerase chain reaction, or PCR tests, considered the "gold standard" for COVID-19 tests by the U.S. Food and Drug Administration. After purchasing additional equipment to expand capacity and meeting CDC Clinical Laboratory Improvement Amendments (CLIA) regulations, teams of CVM staff can process approximately 350 samples per shift. The samples to be tested are being collected at the health center and transported to the laboratory in sealed tubes.
"We are very pleased that our College of Veterinary Medicine is now able to offer PCR testing for Mississippi State," said Reuben Moore, interim vice president for the Division of Agriculture, Forestry and Veterinary Medicine. "This is a huge contribution to our efforts in fighting the spread of COVID-19 here on campus. It also contributes to our ability to allow our students to have an on-campus experience rather than our courses only being offered virtually. We appreciate the faculty, staff and administrators of CVM for their work in facilitating this testing capability."
Since the health center began testing patients for COVID-19 in March, the PCR tests have been processed by outside private labs, with varying wait times as demand fluctuated. Health center staff have been processing rapid antigen tests in-house that give a faster result, but are less accurate than the PCR tests. Regina Hyatt, MSU Vice President for Student Affairs, said the partnership with CVM allows for the capability of running hundreds of tests a day on campus, drastically reducing wait times.
"This is another example of various entities of the university working together to solve issues and to address community needs," Hyatt said. "We know one of the important strategies in stopping the spread of COVID-19 is the ability to quickly test and get results so people who are positive can be identified and isolated without further spreading the illness."
The nasopharyngeal samples are being processed in CVM's biosafety-level 2 lab located adjacent to the Wise Center. Stephen Pruett, CVM interim associate dean for research and graduate studies, is overseeing the team processing the samples.
"A majority of our faculty members do some type of work involving PCR testing in their research," Pruett said. "We have a number of researchers that work with biosafety level 2 pathogens. That's one of the things that worked to our advantage when trying to find people for this. The techniques are the same."
Diagnostic testing is a major part of CVM's service to the state as the college operates four labs—the Mississippi Veterinary Research and Diagnostic Laboratory (MVRDL) and the Poultry Research and Diagnostic Laboratory, both located in Pearl; the Aquaculture Research and Diagnostic Laboratory in Stoneville; and the CVM Diagnostic and Aquatic Laboratory housed in the Wise Center. These labs provide surveillance and diagnostic testing for the state's practicing veterinarians, individual producers, pet owners, and the livestock, aquaculture and poultry industries.
In addition to COVID-19 testing capacity at CVM in Starkville, samples also can be analyzed by CVM personnel in Pearl. During the pandemic, MVRDL staff have assisted the Mississippi State Department of Health with processing to expand their capacity.
"We are looking at this as a chance to help serve the university," said CVM Dean Dr. Kent Hoblet. "Since the start of the pandemic, our people have been working and continuing to provide their services. Our goal is to try and keep the university operating as close to normal as we can, and we're proud to help in this way."
MSU is Mississippi's leading university, available online at www.msstate.edu.