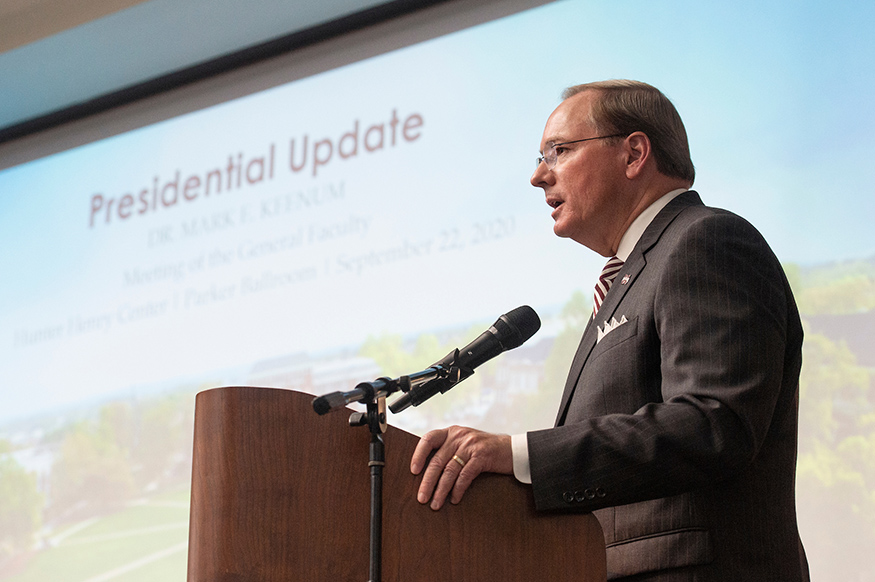 Contact: James Carskadon
STARKVILLE, Miss.—Despite the many challenges Mississippi State has faced in the last six months, MSU President Mark E. Keenum explained in an address Tuesday [Sept. 22] the university remains focused on the vital mission it has in Mississippi.
Keenum provided this update to the campus community during the fall general faculty meeting. In addition to highlighting encouraging enrollment trends, major private giving milestones and other recent accomplishments, Keenum noted that university has seen a significant decrease in reported COVID-19 cases among the student body in recent weeks. He said continued adherence to safety protocols and testing capabilities will be key to successfully completing the rest of the semester. He also thanked everyone across campus that has helped the university continue to move forward during the pandemic.
"As our state's leading land-grant institution, we have a tremendous responsibility to serve our students wherever they are, whether that is here in Starkville, in Meridian, on the Coast, or online," Keenum said, noting that nearly 70 percent of fall semester class sections feature a face-to-face component. "We can't shut down our research enterprise, or our service and outreach in every county of our state. I'm focused on keeping our university going and fulfilling our vital mission as together we continue to make a positive impact in our state."
In August, MSU announced that the Infinite Impact capital campaign reached $1.07 billion in gifts and pledges, distinguishing the university as the first educational institution in the state to reach the billion-dollar milestone in a fundraising campaign. The gifts from 73,000 donors have helped the university enhance academic facilities, as well as funding scholarships and endowed faculty chairs and professorships.
Keenum also provided an update on several campus construction projects. The $34 million Richard A. Rula Engineering and Science Complex is expected to welcome students by the end of the year. The $8 million indoor Rula Tennis Pavilion will also be operational this fall. Next month, MSU will officially open the new $12.5 million Poultry Science Building, completing a three-building complex which includes the Animal and Dairy Sciences Building and the Meat Science and Muscle Biology Lab.
In addition to general road maintenance that has taken place over the summer, construction continues on a new road connecting Stone Boulevard and Magruder Street, as well as an adjacent parking lot with approximately 400 new spaces. The project will further enhance Oktibbeha County's ongoing project to improve Blackjack Road. Construction will begin soon on Bulldog Way, a new road connecting Blackjack to the intersection of East Lee Boulevard and Bailey Howell Drive.
Keenum reiterated his support for campus efforts to increase diversity among students, faculty and staff, as well as programs designed to enhance access and student success.
"We must do all that we can to increase access and degree completion for under-represented students," Keenum said.
Last week, the Chronicle of Higher Education named MSU a "Great College to Work For" in its fifth consecutive year of achieving the honor. Keenum said this recognition is a testament to the quality of the faculty and staff across campus.
"You've probably heard me say that it's the people who make our university the special place that it is," Keenum said. "Going through this pandemic has only strengthened that belief."
MSU is Mississippi's leading university, available online at www.msstate.edu.