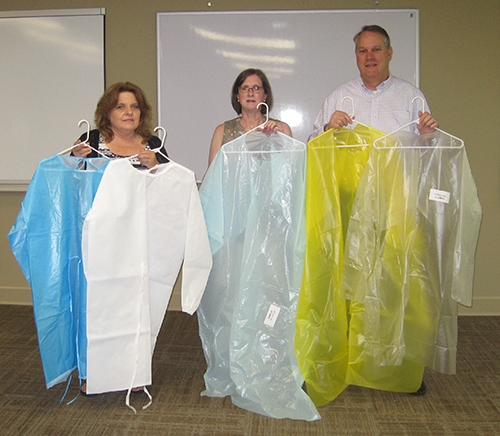 Contact: James Carskadon
CANTON, Miss.—With a team led by Mississippi State's Center for Advanced Vehicular Systems-Extension, Mississippi manufacturers and suppliers have come together to produce isolation gowns to help some of the state's hospitals in need.
As the disposable gowns became more difficult to obtain during the COVID-19 pandemic, several hospitals in the state reached out to CAVS-E this summer to express their concerns. At the request of the hospitals, CAVS-E personnel identified furniture manufacturers with the capabilities of making the gowns, as well as primary material suppliers. CAVS-E worked with the hospitals and manufacturers to fine-tune the design of the isolation gowns to meet the needs of each facility, which included OCH Regional Medical Center in Starkville, Anderson Regional Medical Center in Meridian and South Central Regional Medical Center in Laurel.
"Since its founding, CAVS-E has been a tremendous asset for Mississippi's manufacturing base and has a long track record of helping companies improve their production processes," said MSU Interim Vice President for Research and Economic Development Julie Jordan. "This experience, as well as the team's detailed knowledge of manufacturing capabilities in Mississippi, has CAVS-E well-positioned to help companies in our state meet the evolving needs of healthcare providers during a time when personal protective equipment has been in short supply."
Isolation gowns are sanitary, personal protective equipment used by medical personnel when they enter a room with a patient who has an infectious disease, such as COVID-19. Procedures for isolation gowns are much like those for disposable gloves, where a fresh gown must be used each time the medical staff enters a different patient's room. Small hospitals can go through more than 100 of these gowns each day.
The CAVS-E effort was carried out by Lean Healthcare Deployment Coordinator Susan Moore, Project Manager John Moore, and Project Coordinator Debbie Miller. Furniture manufacturers, many of which have in-house cut-and-sew operations in their plants—including  Bauhaus, Corinthian Furniture and Max Home—were quick to respond to the need. Materials suppliers such as Mississippi Polymers, a manufacturer of thin-gauged flexible films, and DAF Products, a manufacturer of emergency response fabrics, were identified as companies that could provide the gown material.
"This is an excellent example of what CAVS-E does," said CAVS-E Director Glenn Dennis. "Debbie contacted people in the furniture industry about different materials and designs. John and Susan sent several samples to the hospitals for their input, which took several design iterations, but they knew it was important and did not stop until the hospitals were satisfied. I am really proud of what this team did. They did not do this for the publicity, but they saw friends that were hurting, wanted to help, and they did."
CAVS-E offers a Lean Healthcare Certificate program to healthcare organizations in the state that helps them improve the cost, quality and speed of delivery of healthcare services. For more information about this program, or to learn more about other programs and services offered by CAVS-E, visit www.cavse.msstate.edu.
MSU is Mississippi's leading university, available online at www.msstate.edu.