Contact: Sarah Nicholas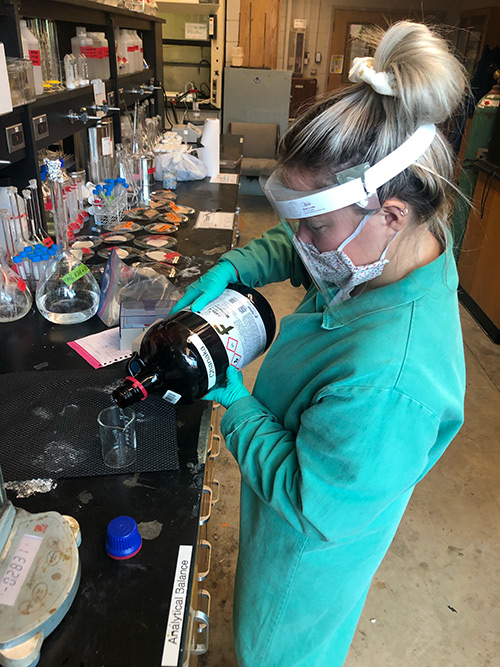 STARKVILLE, Miss.—When the COVID-19 pandemic led to the cancellation of many summer internships and research programs across the country, a grant from the National Science Foundation helped nearly a dozen Mississippi State students salvage their research plans.
MSU's Department of Chemistry directed the NSF-funded Research Experience for Undergraduates, which became one of the only in-person summer programs of its type operating in the U.S. The REU programming provides undergraduate students with hands-on research time with faculty and other researchers at host institutions.
"When the residence halls closed for the summer, we had to change our typical plans of hosting students from around the country for this research experience. We found ourselves with a program but no students. The solution was obvious, and—with endorsements from our NSF program manager and MSU administration—we were able to make an exception this year to run the program with only local students participating," said Debra "Deb" Mlsna, associate professor in the chemistry department and co-principal investigator of MSU's REU program.
"Our program is designed to support students that fall into underrepresented categories in STEM, such as African Americans and Native Americans, women and first-generation college students. Ten of the 11 students this summer, 91%, fulfilled that mandate," she said.
In previous years, Mlsna has been able to work with MSU professors and external programs to host around 40 students who typically come from schools across the country. Mlsna said these students usually receive a $5,000 stipend and are housed on campus. This year, because of COVID-19, the REU students received the stipend plus an additional $1,000 to apply toward off-campus housing.
"We emphasized the safety aspect in labs where undergraduate students were paired with a graduate student. Each supervising faculty member developed cleaning protocols, and staggered research space," Mlsna said.
Kristen "Kris" Malebranche, an MSU senior biological sciences major from Hillsborough, New Jersey, whose first REU was cancelled at the National Cancer Institute in Maryland, part of the National Institutes of Health, then joined REU at MSU in the lab of Dennis Smith, professor and head of the chemistry department.
"I know times are unprecedented but it was great that this program could still happen during this pandemic and that everyone was more than willing to follow proper guidelines," said Malebranche, who noted safety protocols included wearing masks, shields and gloves, social distancing and holding REU meetings online or in a large seminar room.
 "They allowed us to be independent and run our experiments, under supervision, which was the best way to learn," Malebranche said. "It helps students get acclimated to the realm of research, which is beneficial to help them get an idea of what they would like to pursue after graduation."
Emily Chappell, a senior chemistry major from Vancleave, said the best part of her REU was the experience she gained as a scientist. "I was mentored by an amazing research group that showed me what a career in science looks like. I was able to learn countless new skills and techniques related to biochemistry and biophysics."
"The professional development of an REU program is helpful for any student seeking to enhance their public speaking, scientific communication and critical thinking skills," said Chappell, who worked in the lab of Nicholas Fitzkee, associate professor of chemistry.
In addition to Chappell and Malebranche, other 2020 REU participants include (by hometown:
CHOCTAW—Robert York, a sophomore biochemistry major
COLUMBIA—Caleb James, a senior chemistry major
CORINTH—John Edwards, a senior mechanical engineering major
HUNTSVILLE, Alabama—Henry Reynolds, a senior chemistry major
MANTACHIE—Greg Cooper, a senior chemistry major
MCKINNEY, Texas—Peyton York, a senior biochemistry major
SPRING HILL, Tennessee—Cassidy McNeely, a senior chemistry major
SUMMIT—Laura Olive, a senior chemistry major
WALNUT GROVE—Hailey Jamison, a senior biochemistry major
Participants will present their research this fall though the Judy and Bobby Shackouls Honors College Research Symposium.
MSU's College of Arts and Sciences includes more than 5,200 students, 325 full-time faculty members, nine doctoral programs, 14 master's programs, and 27 undergraduate academic majors offered in 14 departments. For more details about the College of Arts and Sciences or the Department of Chemistry visit www.cas.msstate.edu or www.chemistry.msstate.edu.
Mississippi's leading university, also available online at www.msstate.edu.