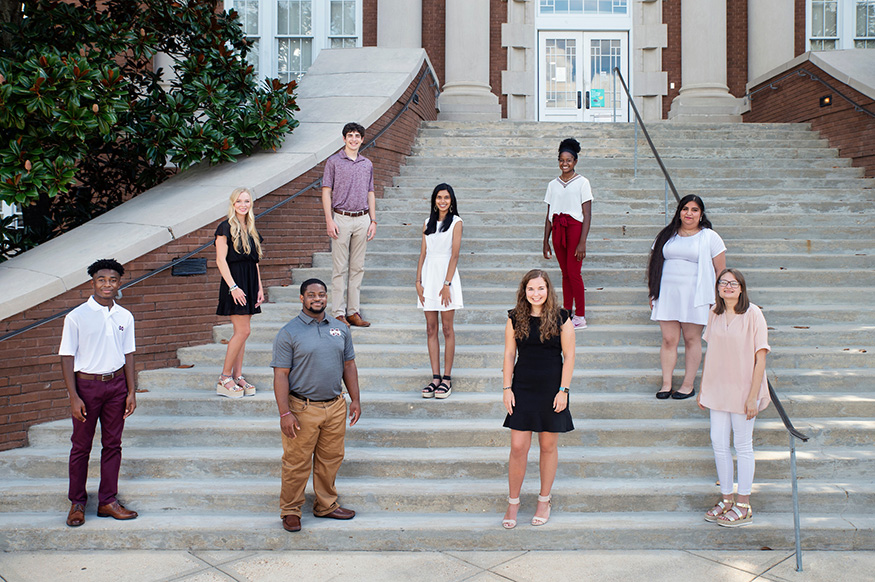 Contact: James Carskadon
STARKVILLE, Miss.—Mississippi State University is announcing its inaugural class of Luckyday Scholars, a group of nine incoming freshmen enrolled at MSU this semester.
The Luckyday Scholars Program at Mississippi State was created in 2019 by the Luckyday Foundation of Jackson to provide scholarship awards and promote student success through enhanced programming and engagement over four years.
Luckyday Scholars receive $6,000 per year over four years in scholarship support. Recipients of the award are first-time entering freshmen from Mississippi who have earned a minimum 3.0 high school grade-point average and an ACT score of 20-28 (or SAT equivalent).
"Like all of our students, the young men and women in this inaugural cohort of Luckyday Scholars are full of tremendous potential to make a difference in Mississippi and around the world," MSU President Mark E. Keenum said. "I am grateful for the Luckyday Foundation's support in helping these students pursue their goals and obtain an education that will prepare them for the leadership opportunities that the coming years will bring."
Students in the scholarship program are selected via an application and interview process, with priority given to students who demonstrate leadership skills, work ethic, and school and community involvement. In addition to monetary support, the program provides mentorship resources and associated programming aimed at furthering student success, including the freshman Luckyday Scholar Seminar and university-sponsored community service projects.
MSU's inaugural class of Luckyday Scholars includes, by hometown:
FULTON—Hannah Holley, a food science, nutrition and health promotion major;
HATTIESBURG—Antwon Keyes, a marketing major;
MACON—Brisa Lizeth Chora, a civil engineering major;
MADISON—Hailey Desai, a biological sciences major;
MERIDIAN—Demia Bland, an industrial engineering major;
OCEAN SPRINGS—Harrison Clark, a business administration major; and Brooke Nitz, a biological sciences major;
SUMMIT—Alexis Carraway, a communication major; and
VICKSBURG—Nathan Mosley, a biomedical engineering major.
Founded in 1978 by the late Frank Rogers Day, a native of Aberdeen and chairman of the board and CEO of Jackson-based Trustmark National Bank, the Luckyday Foundation funds scholarships to assist young Mississippians in pursuing their goals of higher education. In addition to providing financial assistance, Luckyday also encourages students to graduate in four years while maintaining academic standards and getting involved in their communities through service and leadership. Prior to its most recent commitment at MSU, the foundation extended early support to MSU's Promise Program.
For more on the Luckyday Scholars Program, visit https://www.admissions.msstate.edu/scholarships/details/luckyday-scholars-program.
MSU is Mississippi's leading university, available online at www.msstate.edu.