Contact: Vanessa Beeson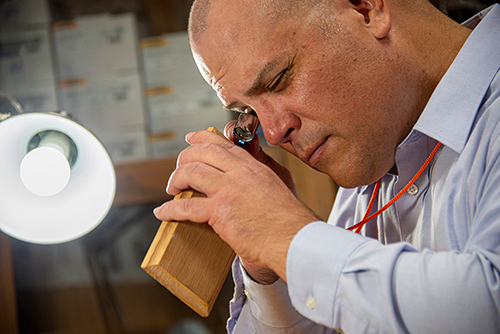 STARKVILLE, Miss.—Mississippi State is now home to one of the nation's largest wood collections, making the university a prime training ground for research on rare and exotic species.
MSU's Department of Sustainable Bioproducts in the College of Forest Resources has acquired the 32,000-specimen David A. Kribs wood collection, the fourth largest in the U.S. according to the International Association of Wood Anatomists. This acquisition also makes MSU home to the premier reference wood collection in the South.
Rubin Shmulsky, professor and department head, said this major collection is not only enhancing education in the field of wood identification and the university's growing wood anatomy program, but offering student research opportunities to address current industry issues such as illegal logging, along with the misrepresentation and mislabeling of wood and wood products.
"It is going to be a vital resource for our work in machine learning, forensics and artificial intelligence," Shmulsky said. "All imported wood must be accurately identified to prevent illegal logging and trade, and this collection acquisition is critical in working to curtail this problem and enhancing sustainability."
Sustainable Bioproducts Assistant Professor Frank Owens said, "The Kribs collection further cements MSU as one of the most exciting and best-equipped places to conduct wood anatomy research in the country. Now, our students can physically handle wood species that they might otherwise have only read about in textbooks."
Owens further explained the collection's role in research and teaching at MSU.
"We are currently conducting research aimed at teaching computers to better recognize wood species with machine vision technology. The more specimens of different species we have at our disposal, the less we have to acquire elsewhere through great time, effort and cost," he said.
Owens also noted how these collected specimens will be critical in another aspect of teaching that includes aiding in the development of an advanced wood anatomy and identification course focused on tropical wood species.
"For that course, specifically, we can capture thousands of tropical wood images for use in the classroom and online," he said.
Elisabeth Wheeler, professor emeritus at North Carolina State University, where the collection formerly was housed, and Alex Wiedenhoeft, research botanist and team lead at the Center for Wood Anatomy Research at the USDA Forest Service Forest Products Laboratory, helped facilitate MSU's procurement of the collection. Kribs, a nationally recognized career wood anatomist who was a longtime professor at Pennsylvania State University, started the collection nearly 100 years ago.
For more about the Department of Sustainable Bioproducts, visit www.cfr.msstate.edu/bioproducts.
MSU is Mississippi's leading university, available online at www.msstate.edu.