Contact: Harriet Laird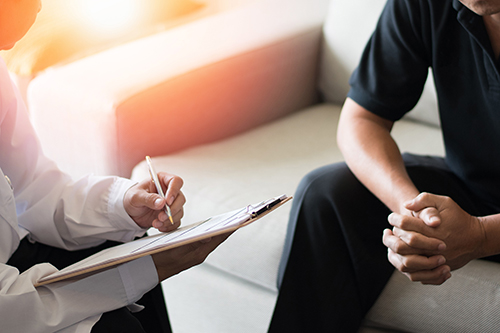 STARKVILLE, Miss.—The American Psychological Association is recognizing Mississippi State's Student Counseling Services internship with "accredited, on contingency" status as the only university-directed program for doctoral students in the state.
Also one of only five such internships at any institution or agency in the Magnolia State, MSU's program is regarded by the APA's Commission on Accreditation as being in "substantial compliance" with the organization's accreditation standards. Contingency status means the young program must provide outcome data for program trainees and graduates moving forward.
According to MSU's Ty Stafford, internship training director and SCS clinical services coordinator, the need for more psychology trainees and practicing psychologists in Mississippi is in the numbers.
"This state has the lowest number of licensed psychologists per capita of any state, with 11 per 100,000. In comparison, the District of Columbia has the highest concentration with 134 per 100,000, more than 12 times more," Stafford said.
With three current interns and three graduates, MSU's program has a major rotation system that distinguishes it from others. A partnership between SCS and three university units benefits participants through direct clinical experiences with the Division of Athletics, Disability Support Services and the College of Veterinary Medicine.
"The quality of the current and former interns is outstanding," according to Stafford, who also said "it's no small task" to have begun accepting initial cohorts in August 2019 and receive APA accreditation within a year's time. The six were selected from APA-accredited clinical and counseling psychology programs at Tennessee State University, University of Illinois-Chicago, Ponce Health Sciences University in Puerto Rico and MSU. The broad internship goal is to build on these interns' previous training experiences to further develop their knowledge and skills to successfully enter a career in the psychology field, achieving the functioning level expected of an entry-level psychologist.
Doctoral-level psychology students interested in pursuing the MSU program for 2021-22 must submit the application of the Association of Psychology Postdoctoral and Internship Centers; a cover letter explaining qualifications and professional experience; curriculum vita; graduate-level transcripts; and three recommendation letters. Potential applicants can visit https://www.counseling.msstate.edu/training/intern for more information.
APA accreditation for MSU provides ongoing program evaluation and improvement, plus faculty development outcomes, a process that furthers the university's mission of research, teaching and service.
MSU is Mississippi's leading university, available online at www.msstate.edu.