Contact: Amy Cagle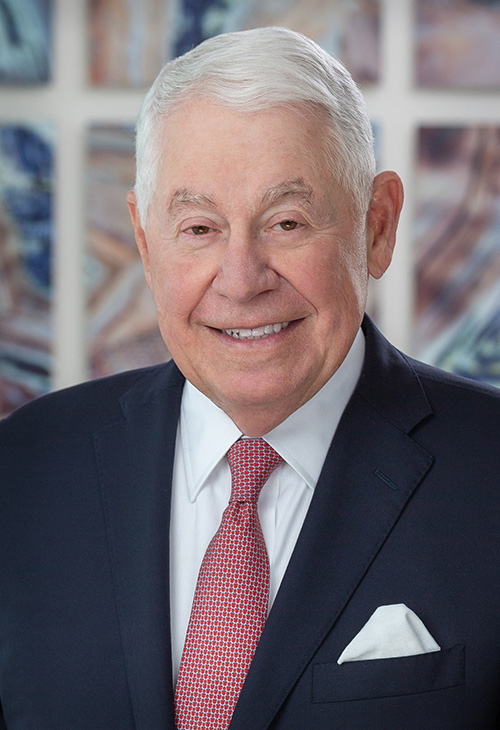 STARKVILLE, Miss.—The Richard C. Adkerson Family Foundation addresses two significant issues facing the southeastern United States with a gift to its namesake's alma mater, Mississippi State University.
The more than $1.7 million gift will strengthen accounting education through accessibility by establishing two online graduate-level degree programs for the Richard C. Adkerson School of Accountancy and bring fellowships to African Americans who enroll full time in the programs. Additionally, the gift endows a student chapter of the National Association of Black Accountants (NABA) for underrepresented undergraduate students to engage with professionals in their soon-to-be career fields of accounting, finance and related business professions.
An online Master of Professional Accountancy program and an online Master of Taxation program will now be part of the land-grant institution's curriculum for the Adkerson School of Accountancy. Adkerson is the longtime CEO of Freeport-McMoRan Inc. (FCX), the foremost global copper producer.
These new online programs will significantly enhance accessibility to the Adkerson School's world-class instruction and enable more talented students to further their accounting education at MSU regardless of their proximity to an accredited graduate-level accounting program. The gift also elevates the university's competitiveness with institutions in the Southeastern Conference, where only Auburn University, Texas A&M University and the University of Missouri currently offer online master's programs in accountancy.
"As the Southeast region faces challenges resulting from the COVID-19 pandemic, online accounting programs will bring vital graduate-level education opportunities to people locked into their locations, and the fellowships will help African American students, an underrepresented group in the accounting profession, study full time and graduate from a top-notch master's accounting program and further their career ambitions," Adkerson said. "This contribution will ensure MSU has the resources to be competitive at the forefront of graduate-level education."
A love of accounting and of the university earlier led Adkerson to establish an endowment in support of Mississippi State's accounting school in 2007. Adkerson credits the program for providing him with the basis for his successful career with Freeport-McMoRan Inc. He earned a bachelor's degree with highest honors in accountancy from MSU in 1969 and a Master of Business Administration the following year. Following graduation, Adkerson scored the second highest grade on the national CPA examination. For many years, MSU has benefited from the academic and athletic support of Adkerson and his family's foundation.
Director and professor of the school Shawn Mauldin said, "This gift will allow the Adkerson School of Accountancy to move forward with its strategic initiative to provide quality online graduate accounting programs with a concentration in data analytics that will make our graduates even more highly sought."
He continued, "Our undergraduate and graduate programs are ranked in the top 10  nationally by the 2019 Public Accounting Report for programs with 15 or fewer faculty and boast a very high job placement rate among graduates, and we believe this latest endowment will help us meet the current and future market demands for more online graduate education in the state of Mississippi and beyond." 
Dean of the business college Sharon Oswald also anticipates the impact of the gift. "We are thrilled with Richard Adkerson's continued support of the Adkerson School of Accountancy and his strong personal commitment to inclusion and diversity of our accounting students. His gift will be very impactful as we continue to grow our accountancy program," she said.  
In recent years, the Adkerson School of Accountancy updated its undergraduate and graduate programs to give students additional tools needed to remain at the forefront of the accounting profession. The curriculum update emphasizes technology skills relevant to data analytics and big data, areas that are becoming increasingly prominent in the accounting profession. The changes include integrating data analytics content into current courses, adding a required data analytics graduate course, and providing a minor in business analytics in the Master of Professional Accountancy and Master of Taxation programs.
Specifically, $1 million of the gift will establish an online Master of Professional Accountancy program and an online Master of Taxation program. These funds will ensure a full-time, master's-level faculty member will coordinate the online programs and make possible the purchase and maintenance of state-of-the-art equipment and technology to allow for quality delivery of lectures and training, and marketing for the program's facilitation.
Additionally, $500,000 will establish the Adkerson Endowed Graduate Fellowship for African American students enrolled in online master's accounting programs through MSU. The fellowship endowment will assist full-time African American students of both new online programs. An additional $100,000 will make the fellowship possible for immediate use.
Furthermore, a $25,000 portion of the gift will immediately support the NABA student chapter. Beyond that, $100,000 of the Adkerson Foundation's gift will endow the chapter. NABA is a membership association dedicated to bridging the opportunity gap for African American professionals in accounting, finance and related business professions. The organization represents over 200,000 African American professionals in the fields of accounting, finance and related business professions by providing education, resources and meaningful career connections to both professional and student members.
The Richard C. Adkerson School of Accountancy, housed in MSU's College of Business,  maintains supplemental accounting accreditation from the Association to Advance Collegiate Schools of Business, the world's largest business education network and longest-serving accrediting body for business schools with undergraduate, master's and doctoral degrees in business and accounting. For more, visit www.business.msstate.edu/programs/adkerson/.
MSU is Mississippi's leading university, available online at www.msstate.edu.