Contact: Sasha Steinberg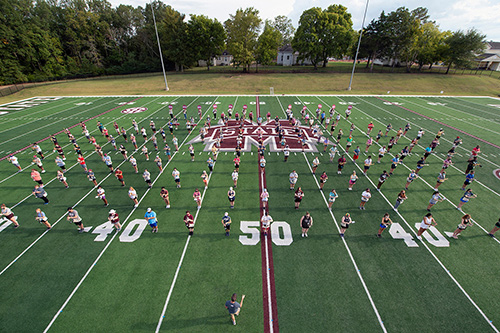 STARKVILLE, Miss.—Football is back at Davis Wade Stadium this weekend, and with special health and safety measures in place, Mississippi State's Famous Maroon Band will be bringing the beat once again in support of the Bulldogs.
"The Famous Maroon Band is one of our most treasured traditions at Mississippi State, and while we will miss our student musicians' on-field performances, we're excited to hear their beautiful music in other ways at Davis Wade Stadium this season," said MSU President Mark E. Keenum.
In accordance with game operations guidelines set forth by the Southeastern Conference in late August, only essential personnel will have gameday access to the field and sidelines. Bands currently are restricted from performing on the field before games and at halftime.
Elva Kaye Lance, MSU director of bands, said the group's choreographed halftime routine will be showcased in video format during the game and on social media.
"We're working with MSU's University Television Center and Broadcast Media Group in Starkville on these projects that highlight the band playing and marching, as well as some interesting insights into the program that folks may not know," Lance said.
The gameday band will be limited to 100 members, along with extra support staff and directors, all sitting in Section 15 with appropriate physical distancing.
As the largest college band in Mississippi with 390 members, the Famous Maroon Band has been taking a variety of precautions to limit the spread of COVID-19 during rehearsals. Lance said each practice is limited to approximately 200 members, with each group only meeting twice a week on the band's outdoor synthetic turf field.
Members must maintain a distance of 7 1/2 feet from each other at all times, and face coverings are required unless students are playing their instruments. Band directors have limited members' access to the band facility and storage rooms to prevent gathering in large groups. Masks and hand sanitizer also have been provided to each member, and each wind instrument has a cover on its bell.
The Famous Maroon Band is part of the MSU College of Education's nationally accredited Department of Music. For more, visit www.msuband.msstate.edu or www.music.msstate.edu.
For complete gameday information including COVID-19 guidelines, visit www.hailstate.com/gameday.
MSU is Mississippi's leading university, available online at www.msstate.edu.