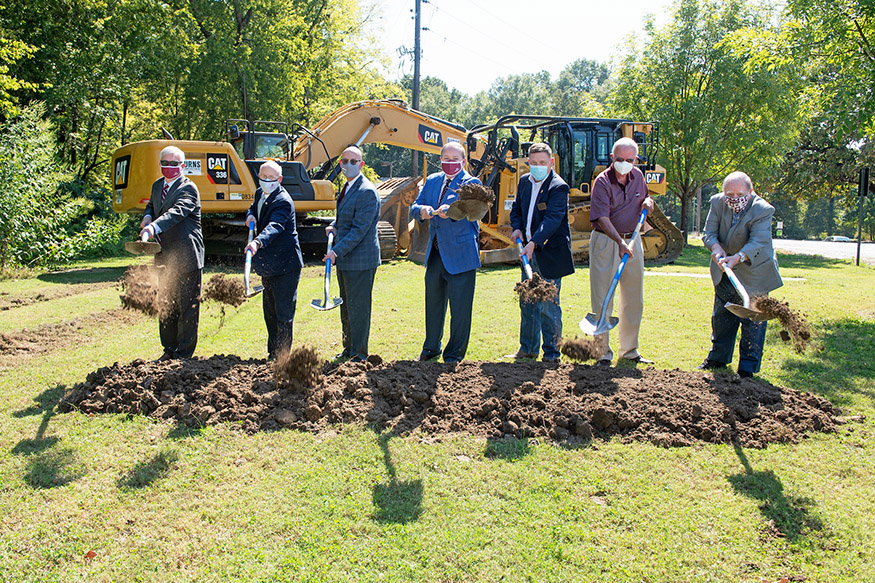 Contact: Allison Matthews
STARKVILLE, Miss.—Mississippi State broke ground today [Oct. 6] on a $7 million, two-mile corridor that will improve campus traffic once the new Bulldog Way is completed along the eastern perimeter of campus.
MSU President Mark E. Keenum said the new roadway is the result of long-term planning for university infrastructure to accommodate increasing traffic, aiding campus safety and accessibility. Bulldog Way will connect between Blackjack Road and the intersection of East Lee Boulevard and Bailey Howell Drive.
The north-south, multimodal passage incorporates sidewalks, bike lanes, transit shelters, traffic signal improvements and street lighting. Enhancements will be ADA compliant.
The project, which will be under construction for about two years, is made possible by a 2017 Transportation Investment Generating Economic Recovery (TIGER) grant to the university announced by the late U.S. Sen. Thad Cochran in 2018.
"This project is crucial not only to alleviating current traffic issues, but for the future growth and development of our Starkville campus," said MSU President Mark E. Keenum.
Congress annually appropriates funding for TIGER grants, which are awarded on a competitive and matching fund basis and directed toward projects that are expected to have a significant economic impact. Since 2009, Mississippi has received more than $100 million in TIGER funds.
MSU is Mississippi's leading university, available online at www.msstate.edu.