Contact: Allison Matthews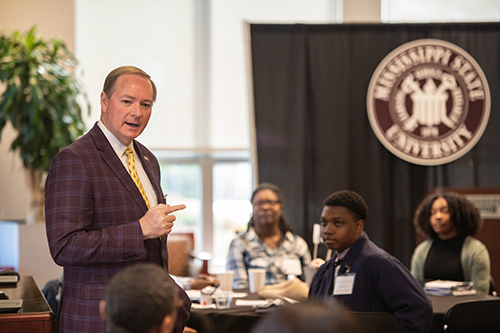 STARKVILLE, Miss.—Mississippi State is inviting McNair Scholars from around the country to an Oct. 16 virtual preview day showcasing the university's Graduate School.
The upcoming online event includes a welcome by MSU President Mark E. Keenum, an overview of MSU's Graduate School, an interactive graduate student panel and a student services session. Registration is free and may be completed at https://w.msstate.edu/grad/mcnair-scholars/. In addition to MSU's Graduate School, sponsors include the Office of Institutional Diversity and Inclusion and the Holmes Cultural Diversity Center.
The national McNair Scholars Program memorializes Ronald E. McNair, a physicist who became the second African American to fly in space before being killed in the 1986 Challenger Space Shuttle accident. McNair posthumously was awarded the Congressional Space Medal of Honor, and the U.S. Congress funded the Ronald E. McNair Post-Baccalaureate Achievement Program to encourage low-income and first-generation college students, and students from historically underrepresented ethnic groups to expand their educational opportunities by enrolling in Ph.D. programs. McNair Scholars are dedicated to the high standards of achievement inspired by McNair's life, and they prepare for doctoral studies through involvement in research and other scholarly activities during their undergraduate programs.
"The McNair Scholars program offers us a unique opportunity to attract underrepresented populations that are highly engaged in education and seeking to advance their careers by earning a graduate degree. As a land-grant institution, we feel that Mississippi State University can offer a diverse array of programs to meet the desires of these high achieving students," said Peter Ryan, MSU executive vice provost and dean of the Graduate School.
Ryan noted MSU also offers McNair Scholars a $2,500 award upon entering the university.
"The intention of the McNair scholarship is to recognize the value each of these students add to our university by helping to advance the scholarly and research mission of MSU," Ryan said.
Alexis Jackson, a graduate student in counselor education from Spanaway, Washington, came to MSU as a McNair Scholar after completing an undergraduate degree in psychology at Washington State University. She now is working on a dual master's and doctoral degree focusing on clinical mental health and counselor education, but she first connected with MSU after learning about the 2018 McNair Scholars preview day.
For Jackson, her choice to attend MSU was solidified during a 2019 in-person campus visit, during which she unexpectedly became ill. In addition to her on-campus interviews and meetings, she had the need to visit an area healthcare provider. Her MSU hosts, including her future professor, as well as local doctors "took such good care of me and went above and beyond," Jackson said.
"I knew if I ever needed any help, this is an environment where I would have support, not only at the university, but also in the community," Jackson recalls from her first impressions of the university and local area. She now has a service assistantship in MSU's Office of the Graduate School.
She said the McNair Scholars program offers many benefits, such as funding to support travel to conferences or research presentations and mentorship opportunities for underrepresented undergraduate students interested in pursuing doctoral degrees. The program is a federal TRIO initiative funded at 151 institutions across the U.S. by the Department of Education.
For more information on the virtual preview day, contact Lindsey Shelton at lshelton@grad.msstate.edu. For more on the Graduate School, visit https://www.grad.msstate.edu/
MSU is Mississippi's leading university, available online at www.msstate.edu.