Contact: Camille Carskadon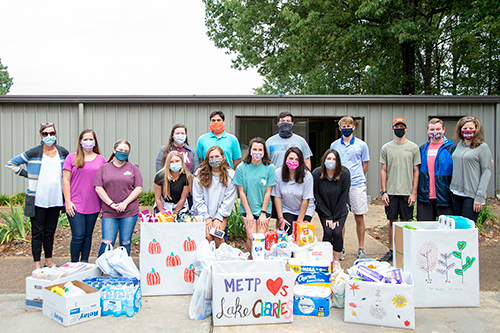 STARKVILLE, Miss.—Members of Mississippi State's Mississippi Excellence in Teaching Program are reaching out to help the thousands affected by the recent Hurricane Delta, as well as Hurricane Laura, which made landfall on the Louisiana Gulf Coast as a Category 4 storm in August.
Hurricane Laura impacted over 1.5 million people and is estimated to have caused between $4 billion and $12 billion in damage. Early estimates show that Hurricane Delta has caused an additional $2 billion in damages.
The METP students are collecting toiletries, cleaning and school supplies. Annice Jenkins, program manager for the METP scholarship program, said the group is focusing on helping residents of Lake Charles, Louisiana. These residents also need diapers, wipes and other baby supplies. METP will continue collecting donations through October. Anyone who wants to donate items may drop them off at the METP office at 75 Morgan Avenue on MSU's campus during regular business hours.
Jenkins explained that METP scholars annually perform community service.
Associate Dean Teresa Jayroe of MSU's College of Education realized the effects of Hurricane Laura offered METP students a chance to provide assistance to those impacted and encouraged Jenkins to pursue the opportunity. The effort was already underway in response to Hurricane Laura's impact before Hurricane Delta caused even more devastation to the area.
Jenkins then connected with local Pastor Joe Horan of Starkville Community Church, who helped connect the METP group to contacts in Lake Charles.
"We've been researching ways the students could volunteer this year, and all of them have been really eager to help the city of Lake Charles," Jenkins said. 
Senior secondary education major and METP student Emily Hudgens of Madison said that while she's never had to experience a hurricane, she's seen the devastating effects through family members on the Mississippi Gulf Coast.
"My family on the coast experienced Hurricane Katrina, and I remember them being hit really hard. With natural disasters, you can plan everything, but you can never be fully prepared," Hudgens said. "Collecting donations for Lake Charles was a no-brainer for me."
Hudgens said that since enrolling in MSU's teacher education program, she loves the MSU education community and the college's emphasis on servant learning.
"Helping others is a really big deal to METP and the College of Education," Hudgens said. "Just knowing that we can give what we have to help others is one of the pillars of our college, and that's what I really like about it."
Sophomore METP student Ethan Morris of Pelahatchie agreed.
"My rationale is that I've been blessed beyond measure with METP, and they help me out with anything," said Morris, a secondary education major. "I'm doing great with what they have given and blessed me with, but there are people that aren't doing so well out in the world, and there's no reason why I shouldn't help them."
Jenkins has been in contact with South Beauregard Upper Elementary, a school in a district where 97% of the schools sustained damage.
"Most of the school had to be gutted due to flooding and mold. They had to clean everything out, which means they really need everything from teacher supplies to supplies for the students," Jenkins said. "We've filled several boxes and are working to fill more."
Established in 1903, MSU's College of Education is home to six academic departments, one research unit and numerous service units. For more about the college, visit www.educ.msstate.edu.
MSU is Mississippi's leading university, available online at www.msstate.edu.