Contact: Reagan Poston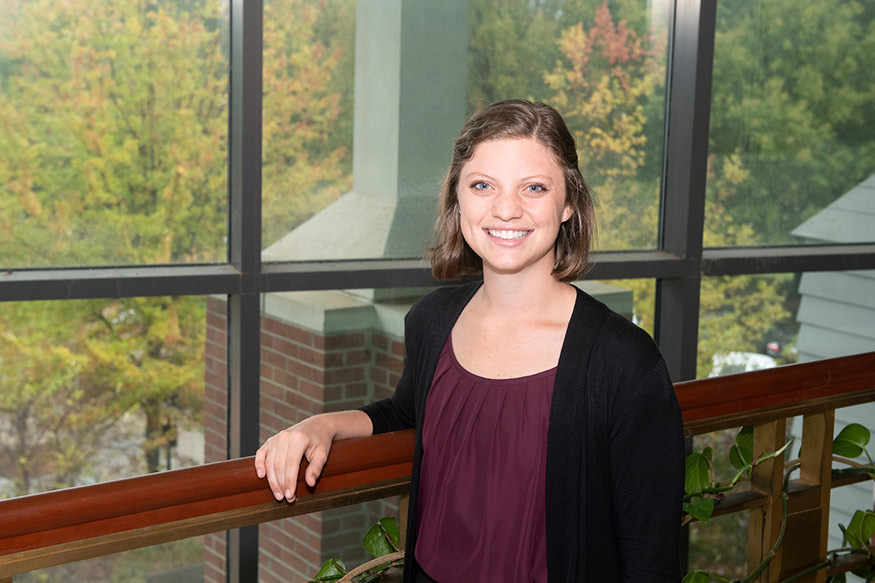 STARKVILLE, Miss.—A national organization is honoring a recent Mississippi State forestry graduate as an exemplary student leader.
The Society of American Foresters has named Samantha "Sam" Seamon of Prattville, Alabama, the winner of this year's Student Leadership Award. The honor is given for embodying leadership and positive growth within both the forestry industry and the organization.
The spring summa cum laude graduate is continuing her studies as a Master of Business Administration student in MSU's College of Business. She joined SAF when she first enrolled at MSU.
"My plan is to go into the private forestry industry, and I'm interested in forest economics and forest finance, hence the business degree, but forestry is my home. The people, atmosphere, attitudes, values—everything drew me in, and I want to be a part of it for the rest of my life," Seamon said.
Robert K. Grala, MSU forestry professor and faculty advisor of the university's SAF student chapter, said Seamon is very deserving of the accolade.
"Samantha has always been a champion of the SAF and student involvement. She has demonstrated an outstanding level of initiative, leadership, commitment and responsibility that have been crucial for the success of our Mississippi State student chapter, and she has served as an inspiration to many new student members," Grala said.
Seamon said MSU's SAF chapter, ranking among the top-three best student chapters nationally for more than 20 years, made her want to jump at the chance to get involved.
She served as a freshman representative and assumed an officer role as secretary during her sophomore year. By her junior year, Seamon was elected president, and she said it was through this role that she grew her leadership skills, coordinating with industry professionals to hold recruitment meetings and networking events with chapter members.
"I could probably handle any curveball in my career because of the communication and organizational skills I learned as the student chapter president. It's a tough position, but it's so worth it," Seamon said. "I've always considered myself a leader because I'm very driven, but there was so much to learn, from organizational skills to time management to the delegation of tasks."
Seamon is continuing her SAF service as a district student representative, a liaison between the national organization and the six universities in her district, as well as chair of the student representative's social media committee.
At MSU, she has capitalized on opportunities, including multiple summer internships, some of which she found through SAF.
"I'm so appreciative for the skills that not only MSU as a whole but the College of Forest Resources and the Department of Forestry have given me. I'm proud of myself, and I'm proud to be a Bulldog," Seamon said.
For more on the MSU SAF chapter, see www.cfr.msstate.edu/studentorgs/saf. Information about the College of Forest Resources is found at www.cfr.msstate.edu; the Department of Forestry, at www.cfr.msstate.edu/forestry; and the College of Business at www.business.msstate.edu.
MSU is Mississippi's leading university, available online at www.msstate.edu.