Contact: Addie Mayfield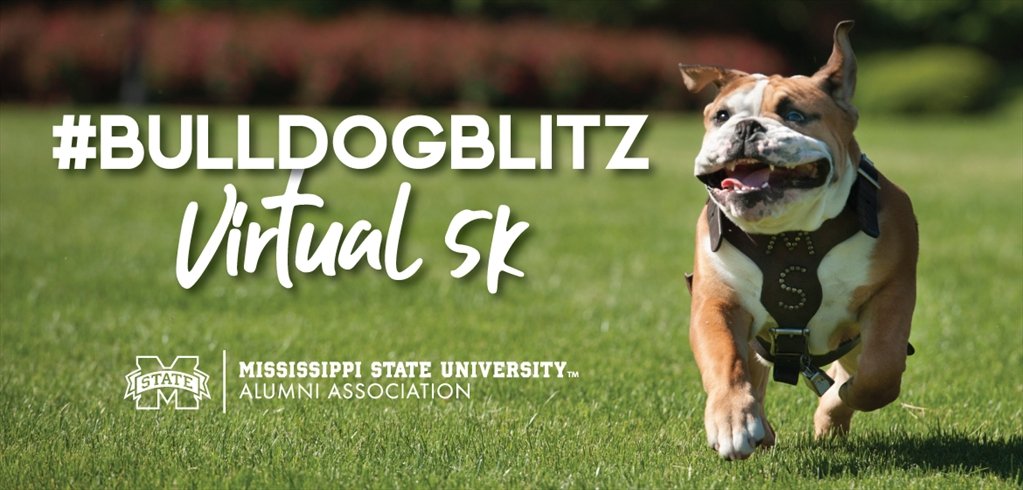 STARKVILLE, Miss.—Mississippi State University's Alumni Association and Office of Annual Giving are joining forces to host the inaugural Bulldog Blitz Virtual 5K. The event encourages participants to join in celebrating the strength and connectivity of the MSU family, while rallying support for the university's Student Relief Fund.
The first-ever Bulldog Blitz is set for Saturday, Oct. 24, and participation is free and open to all. Whether running on a treadmill, walking in a park, biking down the road, rowing across a lake, or even crawling, participants can complete the virtual 5K (3.1 miles) at their own pace from any location and at any time during the open event date.
Everyone who registers will receive a virtual runner's bib and a certificate of participation, which can be downloaded and printed. In addition to promoting healthy and active lifestyles in accordance with responsible social distancing, Bulldog Blitz also serves as a fun way to build support for MSU students, with participants having the opportunity to make a gift to the Student Relief Fund during the registration process. Contributors will receive a special gift of appreciation in the mail following the event.
"This fall has brought new challenges in staying connected with our alumni network, and the Alumni Association team has been working to find new ways to bring people 'together' while we're apart," said Jeff Davis, executive director of the Alumni Association. "A virtual 5K is a great way to accomplish this mission and the inaugural Bulldog Blitz will be a fun chance for alumni and friends to get outside, get active and show their MSU spirit while building support for our students in need through the Student Relief Fund."
Established with private gifts, the MSU Student Relief Fund offers immediate support to members of the student body affected with day-to-day crises. Amid the difficult challenges many are facing during the ongoing pandemic, this fund continues to be a vital part of the university's commitment to educational success and the well-being of current and future students.
"The Office of Annual Giving is proud to partner with the Alumni Association in hosting Bulldog Blitz and rallying the MSU family for an amazing cause," said Georgia Carter, director of annual giving for the MSU Foundation. "It's heartening to know support from the event will benefit an area that has been an important source of relief to so many students during the recent pandemic and, regardless of proximity to campus or personal level of fitness, participants can be encouraged in knowing fellow Bulldogs near and far are going the distance with them."
Registration for the event can be completed on or before Oct. 24 at alumni.msstate.edu/BulldogBlitz. For more information, contact the MSU Alumni Association at (662) 325-2284 or info@alumni.msstate.edu.
To boost support for the fun, one-day event, participants are encouraged to share photos of their Bulldog Blitz experience and best Mississippi State-themed racing gear for a chance to be featured by the MSU Alumni Association and Office of Annual Giving. Photos can be submitted using #BulldogBlitz on social media or via email.
The MSU Alumni Association is committed to fostering lifelong support for the university's mission through programs, activities and events for current and future alumni and friends. Gifts made through the MSU Foundation's Office of Annual Giving activate the donor's yearly membership in the Alumni Association. Additional information about the MSU Alumni Association can be found online at alumni.msstate.edu.