Contact: James Carskadon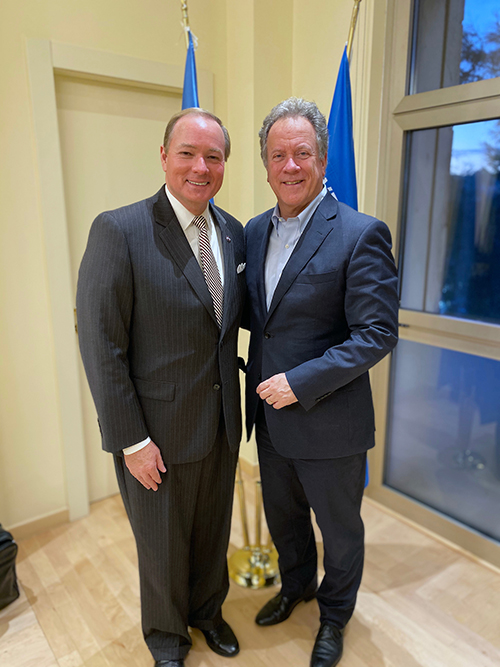 STARKVILLE, Miss.— Mississippi State President Mark E. Keenum congratulates the United Nations World Food Programme for receiving the 2020 Nobel Peace Prize, which was announced Friday [Oct. 9] by the Norwegian Nobel Committee.
In addition to MSU's partnerships with the United Nations and the World Food Programme, Keenum's professional background and national leadership in promoting global food security have facilitated numerous engagements with the organization. In 2016, Keenum wrote a letter to the Norwegian Nobel Committee nominating the World Food Programme for the Nobel Peace Prize.
"I would like to personally congratulate the World Food Programme and its outstanding executive director, David Beasley, on this well-earned recognition," Keenum said. "As the Norwegian Nobel Committee noted, addressing hunger and promoting food security is key to facilitating peace and stability across the world. That is why organizations like the World Food Programme are so important to ensuring a peaceful future, and why I have made global food security a focal point of our research and outreach efforts at MSU. Feeding a growing global population is a massive challenge, and this Nobel Peace Prize underscores the need to continue our role in the global fight against hunger."
Members of MSU's leadership team met with Beasley and other United Nations leaders last November in Rome, Italy, to discuss solutions to 21st century challenges such as food insecurity and hunger. In 2014, MSU signed an agreement with the World Food Programme that focuses on cooperative efforts in areas such as nutrition, food safety, and food product development.
Keenum serves as chairman of the Board for International Food and Agricultural Development (BIFAD), an advisory board to the United States Agency for International Development. A three-time MSU agricultural economics graduate, he has focused a significant portion of his career on global food security. In addition to his BIFAD appointment, he is chairman of the U. S. Department of Agriculture's Foundation for Food and Agricultural Research. He has twice spoken at the United Nations in New York about the roles public research universities play in addressing critical food and agricultural challenges. Prior to returning to his alma mater, Keenum served as Under Secretary of the U.S. Department of Agriculture.
Serving as MSU's president since 2009, Keenum has helped enhance the university's standing as a leading agricultural research university. The most recent National Science Foundation survey shows MSU is ranked No. 11 nationally with $105 million in research and development expenditures in agricultural sciences. MSU is leading the USAID Feed the Future Innovation Lab for Fish, in addition to other national and international collaborations aimed at helping feed a global population expected to reach 10 billion by 2050.
MSU is Mississippi's leading university, available online at www.msstate.edu.