Contact: John Burrow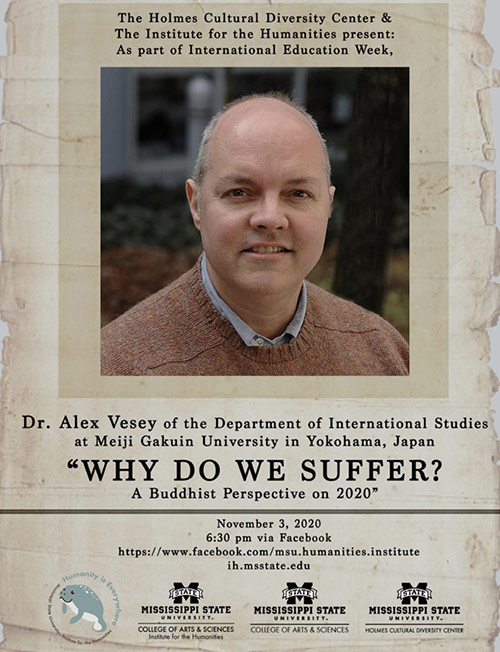 STARKVILLE, Miss.—An expert on Buddhist philosophy and Eastern cultures will discuss the meaning of suffering and how it relates to 2020 during a fall speaker series hosted by Mississippi State's Institute for the Humanities.
Alex Vesey, an associate professor in the Department of Global and Transcultural Studies at Meiji Gakuin University in Japan will be interviewed Nov. 3 at 6:30 pm. on the institute's Facebook page by Julia Osman, Institute for the Humanities director and associate professor of history. The session is open to the public.
The presentation, "Why do we suffer? A Buddhist perspective on 2020," is a collaboration between the institute and MSU's Holmes Cultural Diversity Center. The HCDC Facebook page also will stream the discussion.
Osman and Kei Mamiya, assistant director of the HCDC, said Vesey's presentation aligns with International Education Week, Nov. 16-20.
"We thought because the presentation is online it would be really neat to invite someone international who we could never realistically expect to fly here," Osman said, noting Vesey is one of Mamiya's former college professors. "We also thought that with all the stress and difficulties of 2020, people might appreciate the perspective of a religion or thought system that contemplates the source of suffering and how to deal with it," she said.
Mamiya said he hopes the program will provide the audience an opportunity "to open up their ways to understand the world" by learning a different worldview—Buddhism—and recognize "there are many other religions in the world and ways to look at and understand the world that we live in."
Mamiya said Vesey's presentation is noteworthy because "he can bring a transnational perspective as an American scholar who moved to Japan and has been doing research and participating in Buddhism."
"I am eager to know more," said Osman, who teaches about Buddhism in world history classes. "I also have questions about the religion based on my little bit of reading about it."
Despite challenges brought on by the pandemic, Osman said that the institute has successfully transitioned to conducting their planned events in a virtual format.
"I've tried to look at the challenges from this year as opportunities for doing our programs in new ways or finding new ways to reach our audiences," said Osman. "Having programs online has meant that we can reach larger audiences beyond the Golden Triangle and MSU, and we have had more freedom to ask a variety of people to speak since we do not need to worry about transportation."
Vesey specializes in Buddhist cultural history and comparative cultural history. He earned his bachelor's degree at the University of Southern California and a master's degree at both the University of Michigan and Princeton University. He earned his Ph.D. at Princeton as well.
As part of MSU's College of Arts and Sciences, the Institute for the Humanities promotes research, scholarship and creative performances in the humanistic disciplines and raises their visibility, both within Mississippi State University and the wider community. The Institute is active on social media on Instagram @msststehumanities, Twitter @Humanities_MSU and Facebook @msu.humanities.institute.
MSU's College of Arts and Sciences includes more than 5,200 students, 325 full-time faculty members, nine doctoral programs, 14 masters programs, and 27 undergraduate academic majors offered in 14 departments. It also is home to the most diverse units for research and scholarly activities, including natural and physical sciences, social and behavioral sciences, and the humanities. For more about the College of Arts and Sciences or the Institute for the Humanities visit www.cas.msstate.edu or www.ih.msstate.edu.
MSU is Mississippi's leading university, available online at www.msstate.edu.