Contact: Sasha Steinberg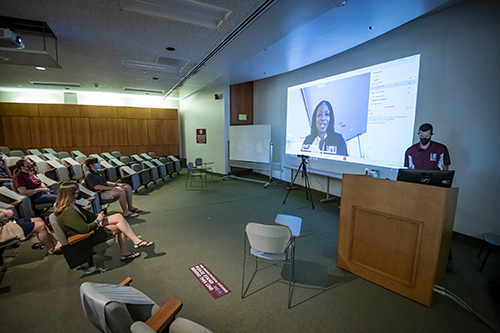 STARKVILLE, Miss.—U.S. Fish and Wildlife Service Director Aurelia Skipwith smiles when she reflects on childhood summers spent at her grandfather's farm in Columbus. As one of the nation's leading natural resource professionals, Skipwith recently shared these memories and other insights with students in Mississippi State's College of Forest Resources as part of a special virtual seminar.
"Conservation and Mississippi are close to my heart. One of the things I remember to this day is a saying my grandpa taught me—'If you didn't grow, catch it or kill it, then you didn't eat it,' and that's the guiding principle that has stuck with me. You really see the importance and connection of people in their communities, and it's about conserving our natural resources," Skipwith said during her Oct. 23 Webex presentation hosted by MSU's student chapter of The Wildlife Society.
Skipwith, the first Black American to serve as USFWS director, said she enjoys talking with young people who share her passion for wildlife conservation. She encouraged the students to focus on their education, gain work experience and hone their writing and communication skills.
"Strengthening our partnerships with you all—the next generation—and with states, local communities and private landowners will really help us use our collective efforts to tackle complex wildlife and conservation management issues we see now and in the future," she said, referring to the nation's principal federal agency dedicated to conservation of fish, wildlife and their habitats. "Remember that when you graduate, you have a degree that no one can ever take away from you. Follow the path you think will help you be most successful."
Christopher R. Ayers, an instructor in the MSU College of Forest Resources' Department of Wildlife, Fisheries and Aquaculture, expressed excitement about students hearing from the leader of such an important conservation organization.
"This opportunity was made possible because of the extensive network of professionals Mississippi State University has established in the field of fisheries and wildlife conservation," Ayers said.
Wes Burger, CFR interim dean and director of MSU's Forest and Wildlife Research Center, agreed. "The USFWS is an important federal partner in fish and wildlife research and conservation and a significant employer of our graduates. The College of Forest Resources was honored to have Director Skipwith share her experiences and perspectives with our students and faculty," he said.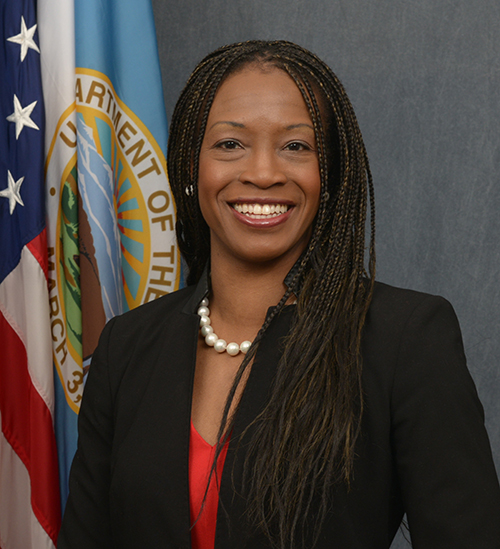 Prior to her appointment as director, Skipwith served for nearly three years as deputy assistant secretary for fish, wildlife and parks at the U.S. Department of the Interior, where she was responsible for ensuring the protection and stewardship of wildlife, fish, plants, lands and waters within the national park and wildlife refuge systems. She supported the assistant secretary in overseeing policy, planning and regulatory actions for the USFWS and the National Park Service.
In 2014, Skipwith co-founded AVC Global, a block chain-enabled logistics and financing platform for smallholder farmers, and served as general counsel until 2017. She also served as assistant corporate counsel at Alltech, Inc., an all-natural international animal feed corporation. She later moved into the role of sustainability agriculture partnership manager at Monsanto (now Bayer) after beginning her career as a lab technician and study director.
Skipwith earned her Bachelor of Science in biology from Howard University, Master of Science in molecular biology from Purdue University, and a Juris Doctor from the University of Kentucky College of Law.
"The U.S. Fish and Wildlife Service's primary mission is conserving, protecting and enhancing fish and wildlife populations and the habitats that support them," Burger said. "For our students in the College of Forest Resources to be able to hear from and engage with the highest levels of leadership in the USFWS is a unique experience and an inspiration to the boundless career opportunities before them."
James Cummins, a 1987 MSU fisheries management graduate and current executive director of Wildlife Mississippi, introduced Skipwith for the presentation.
For more on MSU's College of Forest Resources and its student chapter of The Wildlife Society, visit www.cfr.msstate.edu.
MSU is Mississippi's leading university, available online at www.msstate.edu.