Contact: Allison Matthews
STARKVILLE, Miss.—As Mississippi State's nearly 1,600 newest graduates celebrate their milestone accomplishments at commencement ceremonies in Humphrey Coliseum today [Nov. 25], MSU President Mark E. Keenum is applauding their abilities to adapt and overcome challenges.
"We've made it through this most challenging of years together," he said. "All of you have overcome so much to get here today."
Keenum spoke by video to graduates from the university's eight colleges across the day's four graduation events. He said contact tracing showed he had been in contact with someone who has tested positive for COVID-19, thus necessitating his change of plans for attending the celebrations in person. Keenum said he is well but has not completed his quarantine period.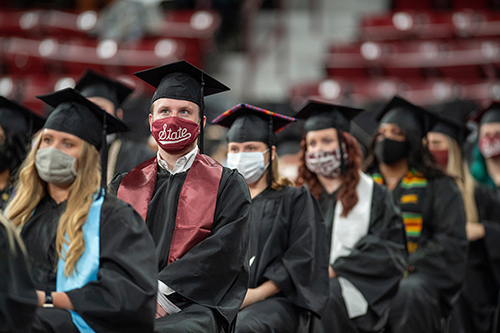 "Now more than ever, a college degree and all that you have learned here will help you succeed in a world that is undergoing unprecedented change. I also believe that the timeless values we hold dear as members of the Mississippi State University family will serve you well—you will need integrity; you will need to work hard; you will need to show respect for others," Keenum said.
He added that "considering our current pandemic situation, there is another value that is also very important—courage."
In his 12th year of tenure, Keenum is a three-time MSU graduate with degrees in agricultural economics. The former Under Secretary of the U.S. Department of Agriculture has guided the university to unprecedented heights, and his interest in international food security has strengthened the university's contributions to global economic sustainability. He has led MSU to record growth in enrollment, capital improvements and fundraising. Keenum and other university leaders were commended recently by a resolution of MSU's Robert Holland Faculty Senate for "exemplary transparency and cooperation, their tenacity and flexibility, and their courage and grace in dealing with the COVID-19 pandemic so as to minimize medical danger and consequences for faculty, staff and students alike, and to successfully continue the educational, research and service missions of the university during this unprecedented crisis."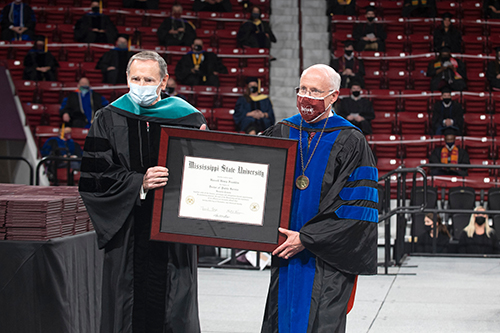 MSU alumnus Hassell H. Franklin was honored during an afternoon ceremony with an honorary Doctor of Public Service degree for lifetime achievements and longtime major support of university programs. Franklin earned a 1959 management degree from MSU's College of Business. During the integration of the University of Mississippi in 1962, he commanded the National Guard unit that protected James Meredith. In 1970, he founded Houston-based Franklin Corp., now one of the nation's largest independently owned furniture manufacturing companies, and he continues to serve as chairman and CEO.
A generous philanthropist committed to the advancement of his home state, Franklin is a past president of the CREATE Foundation and has supported many other organizations. Selected MSU's 1995 Alumnus of the Year, Franklin is a past president and longtime member of the Bulldog Club board of directors and former member of the College of Business advisory board. He is a current member of the MSU Foundation board, for which he has served multiple terms. In 2000, he established a $1 million endowment at MSU to build the Franklin Furniture Institute, a research and training center benefitting the furniture community.
Archived graduation videos are available at https://www.registrar.msstate.edu/students/graduation.
MSU-Meridian will celebrate commencement on Dec. 1 at the MSU Riley Center at 11 a.m. Doors open at 9:30 a.m., and only guests with tickets will be allowed to sit in the theater. MSU-Meridian information may be found at meridian.msstate.edu.
MSU is Mississippi's leading university, available online at www.msstate.edu.