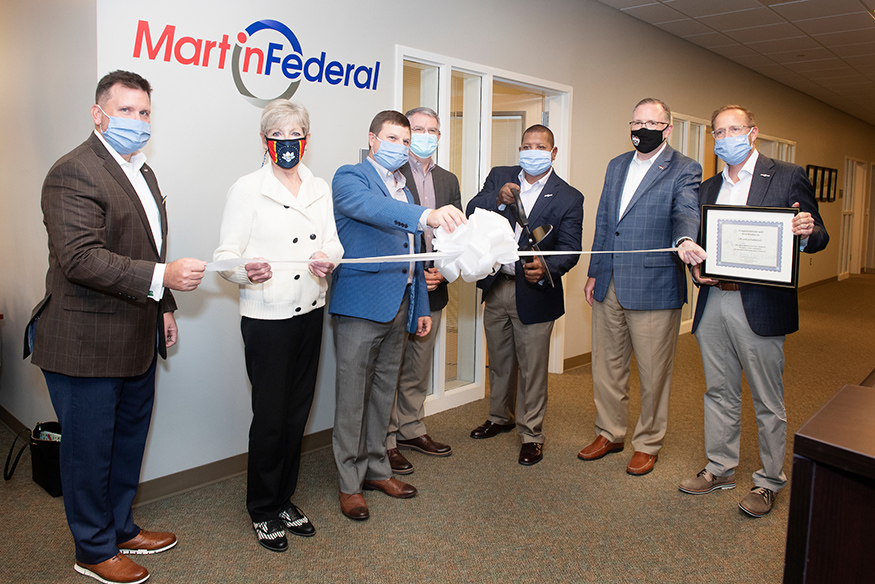 Contact: James Carskadon
STARKVILLE, Miss.—A Huntsville, Alabama-based federal contractor is establishing a cybersecurity practice in Mississippi State's Thad Cochran Research, Technology and Economic Development Park.
MartinFederal Consulting, LLC. held a ribbon cutting Thursday [Nov. 12] for its new offices located in the research park's Industry Partners Building. The office will house MartinFederal's new Cybersecurity Solutions Practice.
"We are excited to welcome MartinFederal to the Thad Cochran Research, Technology and Economic Development Park," said MSU Interim Vice President for Research and Economic Development Julie Jordan. "The research park continues to thrive as home to some of the most advanced research taking place in Mississippi, as well as public and private tenants that wish to take advantage of the park's proximity to world-class researchers in several fields. MSU is a national leader in cybersecurity training and research, which helps draw companies like MartinFederal to Mississippi, creating more in-state job opportunities for the outstanding graduates we are producing in this field."
MartinFederal's Cyber Solutions Team, led by J. Brad Fuller, director of cybersecurity solutions, will focus on providing highly specialized cybersecurity solutions to both commercial and federal customers. Among the top talent joining this team are Wesley McGrew, a nationally recognized expert in the field of offense-oriented cybersecurity, and Jeremy Falls, a recognized subject matter expert in cybersecurity capability development for the U.S. Army and the Department of Defense. All three are graduates of MSU.
"It is our goal for MartinFederal to become a leading provider of multiple solutions across our growing platform. Adding this team is a major step forward in our efforts to lead Cybersecurity Solutions for the commercial and federal marketplace. Their experience in the commercial markets combined with their close ties to cutting edge research and academia will allow us to make this goal a reality," said Corey Martin, MartinFederal Founder & CEO.
Recognized nationally for its cybersecurity research, MSU is one of only a few schools in the U.S. to hold all three of the National Security Agency's centers of academic excellence credentials: CAE-Cyber Defense Education, CAE-Cyber Defense Research, and CAE-Cyber Operations. Several academic units at MSU manage programs and teach classes with an emphasis on cybersecurity, including the James Worth Bagley College of Engineering and the College of Business.
MSU's Center for Cyber Innovation researches, prototypes and delivers cutting-edge cyber services to support global national security, homeland security and peacekeeping operations.
The Thad Cochran Research, Technology and Economic Development Park is a 272-acre park that is home to more than 1,700 employees and tenants that include private businesses, government offices and robust research centers and institutes. The park represents over $100 million in infrastructure investments and $104 million in private capital investment. Research and innovation thrive in the park thanks in large part to MSU's High Performance Computing Collaboratory, the fourth-most powerful computing site in U.S. academia.
MSU is Mississippi's leading university, available online at www.msstate.edu.