Contact: Sid Salter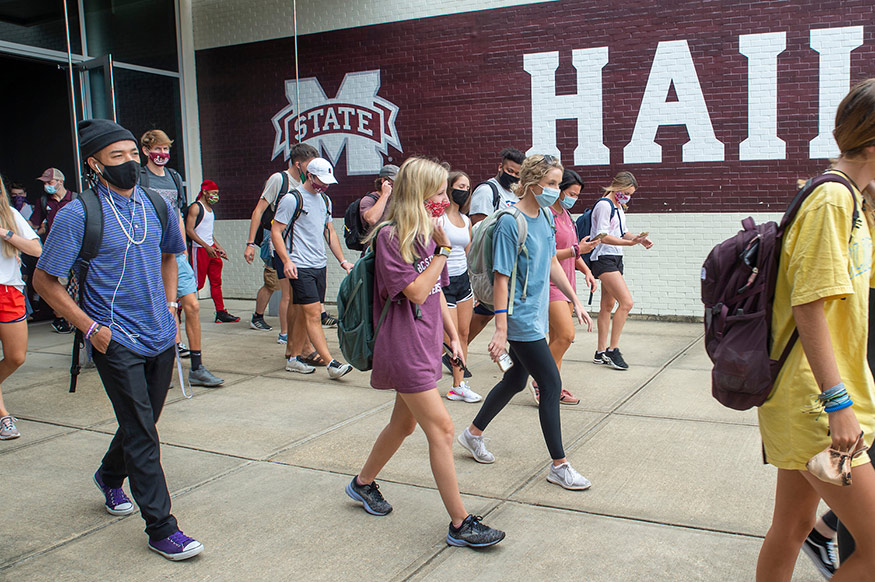 STARKVILLE, Miss.—In the wake of an unprecedented global pandemic and at a time when universities across the nation are experiencing declining enrollments, Mississippi State this fall set a new enrollment record for the sixth consecutive year. MSU is the only comprehensive university in the state to experience this level of sustained growth.
A total of 22,986 students are enrolled at the state's leading research university this fall, an increase of 760 or 3.4 percent over this same time in 2019. MSU remains the No. 1 college choice for Mississippi's high school graduates with 14,801 Mississippi residents enrolled or 64 percent of the overall student body.
MSU President Mark E. Keenum said there are several reasons MSU's numbers continued to grow, with the most important being the response from faculty, staff and administrators to innovate, adapt and collaborate for the good of the student body.
"Since the inception of the COVID-19 pandemic, we have had a deep commitment to the health and safety of our students while ensuring we continue our high-quality academic offerings that lead to student success. It's ingrained in our campus community and is what students and their families expect and deserve," he said. "Our growth is a testament to the dedication and hard work of our faculty and staff and the courage and fortitude of our students and their families. The Bulldog family has never been stronger."
Keenum pointed to the university's Safe Return Plan as key to a successful start to the fall semester that has seen nearly 70 percent of courses offered face-to-face and a record enrollment in the Graduate School.
"As I noted last year, it's about more than numbers, it's about student outcomes. Student success is at the center of everything we do, and it is our mission to ensure that all students receive the support they need to earn an MSU degree – particularly during these very challenging times," said Keenum, who praised the excellent work being done by Student Affairs, diversity and inclusion programs and MSU's more than 5,000 faculty and staff members.
MSU Graduate School enrollment increased from 3,061 to 3,803 – a 24.2 percent increase. The university likewise saw growth in the Bachelor of Applied Science program. The BAS degree maximizes transfer of technical credit from Mississippi community colleges by allowing up to 45 credits for technical and military training to be applied toward a bachelor's degree. The BAS is offered in both face-to-face and online formats making it more accessible to working adults.
For the first time in more than a decade, Mississippi State is offering a winter session to help students advance in their academic journeys and earn credits on an accelerated schedule. With the launch of MSU's comprehensive "Winter Express," students at every level can choose from an updated, expanded selection of more than 200 online courses that begin Dec. 1 and conclude Jan. 4.
The condensed, five-week semester allows students to earn up to six hours of course credits. MSU's Winter Express is a perfect option with a flexible online format in which students can benefit from high-quality instruction, student-centered curricula, interactive learning, and collaborative study activities. Students can learn more about the Winter Express term at www.msstate.edu/winter.
As a National Science Foundation Top 100 research university, MSU continues to broaden its scope of creative discovery through the $244 million in research expenditures in FY 2018, which account for more than half of the state's total. The Carnegie Foundation classifies MSU as an R1-Very High Research Activity doctoral university, with Mississippi State home to the fourth most powerful academic supercomputer complex in the U.S. Listed for five consecutive years as a "Great College to Work For" by The Chronicle of Higher Education and ModernThink, the university welcomed a record 166 new faculty this fall.
With a growing student body also comes a need for more housing. Last year, the $67 million College View university housing apartments opened to provide 656 residential beds. Several new buildings and renovations are currently in the planning phase or under construction, including the $34 million Richard A. Rula Civil and Environmental Engineering Complex and the $21 million Music Building.
Multiple campus infrastructure upgrades are underway to meet increased demand, such as a 500-space parking garage near Humphrey Coliseum, a new road connecting Stone Boulevard and Magruder Street, with an accompanying 400-space parking lot, and Bulldog Way, a two-mile long connector road that will run along the eastern side of campus.
In August, MSU and the Starkville Oktibbeha School District marked the completion of the MSU-SOSD Partnership Middle School on the MSU campus, which serves all sixth and seventh grade students in the school district and is a training ground for university students in education fields.
College-specific enrollments this fall are:
—2,609 in Agriculture and Life Sciences
—813 in Architecture, Art and Design
—5,204 in Arts and Sciences
—3,485 in Business
—3,896 in Education
—4,885 in Engineering
—609 in Forest Resources
—498 in Veterinary Medicine
MSU is Mississippi's leading university, available online at www.msstate.edu.