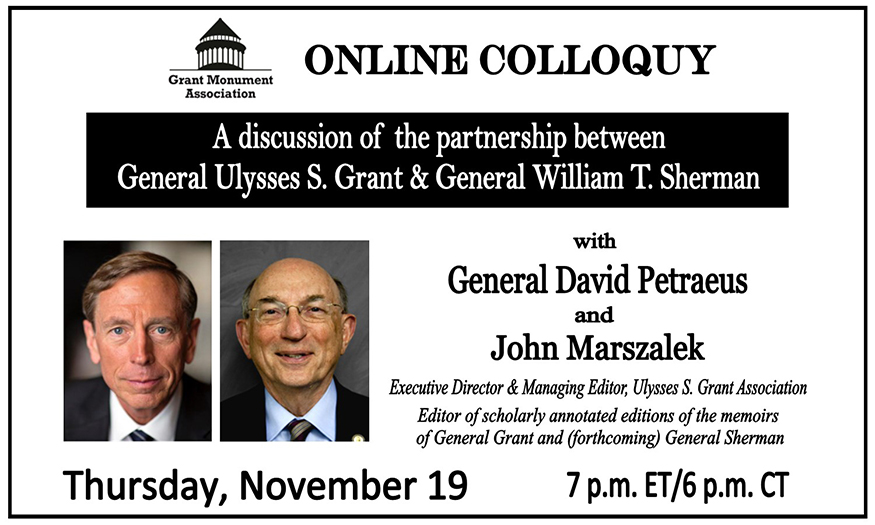 Contact: James Carskadon
STARKVILLE, Miss.—Mississippi State historian John Marszalek will discuss the partnership of U.S. Civil War generals Ulysses S. Grant and William T. Sherman during an online colloquy hosted Thursday [Nov. 19] by the Grant Monument Association.
In addition to Marszalek, retired U.S. Army General and former CIA Director David Petraeus will examine the relationship between these two key figures in the Civil War. Marszalek is the executive director and managing editor of the Ulysses S. Grant Association and the Ulysses S. Grant Presidential Library and Museum, which is housed in MSU's Mitchell Memorial Library.
The colloquy will be streamed live on YouTube beginning at 6 p.m. Thursday at https://www.youtube.com/watch?v=hWklNpMWvxg. It can also be viewed through Zoom by registering at https://kkr.zoom.us/webinar/register/WN_42IJNY8jQcK9OnlsnqVHnw.
Marszalek, an MSU Giles Distinguished Professor emeritus in history, is an expert on both Grant and Sherman. He is the author of Sherman: A Soldier's Passion for Order, the premier biography of the general. Marszalek and fellow Grant Association and MSU historians David Nolen and Louis Gallo released a fully annotated version of Grant's historic memoirs in 2017. The historians are currently in the processing of annotating Sherman's memoirs in the same manner.
The partnership between Generals Grant and Sherman was instrumental to the Union's victory in the Civil War. With 2020 marking 200 years since Sherman's birth, Thursday's event will examine the dynamics between the two famous leaders of the army.
MSU is one of only six universities in the U.S. to house a presidential library. For more information on the Ulysses S. Grant Presidential Library or to plan a visit, see www.usgrantlibrary.org. 
MSU is Mississippi's leading university, available online at www.msstate.edu.