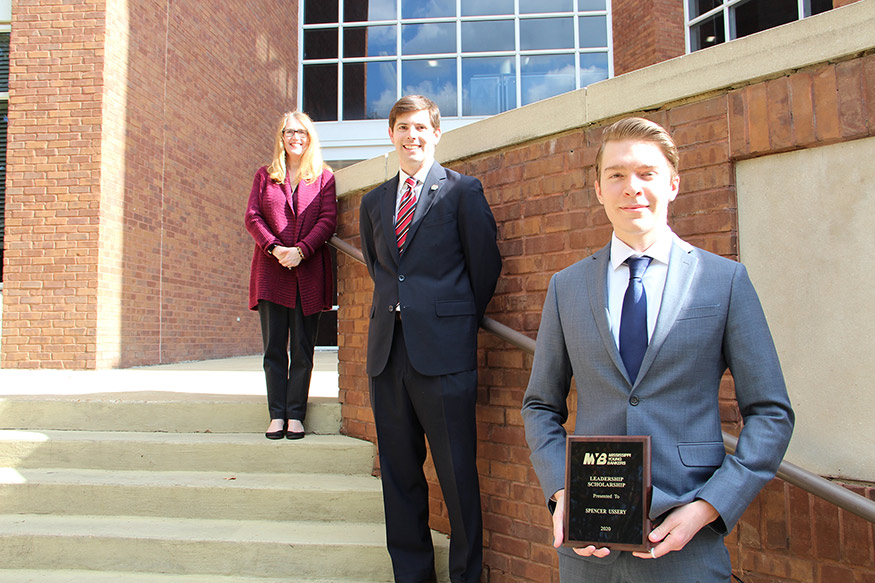 A Mississippi State junior finance major is the recipient of the annual Leadership Scholarship awarded by the Mississippi Young Bankers section of the Mississippi Bankers Association.
Spencer Ussery was chosen from applicants across Mississippi to receive the $2,000 scholarship, which is given annually to one junior enrolled in a banking or finance program at a state-supported university in Mississippi. The MYB Leadership Scholarship was first given by the MYB in 1998, and since 2012, the scholarship has been funded by the MBA Education Foundation and awarded in conjunction with MYB. The Leadership Scholarship was awarded at the Mississippi Young Bankers Virtual Fall Conference in October.
Ussery plans to pursue a career in the financial services industry after graduation and work toward a CFA and MBA. He is actively involved with the Bears and Bulls Trading Club at MSU and is a part of the Mercedes-Benz Operations Controlling Co-Op. Ussery is also a member of the National Society of Leadership and Success and the National Society of Collegiate Scholars.
"One of the long-standing goals of the Mississippi Young Bankers is to encourage students at Mississippi universities to serve our state through banking careers in Mississippi. I'm really proud of the efforts of the MYB and the scholarship committee. They were impressed with Spencer's resume, personal initiative, and desire to work in the financial industry in Mississippi after graduation. Congratulations to Spencer and the faculty and good folks at Mississippi State that are educating him, and thanks to the MYB for their work on this committee," said Gordon Fellows, president and CEO of the MBA.
Since 1889, the Mississippi Bankers Association has been the statewide trade association of the state's banking industry. The MBA supports its member banks through education, advocacy, communications, and products and services.
The MBA established Mississippi Young Bankers in 1950. Today, MYB is one of the oldest and most active organizations of its type in the nation. MBA member institutions hold over 95% of the bank deposits in the state.
To learn more about Mississippi State's College of Business and its Department of Finance and Economics, visit https://www.business.msstate.edu/ and https://www.business.msstate.edu/academics/department-finance-economics.
MSU is Mississippi's leading university, available online at www.msstate.edu.