Contact: Sasha Steinberg
STARKVILLE, Miss.—Mississippi State summa cum laude graduate Semaj C. Martin-Redd has had a busy 2020, and he's rounding out a year of accomplishment by proudly representing his home state as the university's first finalist for the prestigious Marshall Scholarship.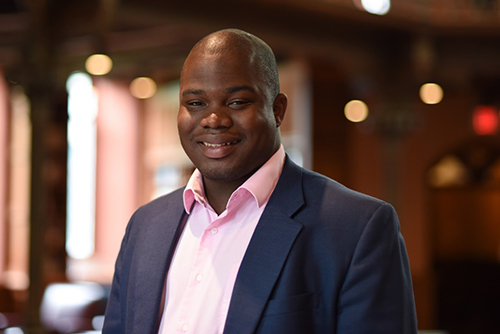 The Brandon native graduated with a Mississippi State degree in political science in May and relocated to Washington, D.C., where he serves as a staff assistant for U.S. Rep. Trent Kelly (R-Miss.). Earlier this fall, Martin-Redd also was announced as MSU's newest Fulbright finalist.
"I am in a happy place right now," he said. "I'm so thankful for this opportunity and the support from Mississippi State, the political science department, the honors college and its Office of Prestigious External Scholarships. Mississippi State offered me so much as a student—both academically and personally—and that support has helped me inside and outside of the classroom."
Founded by a 1953 Act of Parliament and named in honor of U.S. Secretary of State George C. Marshall, the Marshall Scholarship commemorates the humane ideals of the Marshall Plan and expresses the continuing gratitude of the British people to their American counterparts.
If selected, Martin-Redd plans to pursue a Master of Arts in International Peace and Security at King's College London in fall 2021. He has been preparing for a virtual Marshall interview with help from MSU faculty Tommy Anderson, David Hoffman and Field Brown.
Martin-Redd's preparation is top-notch as Anderson, an English professor, has seen several of his students become finalists and winners of such distinctive awards as the Truman, Boren, Astronaut and Rhodes scholarships. Anderson is the former director of the honors college Office of Prestigious External Scholarships, and now is this college's fellowships advisor and serves as interim dean of MSU Libraries and academic affairs associate dean for the College of Arts and Sciences.
Brown, an MSU alumnus and the university's most recent Rhodes Scholar, was mentored by Anderson and now is an honors college lecturer and advisor for the same external scholarships office that helped pave his way to the University of Oxford. Hoffman currently oversees this office and is an associate professor in the Department of Anthropology and Middle Eastern Cultures. He also has received major teaching and research awards from the College of Arts and Sciences.
"I feel like you find yourself more and more when you apply for opportunities like the Marshall Scholarship because you have to learn to think critically and articulate your goals," Martin-Redd said. "I welcome these kinds of experiences because they are so valuable."
Selection criteria for the Marshall Scholarship are divided into three equally weighted categories—academic merit, leadership potential and ambassadorial potential. Students from all backgrounds are considered. At time of application, candidates must be U.S. citizens and have obtained a GPA of 3.7 or higher for their first undergraduate degree from an accredited four-year U.S. college or university, among other criteria.
Hoffman said Martin-Redd's selection as a Marshall finalist is "an indicator of not just his unique story but his commitment to refining and improving his leadership through the continued pursuit of knowledge and experience abroad."
"Semaj's application benefitted from leadership experience in student activities, meaningful work as a resident advisor, and excellent mentoring from Dr. Tommy Anderson and Mr. Field Brown," Hoffman said. "The Office of Prestigious External Scholarships is extremely proud of him."
Learn about the Judy and Bobby Shackouls Honors College at www.honors.msstate.edu and the College of Arts and Sciences and the Department of Political Science and Public Administration at www.cas.msstate.edu and www.pspa.msstate.edu.
MSU is Mississippi's leading university, available online at www.msstate.edu.